Alternative Wedding & Engagement ring stones | The Stephen Einhorn Blog
Discover Tanzanite, Onyx and Lapis Lazuli for a surprising alternative to a Diamond ring.
Tanaznite 
Tanzanite is a rare and beautiful gemstone that was only discovered in the sixties. It ranges from 6.5 to 7 on the Mohs scale. Tanzanite's is named after its place of origin, in Northern Tanzania.1000 times rarer than diamonds, Tanzanite is a fitting stone to give your one in a million, and with only an estimated 30-year supply left in the world, this is a particularly precious choice for an engagement ring.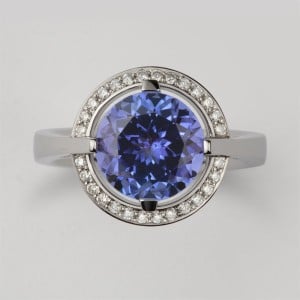 Onyx
Onyx is a beautiful mineral that comes in a variety of colours but it most commonly found in its black form for fine jewellery.
A dense, yet silky stone, (at 6 to 7 on the Mohs scale) Onyx would make a unique and utterly stylish addition to your engagement ring, as a classic black stone, it will be timeless and chic modern choice which will not date.
Lapis Lazuli
Its deep, celestial blue is the most captivating colour and its beautiful gold flecks can add a really opulent touch to a gold setting. Its name comes from the Latin lapis, "stone," and the Persian lazhuward, "blue."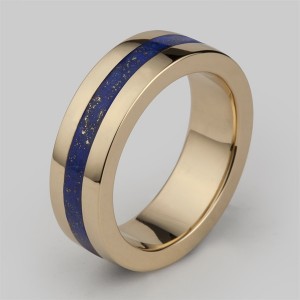 Historic materials
A sapphire or emerald engagement ring is a lovely alternative to a Diamond ring, however if you are interested in the truly unusual and unexpected, then using Historic materials like ancient  Oak or Fossil, means that you will have something totally unique
(Our Thames Wood collection- incorporates Thames Wood sourced from a Roman era dock) We are the only Jeweller's to incorporate this precious finite material into our  jewellery.