Sustainability
Sustainable and ethical practises have always been at the heart of the Stephen Einhorn brand. Read more about the steps we take to care for our people and the planet below.
100% Sustainable packaging
Good things come to those who wait, right? We think so. We also think good things should come in good packages. So we invested time, money, and energy into making sure that our beautiful jewellery came in beautiful, sustainable, boxes.
Our new range of luxurious Stephen Einhorn boxes are 100% recyclable and compostable (and not just in special recycling facilities: in your average household recycling), they use biodegradable glue, biodegradable wool inserts, FSC certified board, 100% biodegradable paper ribbon (wood pulp), and are printed flexographically meaning they use water based inks. Environmental responsibility is something we take very seriously here at Stephen Einhorn. It is a cornerstone of our business model. But we do not compromise quality, luxury, or beauty for it. In fact we believe that sourcing the most sustainable and ethical materials only enhances our products: packaging and jewellery alike.
Our customers and collaborators can rest assured that their hand finished, made to measure item of jewellery will come nestled in a box that is not riddled with harmful chemicals, coated in plastic, filled with non-recyclable tissue paper or uses cheap ribbon.It is not just our beautiful boxes we have turned our attention to. Our bags are also made from 100% recycled paper, with the inside base made from recycled coffee cups.
Our postal boxes, which will drop elegantly onto your doormats, are made from the same recycled materials. For the customer our packaging represents effortless luxury, and ethical opulence. For us, it is the culmination of our commitment to a better future. It has taken us a long time to develop packaging which we are satisfied with. For too long the packaging industry was not able to satisfy our desires for sustainability and luxury, and we had to use our ingenuity and design skills to help problem solve and suggest solutions to common problems such as the inside padding (usually foam). But we were determined to make beautiful things for interesting people in beautiful, recyclable, boxes.
Luxury comes at a cost, but not to our planet.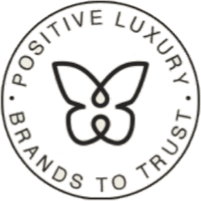 POSITIVE LUXURY
Stephen Einhorn is certified as a Butterfly Mark company by Positive Luxury. Positive Luxury exists to promote social and environmental responsibility among luxury brands, and the Butterfly Mark is their accreditation which recognises brands' commitment to creating a positive impact on our world.
CONFLICT-FREE DIAMONDS
We choose to comply with the United Nations backed Kimberley Process Certification Scheme and do not use conflict diamonds. We insist that our suppliers provide us with KP written guarantees, ensuring they do the same.
We feel strongly that the luxury jewellery trade has a responsibility to ensure that the KPCS is upheld, and therefore would like to assure our customers that the diamonds we use in our fine jewellery have been purchased from legitimate sources not involved in funding conflict and in compliance with the Kimberley Process.
RECYCLED METALS
All the metal that we use to make our beautiful pieces is 100% recycled. This includes Platinum and Palladium.

Our jewellery is made by skilled craftspeople in our workshops in Islington, London. We do not use child or forced labour. We believe that every individual and company has a responsibility to improve and sustain our environment, and as such we are committed to reducing our carbon emissions, and use sustainable and recyclable materials wherever possible (and have worked in this way since 1995).
We recycle everything that we can in our workshop including plastics, metals, paper and cardboard. We use environmentally friendly cleaning products, energy saving LED lights throughout our workshop, rechargeable batteries and recycled paper. We minimise water wastage and use only use biodegradable bags in our workshop. All of our product packaging is made from recyclable paper and is fully recyclable.
We are a business of inclusivity, sustainability and equality, and for this reason we received the Butterly Mark certification from Positive Luxury in 2020.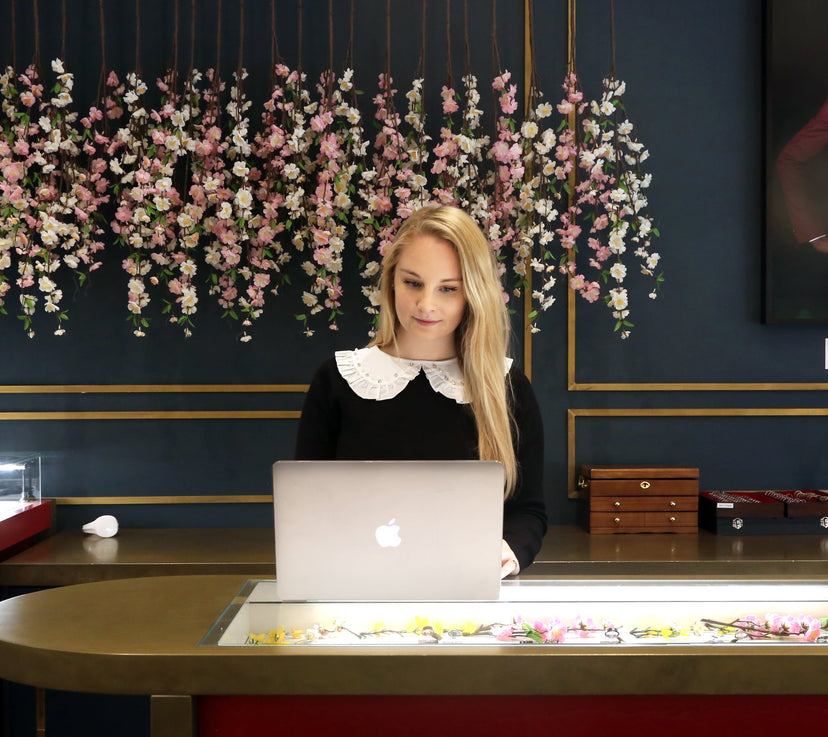 Request a consultation
Commissioning a bespoke piece of jewellery is a truly wonderful experience and we aim to make it as special as possible. Please fill out this form and one of our team will get back to you re your request.