Our Bespoke Crafting Techniques
At Stephen Einhorn, we take pride in our unparalleled craftsmanship, combining traditional techniques and innovative technology with beautiful designs, in order to create exquisite pieces of jewellery.
Our craftspeople are highly skilled, employing a range of techniques to bring our jewellery to life. From precise jewellery engraving to intricate enamel work; delicate stone setting to traditional joining, each technique adds a layer of depth and beauty to our designs.
Our jewellery engravers carefully carve intricate patterns, family crests, monograms or personal messages onto your design. The art of enamelling jewellery brings a burst of vivid colour to our pieces, creating captivating finishes. Our stone setters expertly set precious gemstones to emphasise and highlight their natural brilliance.
We put these techniques to good use when working with different bespoke options: our memorial jewellery - poignant pieces that honour precious people in your lives - makes use of many in order to create a fitting tribute. Our remodelling service makes particular use of our skills and creative ideas and our popular bespoke engagement rings use a range of cutting edge and traditional techniques.
Each creation is a testament to our passion for craft, attention to detail, and unparalleled quality. Allow us to introduce you to some of our interesting and unique crafting techniques that set us apart from the rest.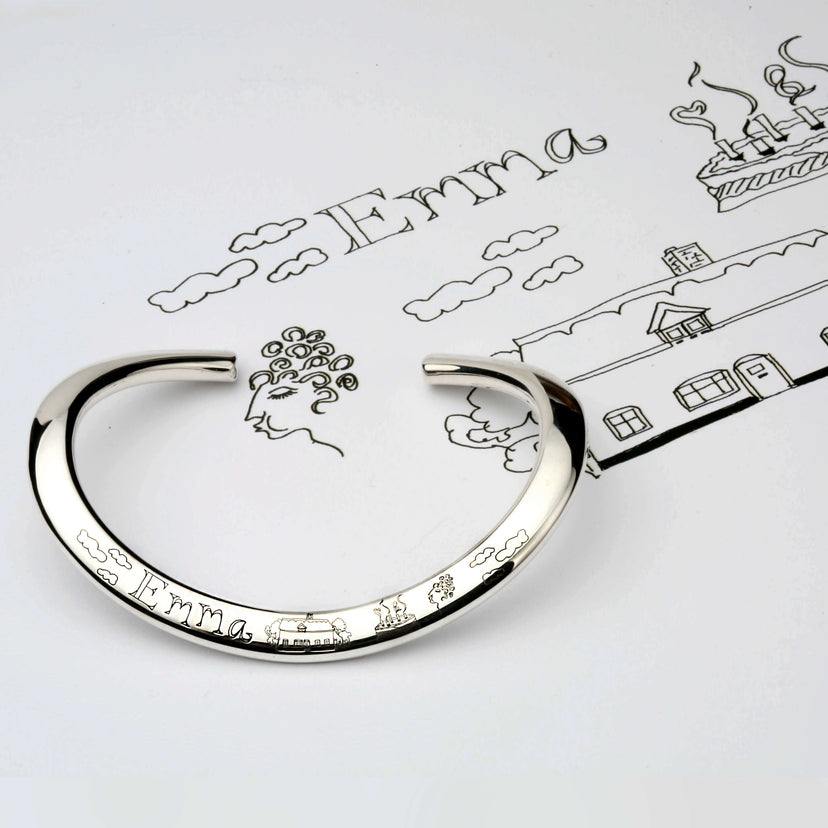 The type of engraving that you can have here at Stephen Einhorn can be a figurative image, a family crest, a seal engraving or simply a message, date or symbol: the choice is yours. Whether it's an elegant monogram, a heartfelt dedication, or a design that captures something you want to communicate, our engraving transforms each piece into a cherished heirloom. Get creative: you could even design your own family motto.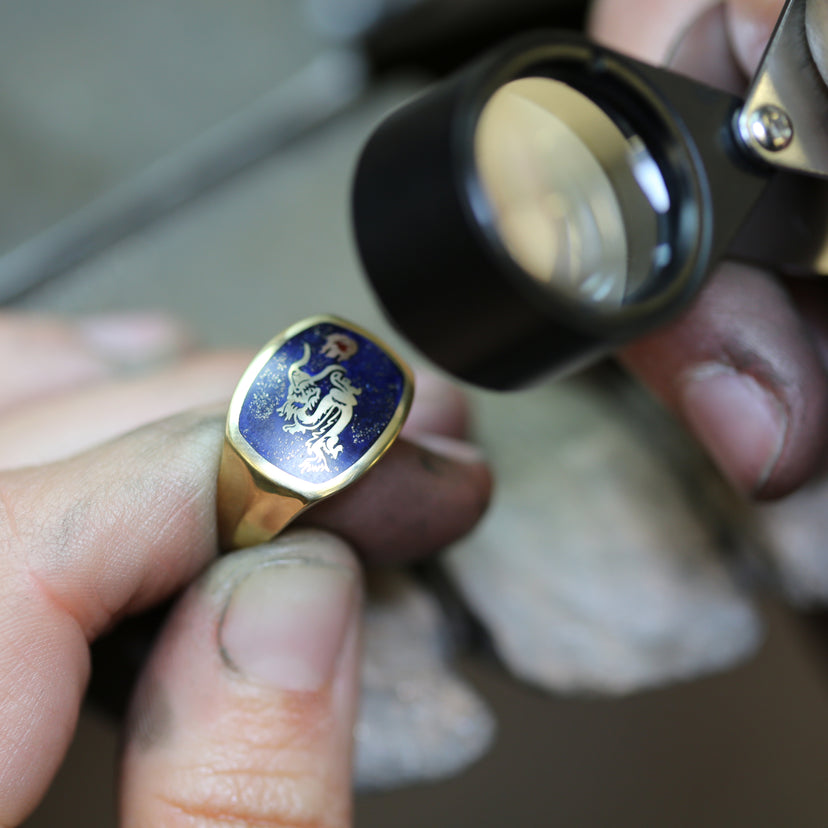 The art of enamelling breathes life into a design. The use of enamel to infill a design and add depth of colour dates back to the 13th Century BCE. At Stephen Einhorn we hand mix and delicately paint the enamel into each design so we can get exactly what you want, creating something truly beautiful and unique.
Delve into the rich and interesting world of seal engraving, a centuries-old art form that exudes elegance and prestige. Our skilled craftspeople expertly carve intricate designs onto precious metals, be they traditional or modern. A seal-engraved design from Stephen Einhorn is a symbol of refinement, allowing you to make a statement in your own way. If you don't have a family crest, why not invent one?
Our gemstone and diamond setting is an art form. It takes real skill and many years to perfect your craft. With meticulous precision, our stone setters carefully set each stone, showcasing its brilliance and enhancing its natural beauty. Whether it's a sparkling diamond, a vivid sapphire, or a mesmerising emerald, our stone setting techniques ensure that every stone is shown to its absolute best.
Celebrate your heritage and cement your family legacy with our impeccable crest engraving.We can carefully reproduce your family crest, coat of arms, or emblem, onto a wide range of jewellery pieces, no matter how complex. Each creation is a treasured heirloom, commemorating your heritage and connecting generations through exquisite design and meticulous craftsmanship.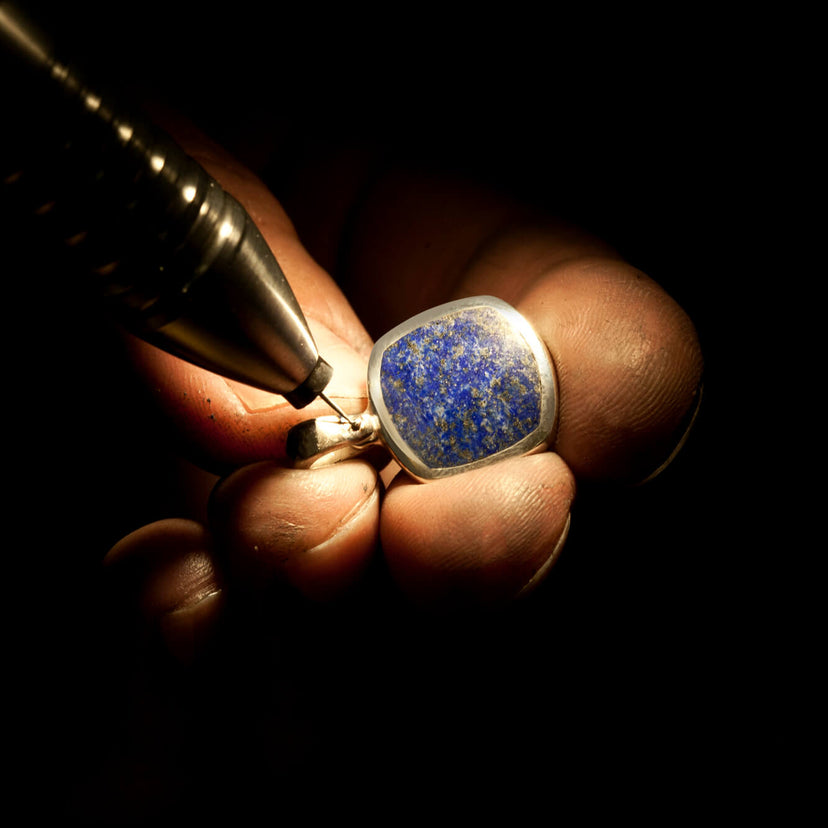 Our inlaid jewellery is really unique. Using traditional jewellery techniques we can inlay metals such as gold, platinum or silver into stone, wood or enamel. We work with metals within metals: inlaying yellow gold into white, white into red or red into yellow (for example) for a sensuous, subtle effect. But we also specialise in inlaying wood or stone seamlessly into precious metals to create tactile, sensual objects. Have your initials, a family crest or a design you have created yourself, inlaid into one of our signet rings. The exciting fusion of materials in these pieces sets them apart as truly luxurious and exceptional works of wearable art.
Preserve your most precious memories in a remarkable way with our unique photo engraving technique. Here at Stephen Einhorn we have the ways and means to immortalise a cherished photograph in a piece of jewellery. Whether it's a photograph of a loved one, your children when they were little, or a significant place, our photo engravings create one of a kind pieces that allow you to carry those memories close to your heart. Literally.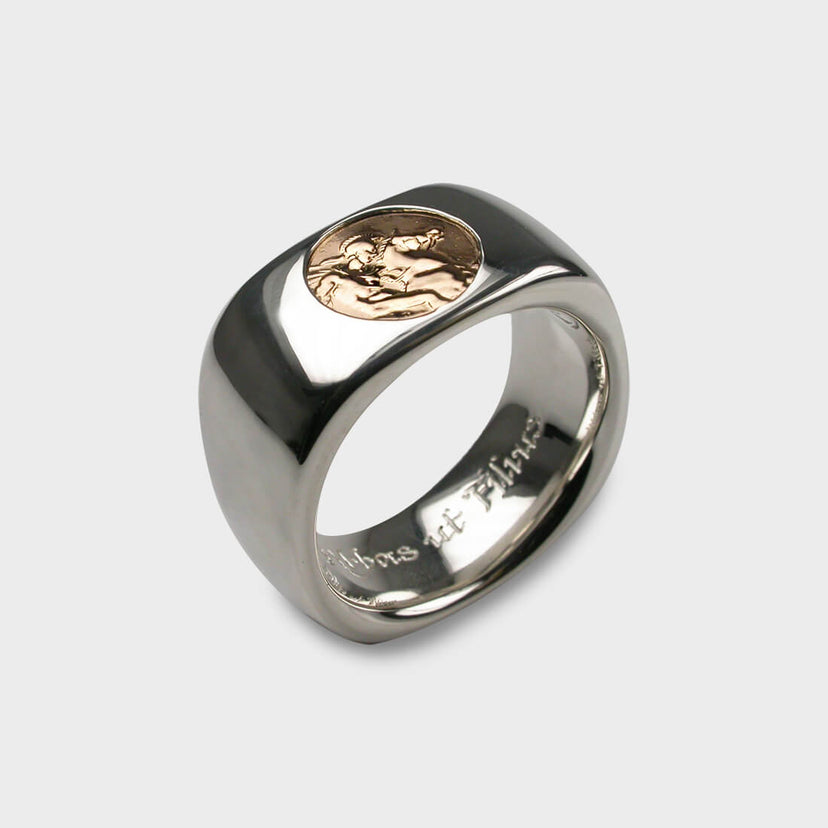 Have your old collectable coins set into a necklace or ring. Coin setting is beautifully traditional, and makes a lovely heirloom to pass down the generations. With meticulous craftsmanship and an appreciation for history, we transform treasured coins into much loved pieces of jewellery. When you commission a coin-set piece from Stephen Einhorn, you acquire more than just a stunning accessory: you become a custodian of history, a bearer of stories.
Dive into the captivating world of intaglio, an unusual technique where intricate designs are engraved into gemstones, either underneath the stone or into the top. The craft of intaglio was being used as far back as 5000 BCE. This is a rare and unusual technique which takes patience and care, but the end result is as fascinating as it is stunning. To have a stone carved using the Intaglio technique is a sign of real luxury, a true one of a kind design.
Have some cremation ashes encased in our jewellery to keep the spirit of your loved one close forever. We understand the profound importance of honouring the memories of people who have died. Our unique technique of encapsulating the ashes without damaging them - lasering metal together to minimise heat damage - allows us to transform cremation ashes into meaningful and beautiful pieces of memorial jewellery which provide comfort, solace, and a tangible connection to those we hold dear.
About Bespoke Crafting Techniques
With a passion for design and a commitment to exceptional craftsmanship, Stephen Einhorn has established a reputation for creating exquisite pieces that effortlessly blend artistry, innovation, and quality. 
At the heart of Stephen Einhorn's methodology lies a meticulous approach that combines traditional techniques with a modern aesthetic. Each piece begins with a concept which is then translated into detailed sketches and 3D models. Stephen collaborates closely with his team of skilled craftspeople, ensuring that every step of the process adheres to his vision and exacting standards. This methodical approach ensures that each creation is imbued with a distinct character and reflects the wearer's individuality.
Every piece of Stephen Einhorn jewellery is crafted with the utmost dedication and care, ensuring exceptional quality and enduring beauty. Stephen's commitment to innovation is evident in his use of cutting-edge technology which enhances the precision and efficiency of the making process.
Computer Aided Design (CAD) software allows Stephen to bring his intricate designs to life, providing a comprehensive visual representation before the physical production begins. In addition, state-of-the-art laser cutting and engraving machines, 3D wax printing and 3D wax carving enable the meticulous detailing and flawless execution that define Stephen Einhorn's jewellery.
Stephen Einhorn handpicks only the finest sustainable materials for his jewellery creations. From ethically sourced precious metals to rare gemstones, each component undergoes stringent quality assessments to ensure unparalleled beauty and durability. His commitment to sustainability is reflected in his use of recycled metals and ethically sourced diamonds, contributing to the preservation of the environment. The meticulous selection of materials is a testament to Stephen's dedication to creating enduring pieces of art.
The craftsmanship displayed in Stephen Einhorn's jewellery is a result of his team's mastery of time-honoured techniques combined with innovative approaches. Highly skilled Goldsmiths with years of experience meticulously hand-craft each piece, incorporating traditional goldsmithing, stone setting, and polishing techniques. The attention to detail is evident in every facet, ensuring flawless finishes and gemstones which nestle artfully into the metal. Stephen's commitment to perfection is exemplified by the extensive quality control measures implemented throughout the production process, guaranteeing that each piece is a stunning and luxurious work of art.
FAQ's
Answers to commonly asked questions
Read More