Our Story
Stephen Einhorn is a British family business, founded in 1995 by Stephen Einhorn and Jane Best, with an aim to create truly individual designs handmade by skilled craftspeople.
They strive to run a business that they love, where everyone is valued, and where they provide the best customer service possible. The business has gone from strength to strength and their client list now includes Disney, Warner Bros, Netflix, Paul Smith and A Bathing Ape amongst many others.
1995 -97
The journey begins
The company was founded. Stephen gets his first feature in Timeout and there is a lot of interest in our brand.
In 1996 our Skull & Crossbones taps, Nails stools and Birdfeeder featured in Elle Decoration and Freeway magazines amongst many others.
In 1997 we developed our first commercial website with a prominent Gay and Lesbian section. Everyone told us we were mad and that no one will ever buy jewellery online, but we persist!
Stephen has a large profile piece in Japanese Esquire.
1998
Designer collaborations
Buzz around the Stephen Einhorn name really started to grow and we began working with big fashion brands. Stephen collaborated with Paul Smith on an exclusive collection and was then asked to design Paul Smith's first range of women's jewellery.
Stephen also designed a range for Dunhill men, amongst other brands.
1999
Thames Wood
We bought our fabulous Thames Wood - part of the only wooden Roman Docks built in London. It is dated by the Department of Dendrochronology at UCL, and we have used it as part of our designs ever since to create iconic and unusual collections such as the Rivera.
Our skull eggcups are featured in Egg Cup World!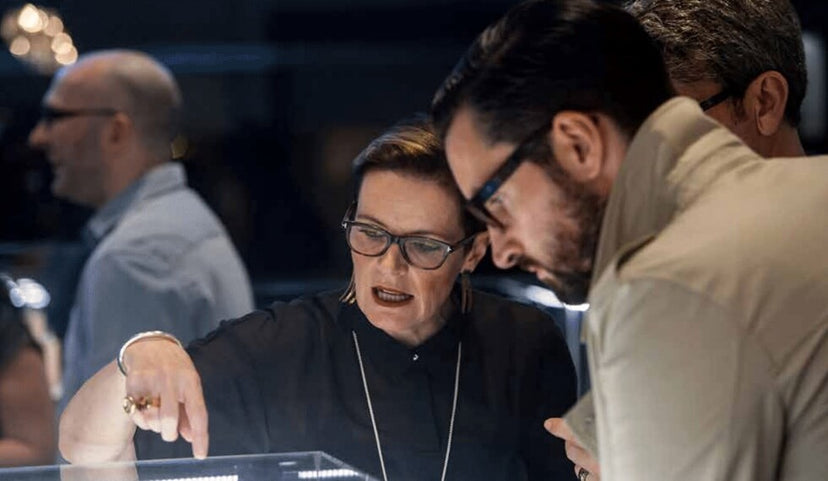 2000 - 06
Get the London look
We unveiled our first full shop re-fit, turning our rather quirky showroom into a place where customers feel comfortable to spend time, have a chat, have a lovely glass of something sparkly and peruse our new collections.
We had some wonderful light fittings made for us and custom built cabinets that show off our striking pieces in the way they deserve!
2007 - 10
The Journey Continues
In 2007 we were chosen to gift the participants of the Brit Awards.
In 2008 we held a Design a Charm competition for Help a London Child, which was judged by Kathy Burke and Sam West.
Stephen made a collection of Fang Pendants for the 'True Blood' series.
In 2010 we launched a new much larger and (at the time!) more modern website to make online shopping easier for our customers.
2011 - 13
Lights, Camera, Jewellery
In 2011 we were one of the first jewellers to be certified to sell Fairtrade Gold.
This is also the year that we really ramped up our film work! We made a ring for Johnny Depp's character in Dark Shadows (five rings in all for Johnny's stunt doubles as well!) and a fish key ring for Eva Green's character.
In 2012 Stephen worked with award-winning costume designer Colleen Atwood on Snow White And The Huntsman. We created two pieces for the film, including a collar featuring brass stag beetles for Charlize Theron's character.
In 2013 Stephen made some jewellery for Maleficent starring Angelina Jolie, and a belt buckle for James Corden for the feature film Into the Woods.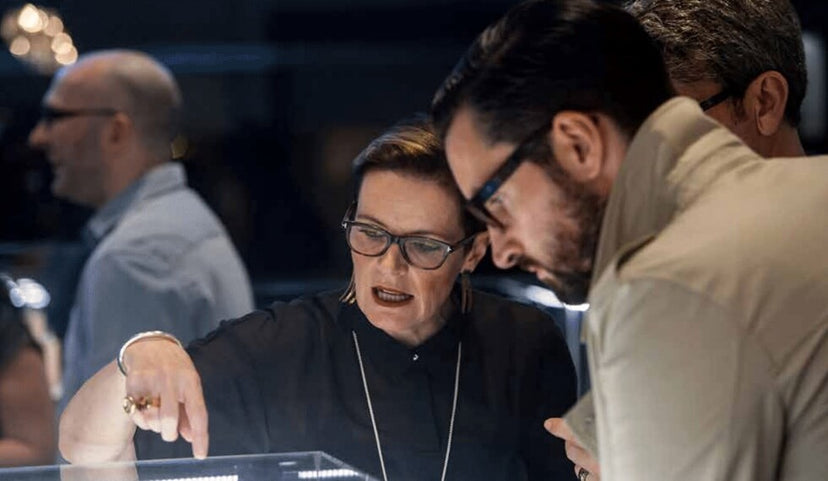 2014 - 15
The Beauty Queen Of The Caribbean
In 2014 we were chosen to design a bangle for the St Lucia Tourist board and Condé Nast Traveller. We flew to St Lucia to see first-hand the flowers, birds and landscape of the island.
2015 saw us completely redesign our showroom to be more like a comfortable living room.
Stephen made a ring for Cate Blanchett's stepmother character in Disney's Cinderella.
2016
Busy, Busy, Busy...
In 2016 Stephen was chosen to represent British business for the Abu Dhabi Tourist board in a film made by CNN, which was then shown continuously around the world.
We worked on the second Snow White and the Huntsmen film 'A Winters War'.
We also makes a Cross pendant for Brad Pitt's character in the film Allied, and a watchchain for Eva Green's character for the feature film Miss Peregrines' Home for Peculiar Children directed by Tim Burton. Stephen made the Mayoral chain for Sacha Baron Cohen in the Disney feature film Alice Through The Looking Glass.
2017 - 19
Even Busier!
In 2017 Stephen made the infamous jade necklace for Alicia Vikander in Lara Croft Tomb Raider.
Stephen Einhorn joined Walpole, the trade association for luxury goods.
2018 saw Stephen make Princess Auroras ( Elle Fanning ) engagement ring and wedding rings for the second Maleficent film, Maleficent Mistress of Evil starring Angelina Jolie.
In 2019 Stephen made jewellery for Danny DeVito and Nico Parker's characters for Tim Burton's feature film Dumbo. Stephen is interviewed and appears on the 6 o'clock and 9 o'clock news to discuss his Dumbo work.
2020 - 22
A Commitment
In 2020 Stephen Einhorn is awarded the Butterfly Mark by Positive Luxury for sustainability.
Throughout the Covid pandemic we worked hard to keep the business running with a reduced team, and began work on our new website.
2022 ia a big year for us for far. We launched our new and improved website in February. We hope you love it as much as we do!
In March we launched our collaboration with A Bathing Ape, which includes an exclusive silver and enamel logo ring and a re-imagining of the iconic 'Fire Garden' we first created with the brand over 20 years ago.


"Stephen and I have worked together on various ventures for years. It feels very natural. I find him very inspiring as he can make absolutely anything which opens up a whole world to me of amazing creativity. We have always complimented each other perfectly as we have very differing skills, but some of them are the same which I think makes us quite a dynamic team!"
Co-Founders Stephen Einhorn and Jane Best's business is a labour of love, they are passionate about craft and skill and continue to train the next generation of makers. They care about sustainability, the ethical and environmental provenance of every material they use; and the culture of work and care within their organisation. They cherish their committed and fantastic team, their local community and the world and put their customers at the heart of everything they do.
Request a consultation
Commissioning a bespoke piece of jewellery is a truly wonderful experience and we aim to make it as special as possible. Please fill out this form and one of our team will get back to you re your request.