Bespoke Corporate showcase
At Stephen Einhorn, we understand that every business has a message, an ethos, a story to tell that they would like to get out to a wider audience. Our bespoke corporate services are designed to help you get that all important message across to your clients and customers in a more interesting and original way. We will take your brief and use our design skills to get your message across. This sort of collaboration is extremely successful and shows your clients that you have gone the extra mile to not only tell a story but to give them something of worth. Let us help you elevate your message with our meticulous craftsmanship and our unwavering commitment to excellence.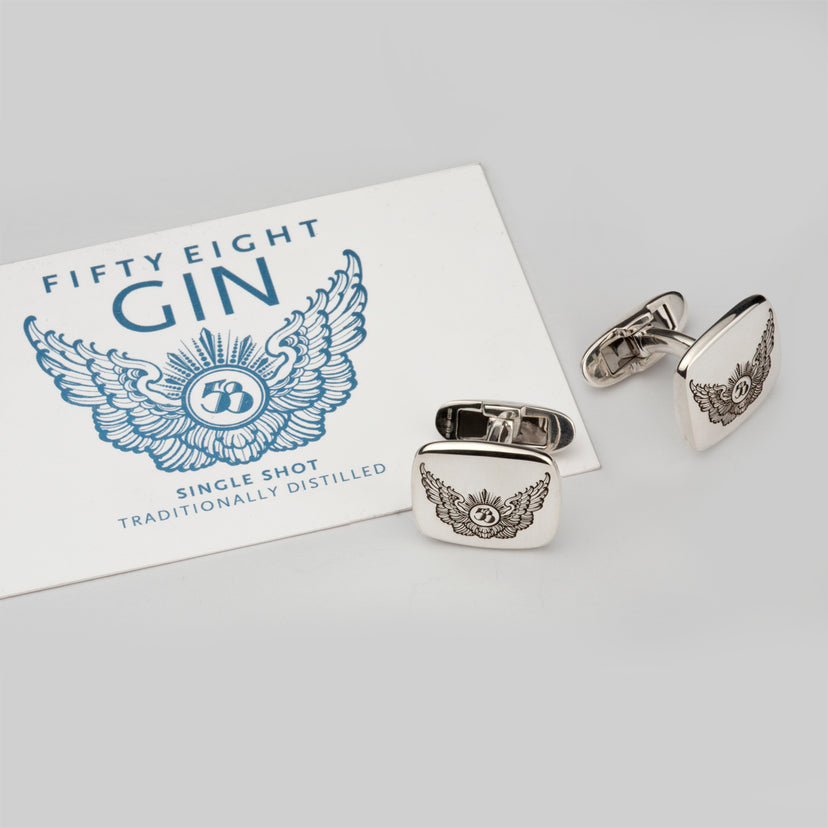 Fifty Eight Gin
Bespoke Cufflinks engraved with the logo of the distiller of 58 Gin in Hackney. These were commissioned by the distiller's partner as a surprise birthday present. The logo was designed by Mo Coppoletta of The Family Business, it has a lovely Art Deco feel to it. We've also tried the gin, it's good!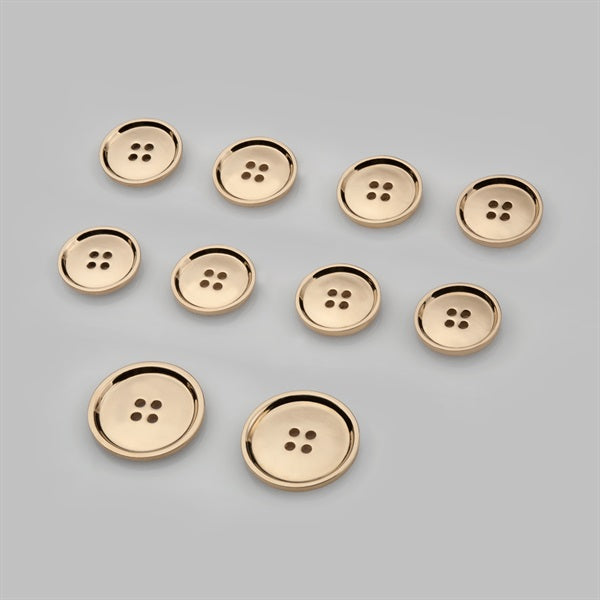 Bernstein & Banleys
These buttons were commissioned by Bernstein & Banleys who supply textiles and trimmings to the bespoke and couture tailoring trade. This limited edition set of 4-hole solid gold buttons have been made in the same style as Bernstein & Banleys' classic mother of pearl buttons and are available to buy exclusively through their website.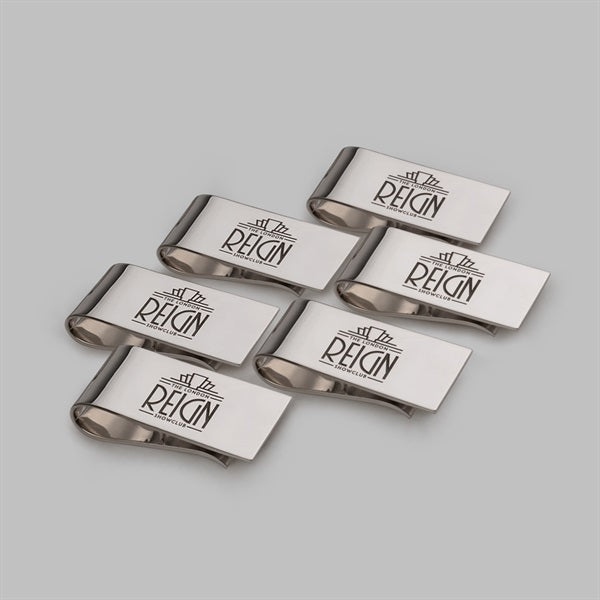 Reign
Bespoke set of engraved money clips custom made in solid sterling silver for Reign members. Reign is a private members club and these were commissioned as fabulous corporate gifts. Handmade in our London workshop.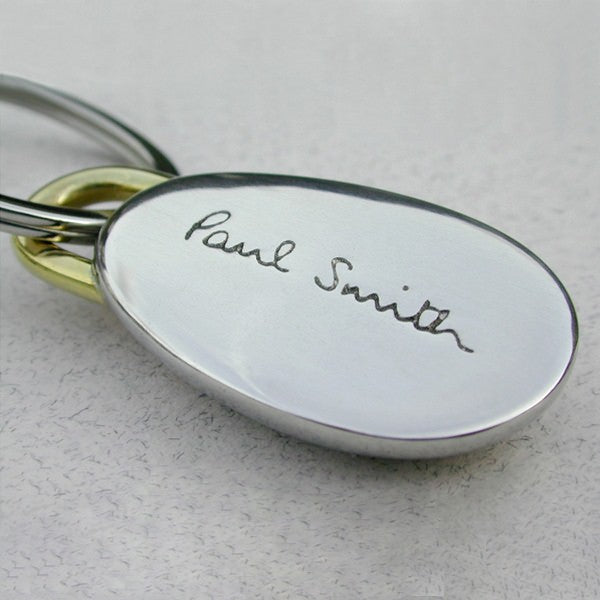 Paul Smith
Branded keyring designed and handmade for Paul Smith outlets as part of one of our earliest commissions. If you are a regular shopper at Paul Smith you may have seen quite a few of our accessories there over the years including our jewellery collaboration for Paul Smith Women where Stephen designed a rock chic line under the moniker, 'Stephen Einhorn for Paul Smith'. Now collectors items.
Bespoke Horse Racing Jockey Cufflinks
Lovely bespoke cufflinks made for a customer who owns two racehorses. These are the colours of the racing silks, yellow and purple. The backs of these bespoke cufflinks are racing hats in the same colours. Custom made in our London workshops in solid sterling silver and enamel. Love the sleeves!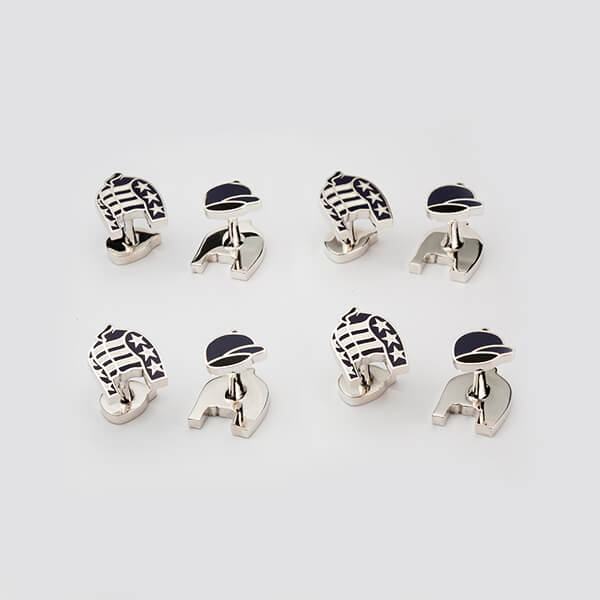 Bespoke Set Of Horse Racing Jockey Cufflinks
Solid sterling silver cufflinks made for a racehorse owner. These are his special racing colours. These cufflinks are one of a kind and will be worn with pride. A very original way to show your colours. If you are a racehorse owner what could be more unique than to have your own racing colours in your shirt cuffs?
About Bespoke Corporates Design
Our master craftspeople blend time-honoured techniques with modern innovation to create designs that ooze distinction. From sleek and minimalist designs to intricate motifs that reflect your company's identity, we bring your vision to life with unparalleled precision. We believe that true luxury lies in the details. Our collaborative process ensures that every aspect of your corporate jewellery is tailored to what you want. Choose any of our recycled  luxurious metals, select gemstones that typify your brand's colours, and have your logo engraved on every piece so that  customers and clients know this is your company's representation. This is a truly bespoke service.
We have a range of interesting materials that we can use. You may be as original as you like, we have yet to be asked to do something that we can't make. We are expert problem solvers which is something our whole team loves to do. Corporate jewellery is not just about promoting your company to the outside world but can be used to reward hard working and loyal employees.
Acknowledge your employees' dedication and milestones with custom-designed jewellery pieces. These tangible tokens of appreciation not only honour their achievements but also reinforce a sense of pride in being part of your organisation.
Another benefit of our corporate section is for us to be able to make something that is not only a reward for employees but is also part of your corporate identity. When your employees are in the wider world they can be proud to wear your Logo.
Elevate your executives' attire with accessories that radiate confidence and professionalism. Our cufflinks, tie bars, and lapel pins are all a statement of Luxury.
With Stephen Einhorn's bespoke corporate jewellery, your brand's story is told through artistry and elegance. From concept to creation, we're dedicated to crafting pieces that exceed expectations and reflect the core of your corporate identity. Join us in redefining luxury and making an indelible mark in the corporate world.
FAQ's
Answers to commonly asked questions
Read More