Bespoke Jewellery remodelling
At Stephen Einhorn, we understand that every piece of jewellery has great sentimental value. Yet sometimes you find yourself in possession of something you love but which may not be quite to your taste and style. Whether it has been inherited or is simply a beloved piece of jewellery that needs a bit of updating, we offer an exclusive jewellery remodelling service to give your much loved treasures a new lease of life.
Our skilled craftspeople and designers are committed to transforming your jewellery into stunning masterpieces that you will take pride in wearing. You might want to incorporate new stones or metals, subtly re-make an old favourite, or take some of your existing piece and incorporate it into something entirely new. Our careful design and making process ensures that your jewellery undergoes a transformation to become a piece of jewellery which still retains the essence of something you love, but that reflects your individual style and taste.
Remodelling is a wonderfully sustainable way to update your jewellery collection.
Before Remodelling
A customer's heirloom brooch set with irregular shaped sapphires and diamonds. We carefully removed the stones in order to work out what we could use, and where in a new design for her.
After Remodelling
A lovely unique set of jewellery, consisting of a pendant, ring and a pair of earrings all made using the precious stones from this customer's antique brooch. It's a complete waste to own something as valuable as this and have it sitting in a drawer. Bring it to us and we will help you create something new and wonderful that you will love. All part of the circular economy.
The experience I had using Stephen Einhorn's bespoke service was nothing short of magical. I had an extremely boring solitaire diamond engagement ring. My goal was to reset it in an interesting vintage setting that included either sapphires or emeralds. To say I am thrilled with the result is an understatement. It turned out even better than I could have imagined. It has brought new life to the diamond and made me a very happy lady.
So happy with my bespoke bracelet, it's exactly how I wanted it. Quality of workmanship is exceptional, I was kept informed and updated regularly. Good customer service, will be ordering a ring next!
SE and team did a beautiful job on a bespoke engagement ring for us using a non-traditional, organically shaped stone we found and brought to them. Great customer service and professionalism, with a clearly outlined process for custom work including lifelike CAD designs to ensure alignment between the workshop's design expertise, our ideas and the resulting ring.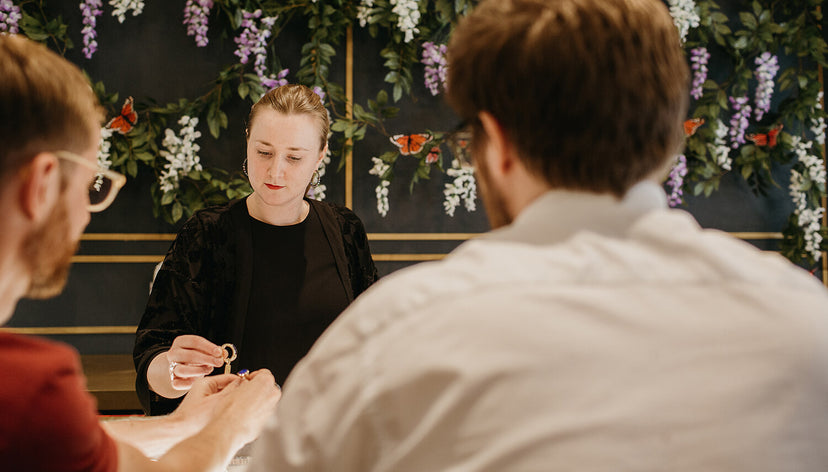 1. Consultation
Our journey begins with a personal consultation where we take the time to understand your vision and desires. We listen carefully to your ideas, preferences, and any sentimental value attached to certain aspects of your piece. Our expert consultants provide valuable insights and suggestions, collaborating closely with you to create a design concept that captures your aspirations.
2. Design
Next, our talented designers bring your vision to life. Using cutting-edge technology and traditional drawing techniques, they provide detailed sketches and 3D digital artwork. These visual representations allow you to envision the final outcome and make any necessary adjustments before moving forward.
3. Crafting
With the design and recycled materials finalised, our master craftspeople start making your piece. Every intricate detail is meticulously executed, combining traditional craftsmanship with the latest techniques. Our goldsmiths pour their passion and dedication into creating a jewellery piece that is not only visually stunning but also built to stand the test of time.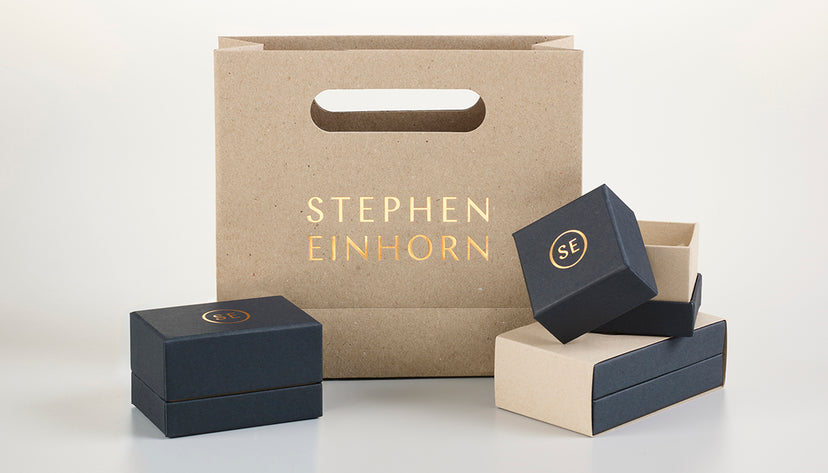 4. Delivery
Once your remodelled jewellery passes our quality checks, it is elegantly packaged in a beautiful, fully recyclable box, designed to protect it during transportation, and become a box for it to rest in when not being worn. We understand the significance of this moment and aim to make it a truly unforgettable experience for you.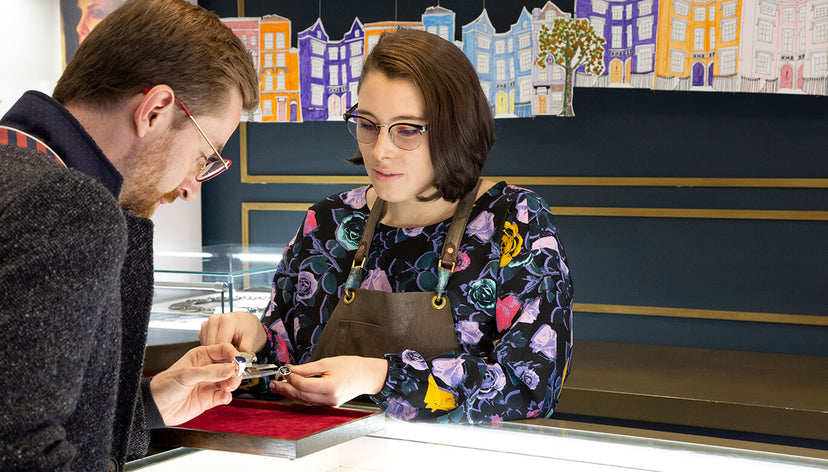 5. After Care
Our relationship with you extends far beyond the collection of your bespoke jewellery. We offer comprehensive aftercare services, including cleaning, resizing, and maintenance, to ensure your precious piece remains as exquisite as the day it was made. We are committed to providing excellent service and will always be available to answer any questions or provide further assistance.
About remodelling
The Stephen Einhorn bespoke jewellery remodelling service breathes new life into your cherished pieces. Our careful process ensures that your jewellery undergoes a transformation that reflects your individual style whilst retaining the essence of the original piece. Often our customers are bequeathed jewellery that has huge sentimental value but is not to their taste. That's where we come in. We can create something wonderful that you will be proud to wear.
Your journey begins with a personal consultation, where our showroom team listen closely to your wishes for your new design. We gather ideas you may have, and talk about colours, recycled metals and stones, styles and size. Collaborating with our expert designers, we bring your vision to life through detailed sketches and 3D renderings, allowing you to visualise the final result.
Material selection is a vital step, where you'll explore our extensive collection of exquisite gemstones, recycled metals, enamelling and engraving. With our help, you'll choose the perfect elements to enhance your redesigned piece, whether incorporating new materials or repurposing existing ones.
Each recycled metal that we use has different qualities. Every metal, every gemstone, has a very specific hardness and colour and our jewellers will give you expert advice every step of the way on how and what to choose. We will do our best to combine your desires and your budget for a spectacular end result which is durable and beautiful.
FAQ's
Answers to commonly asked questions
Read More