OUR GUIDE TO BUYING THE PERFECT ENGAGEMENT RING
If you are puzzled, perplexed or simply in a quandary about your very special choice. Let us help. We have written a handy guide to the many different choices you can make when buying a perfect ring. There are no rights or wrongs. Its all up to the Individual. That's what we are all about.


A cushion cut engagement ring has a very classic look to it and offers a striking combination of modernity and femininity. A cushion cut is a square diamond but with softly rounded corners. The reason it's called a cushion cut is because the stone is the shape of a cushion or pillow.
Timeless, elegant and very sophisticated, the simple design of our solitaire engagement rings puts your diamond or precious gemstone centre stage. A solitaire refers to a design with a single diamond or precious gemstone which is normally claw set to show off the vibrancy and brilliance of the stone.
An oval cut is a very elegant stone. The history of this cut goes back to the 14th century, however it wasn't until 1919 that the formula for the perfect oval cut was finally realised. An oval cut stone is a modified form of the round brilliant cut, and possesses a similar fire and brilliance.

The princess cut diamond has its origins in the "French Cut". A princess cut is a square or rectangular shape and the profile of the stone is similar to a pyramid with four bevelled sides. It's a chic and elegant looking stone and a very popular engagement ring choice.

The round brilliant cut is often thought to be the fanciest cut due to the mechanics of its shape. However, as in all things, it is simply a question of taste. It is cut with 58 facets which allows a lot of light reflection and exceptional brilliance.

A cluster design features a stunning centre stone surrounded by diamonds or precious gemstones for a luxurious look. Depending on the setting cluster rings can either look very contemporary, or have a more vintage feel. The choice is really yours.
Diamonds, as the toughest mineral known to humans, will become the heirlooms of the future. They carry a rich and illustrious history. Nothing shines and sparkles quite like a diamond, the play of fire and colour can catch your eye from across a room, giving them a truly unparalleled beauty. The name diamond derives from the Greek for for invisible or untamed. Very apt for this wildly enigmatic stone.
Since their discovery rubies have been treasured by people across the globe. Passion, love and royalty - the ruby is a majestic stone. Varying in colour from the raspberry red hues found in Macedonia, through to the palest fading sunsets into a deep blood red, the ruby's depth of colour means it suits settings in a variety of precious metals.


The sapphire comes in many different hues, but blue is the best known colour. Their deep, dark hue adds instant drama to a piece of jewellery. In the Middle Ages clergy wore blue sapphires to symbolise heaven. In Ancient Greece and Rome monarchs believed them to protect from harm. In modern times, they have often graced the necks and hands of royalty. Different trace minerals produce a whole spectrum of differently coloured sapphires. It is a very durable stone, exceeded only by diamond.
Prized by the Incas and the Aztecs, the Romans and ancient Egyptians, this is a stone with an illustrious history. The deep, vibrant green of emerald is so incomparable that a colour is named after it, emerald green. Emeralds without inclusions are extremely rare. The many inclusions in them, known as "jardin" are not faults, rather, they are evidence that the stone is genuine. Their delicate nature only makes them precious and more desirable.
Platinum represents the best of everything. It's beautiful. It's shiny. It's tough. And it's the rarest, most luxurious precious metal in the world. Platinum's natural bluish white colour perfectly compliments a pure white diamond, deep blue sapphire or rich ruby.
The warmth of yellow gold's lustre is highly prized, and as it is a finite precious metal, every piece is treasured making it the perfect metal for an engagement ring. 
It's warmer colour suits every skin tone and the romantic, soft, rich colour is the perfect compliment for coloured gemstones. Rose gold comprises of a gold and copper alloy, making it more durable than yellow or white gold. It looks especially striking combined with rubies. 


This precious metal has a warmer bright silver-white sheen to it, making it the perfect  background for any gemstone, as it will never detract from the beauty of the stone. It is a durable and elegant option. 

Palladium is a lovely white precious metal, particularly suited to contemporary designs. It is tough and durable like platinum, but also malleable, making it ideally suited to more fluid jewellery designs. It is lighter in weight than platinum, and "whiter" in colour than white gold, comprising of 95% pure palladium metal. It is also hypoallergenic.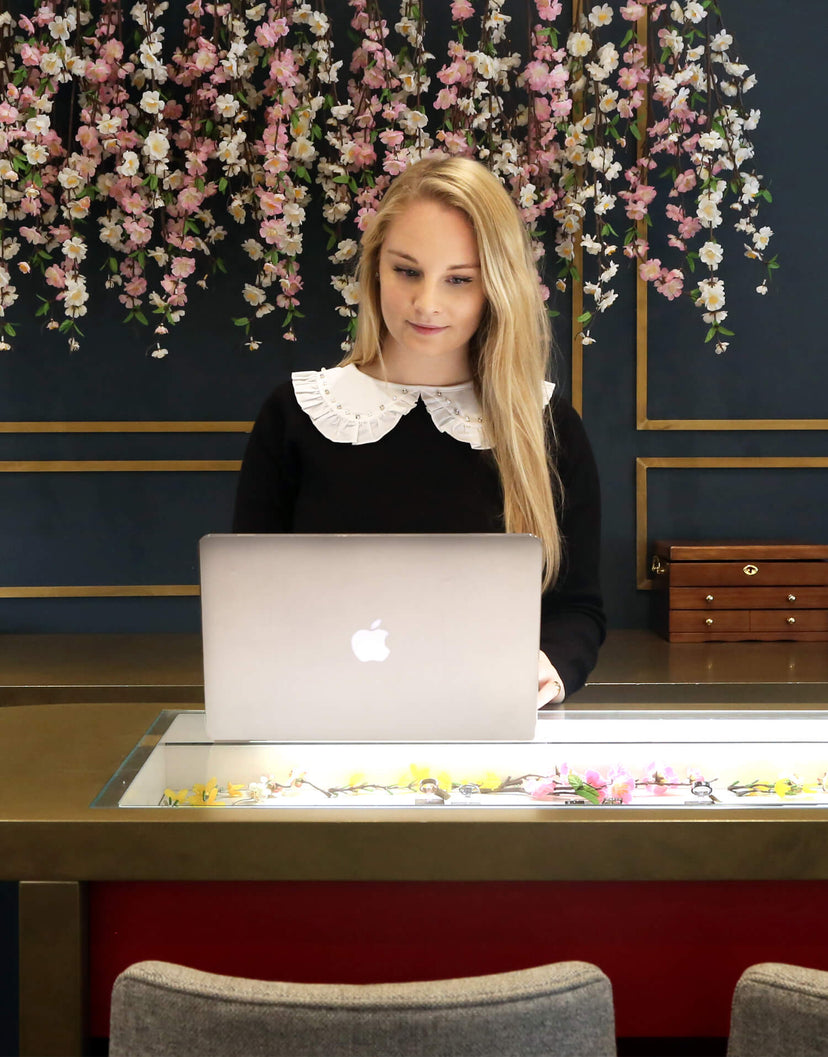 request a consultation
[PLACEHOLDER TEXT] Our sales team take pride in their customer service. If you'd like to talk more simply complete the form below with as much information as you can and we will give you a call back.