Damien Hirst & The Diamond Skull
Damien Hirst, Until September 9th & (For the Love of God) aka The Diamond Skull Until June 24th
TATE MODERN Bankside, SE1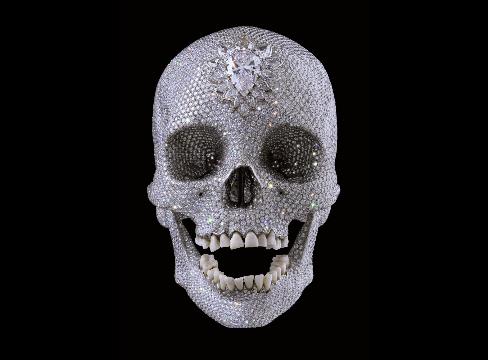 This is a must for all those interested in seeing how an ex Goldsmiths fine art student has, in 25 years, become the world's richest artist.
I particularly liked the earliest shown works including the first drippy spot painting on plywood and an installation of brightly painted cardboard boxes fixed into a corner of the room.
From then on it was a show which could have been entitled 'Damien's Greatest Hits' as there were examples of all of his most recognisable works…animals in formaldehyde, cabinets of pharmaceutical drugs, spin paintings, manufactured diamonds, butterflies and more.
The walls of some of the galleries had been papered with specially produced Hirst wallpaper…available to buy in the gift shop! I particularly liked the gold-papered gallery with the rows of manufactured diamonds in the gold plated display case along with the spot painting on a gold background…a room of OTT diamond bling!
This is the first Tate show that I have seen where the gift shop is actually a part of the exhibition and where most of the items on sale have been produced by Hirst's commercial enterprise 'Other Criteria'.
On the ground floor in the turbine hall is a black room containing the infamous diamond skull. I believe the skull has been valued at £50 million and has been described by the Sunday Times as "The most gorgeous visceral experience available to diamond junkies". You may have to queue for a while to get to see it but it's not everyday that so many diamonds are on view in such a dark and small space!