Destinee & Dirk – Series 1 Episode 2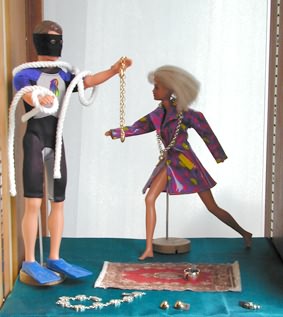 1. On the Honeymoon, Destinee realises that Dirk is a deeply troubled man. This is not what she had expected. In the dead of night, she slips away…….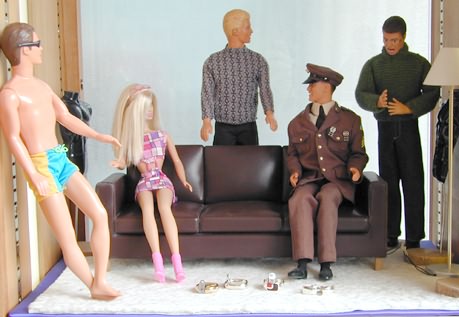 2. While visiting Tad's bachelor apartment, Dirk recounts with anger & disappointment how he was abandoned on his honeymoon. Listening intently from across the room a mysterious man (strangely dressed in swimming trunks?) catches his eye…..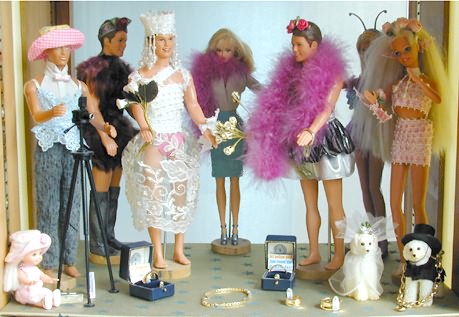 3. Events have moved fast. Dirk and Jonathon who have only known each other for a matter of weeks, having met at Tads fashionable bachelor apartment, exchange wedding vows. Dirk looks stunning in his Christian Lacroitch. Destinee looks on furiously – not only has her love child, Stacy Jo, decided to live with Dirk, but one of the brides is wearing the same feather boa as her!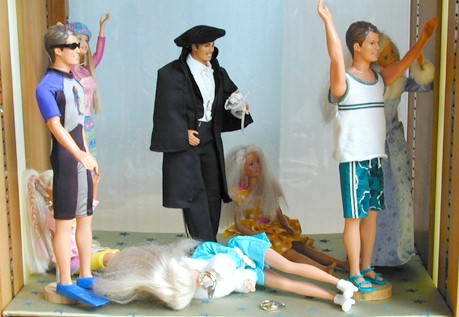 4. At Dirk's reception, the old seducer Count Von Einhorn, pushes aside the wedding guests roughly in order to catch the bouquet. He has a dangerous glint in his eye. Dirk looks on with amusement, he thinks to himself "this will be the honeymoon of my dreams".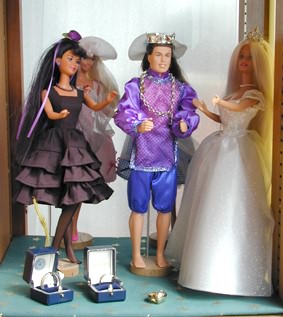 5. Not to be upstaged by Dirk, Destinee marries Tad, Dirk's best friend. Zita proudly watches her daughter walk up the aisle. Despite still being in mourning for her 6th husband, Ernest Shackleton III she is happy that at last Destinee has found a man with real style….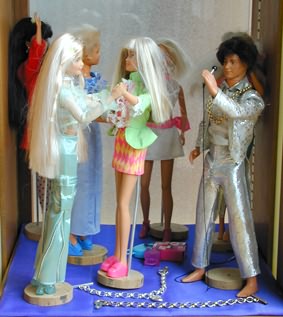 6. The perfect end to a perfect day! As Destinee's friends dance round their handbags to the kicking beats of Frankie Formagi, Destinee has one last glorious dance with her best friend in the world, Missy Shackleton. They hold each other tightly.
Catch up on previous episodes of Destinee & Dirk and find out about the story behind the soap by clicking on the underlined link at the bottom of this post.