New London Art Exhibition at The Stephen Einhorn Showroom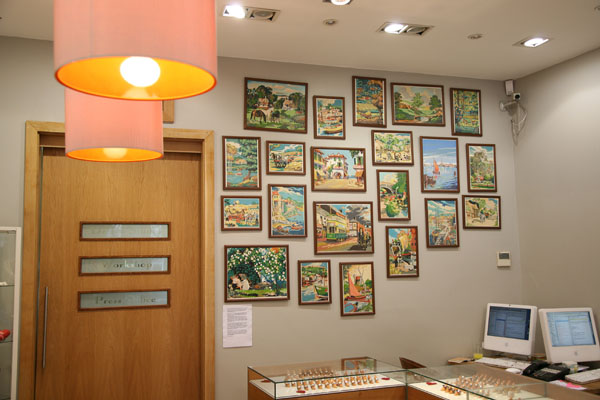 We have started our very own Art Gallery and this is our first exhibition! We are very excited and have some very interesting artists waiting in the wings for their turn in the spotlight. This exhibition has been curated by Mr Stephen Rothholz a bit of a mover and a shaker in the Art world, if you catch his eye you've got it made!
Below is the artists bio.
'Typically, those labelled as outsider artists have little or no contact with the mainstream art world or art institutions. In many cases, their work is discovered only after their deaths. Often, outsider art illustrates extreme mental states, unconventional ideas, or elaborate fantasy worlds.'
Gabe and Bunny Primstin lived in Holyport near Maidenhead. The twin's parents arrived in England as refugees from Berlin in 1938.
Originally the family name was Primstien, but they dropped the 'e' and became Primstin.
The Primstin family were very well known in Holyport. Mrs Primpstin regularly won first prize at the local Flower and Produce show for her very popular Gin and Rhubarb conserve, (which caused much of the W.I. to remain inebriated throughout the war) and Mr Primpstin was much loved as Johnny Castle, the male lead in 'Dirty Dancing' which he continued acting in against his doctors advice well into his 70's.
Gabe and Bunny lived with their mother all their lives, at the same time taking an interest in all aspects of village life. They were co-founders of the 'Real Tennis Association of Bray'.
In later life they nursed their mother when she became bedbound with a non-specified illness, with thoughtfulness and patience (their father having died in 1982).  Both very shy boys, they excelled at painting and were greatly encouraged in later years by the Holyport Derby and Joan club.
They rarely went out in their later years, and spent most of their time doing Painting by Numbers kits. Their mother died in 1989 leaving Gabe and Bunny alone. In 2005 both brothers died almost within weeks of each other quietly in their beds. Their enormous collection of Painting by Numbers pictures came to light during their house clearance.
b. 1928   d. 2005