Staff Benda Bilili, Continued…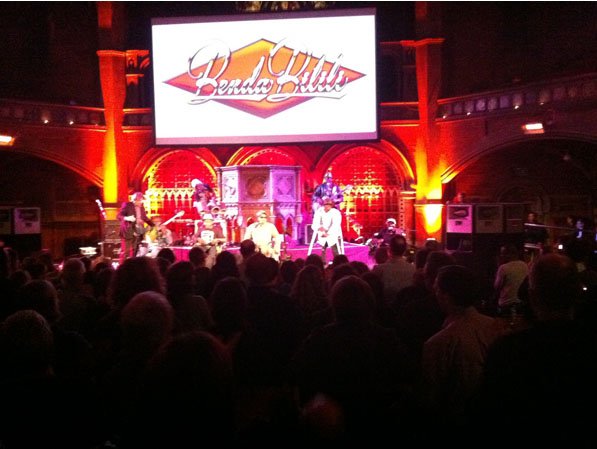 On Friday night Designer Einhorn and I were lucky enough to see the first screening of the documentary about the band Staff Benda Bilili made by Renaud Barret and Florent De La Tullaye.
Originally these two French filmmakers went to Kinshasa to make a film about urban African music but they ended up meeting Staff Benda Bilili and became involved with these amazing musicians for five years, culminating in the making of their first album.
Three members of the band are polio sufferers in wheelchairs, and all of the band members live on the streets. It's a fantastic film. These people have lived with terrible hardship, without the very basic necessities of life in a society where life is very cheap, busking on the streets for a living, and struggling to keep a community together.
As if the film wasn't uplifting and extraordinary enough, after the film the band came on. The reception the audience gave them was ecstatic. The band exude energy, excitement, and the sheer power of being there on the stage against all odds, they are happy to have finally succeeded, and we the audience are too.
They play a fantastic mix of reggae and rumba, a real Afro-Cuban mix. We would highly recommend their album Tres Tres Fort, and the documentary which is on sale on Amazon. Watch it, I promise you will not be disappointed. They are playing on 15th May at The Roundhouse, just saying……..