The Stephen Einhorn Guide To Skull Rings
Our skull collection is famous for its luxurious  quality and unique beauty, and is probably our most iconic range here at Stephen Einhorn. While our big and bold skull rings are popular with a wide range of customers who want to rock a rebellious and individual look, our more subtle designs (such as our skull cufflinks) can be worn even in a corporate environment as a form of self expression.
Every one of our skull rings has been designed by Stephen himself, and handmade by our skilled craftspeople right here in our Islington, London workshops, using recycled metals and sustainable methods. 
Stephen Einhorn says:
"My skull jewellery represents sculptural beauty, mortality and history. I love the grandeur of skulls. The way you can use such a strong striking symbol and make it look approachable, stylish and luxurious, even though normally it is a symbol of power and danger."
Below we answer our customer's most commonly asked questions about skull rings and the best way to wear them...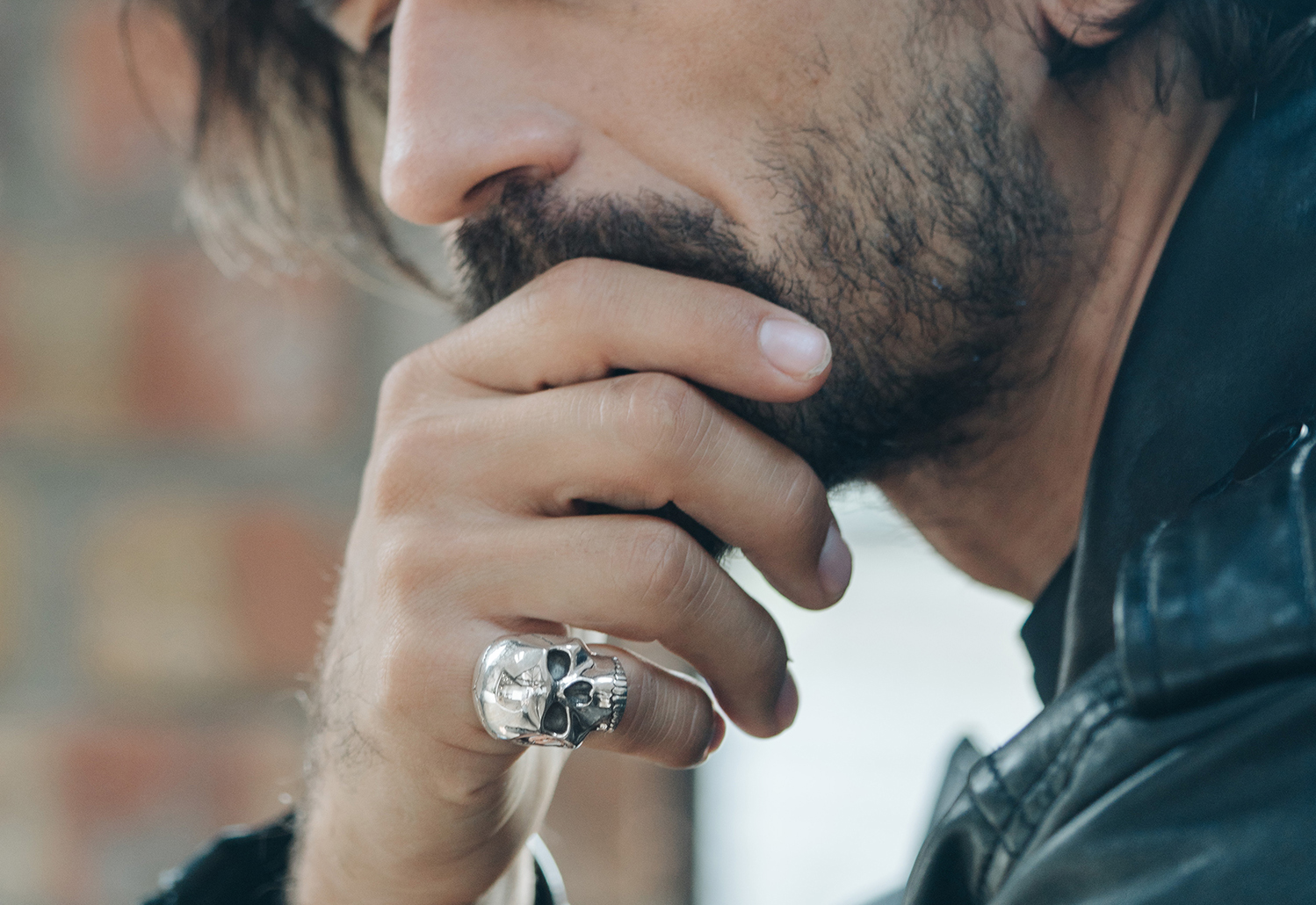 What does a skull ring mean?
A human skull is thought to represent death in a lot of cultures, but it has a variety of more complex meanings than that.
Skull rings were worn in Victorian times to celebrate loved ones and remind the wearer of their own mortality.
As well as a reminder of death, skulls symbolise the afterlife - as the skull remains after the rest of the body has rotted away. In this way they represent a person's legacy, and skulls are a key symbolism in Mexico's 'Day of the Dead' festival for this reason.
Skulls also represent equality to some wearers. It is a reminder that every person shares a common fate and ultimately we all end up the same way. 
Skulls have been favoured symbols for society's rebels for many years - for instance 'skull and crossbones' was the symbol was used by the Knights Templar as far back as medieval times. It was used by pirates in the 18th century on their flags to terrify other ships at sea, and during this time the Catholic church prohibited the use of the symbol. In the early 1900s it became law in the US for skull and crossbones to be added to bottles containing poisonous substances, continuing the association with danger.
Are skull rings good luck?
In some cultures yes they are - and they are believed to keep away evil spirits and fill the wearer with positive energy. However as we explained above, skull rings mean different things to different people, and the meaning you bestow on your skull jewellery is really down to the individual wearer.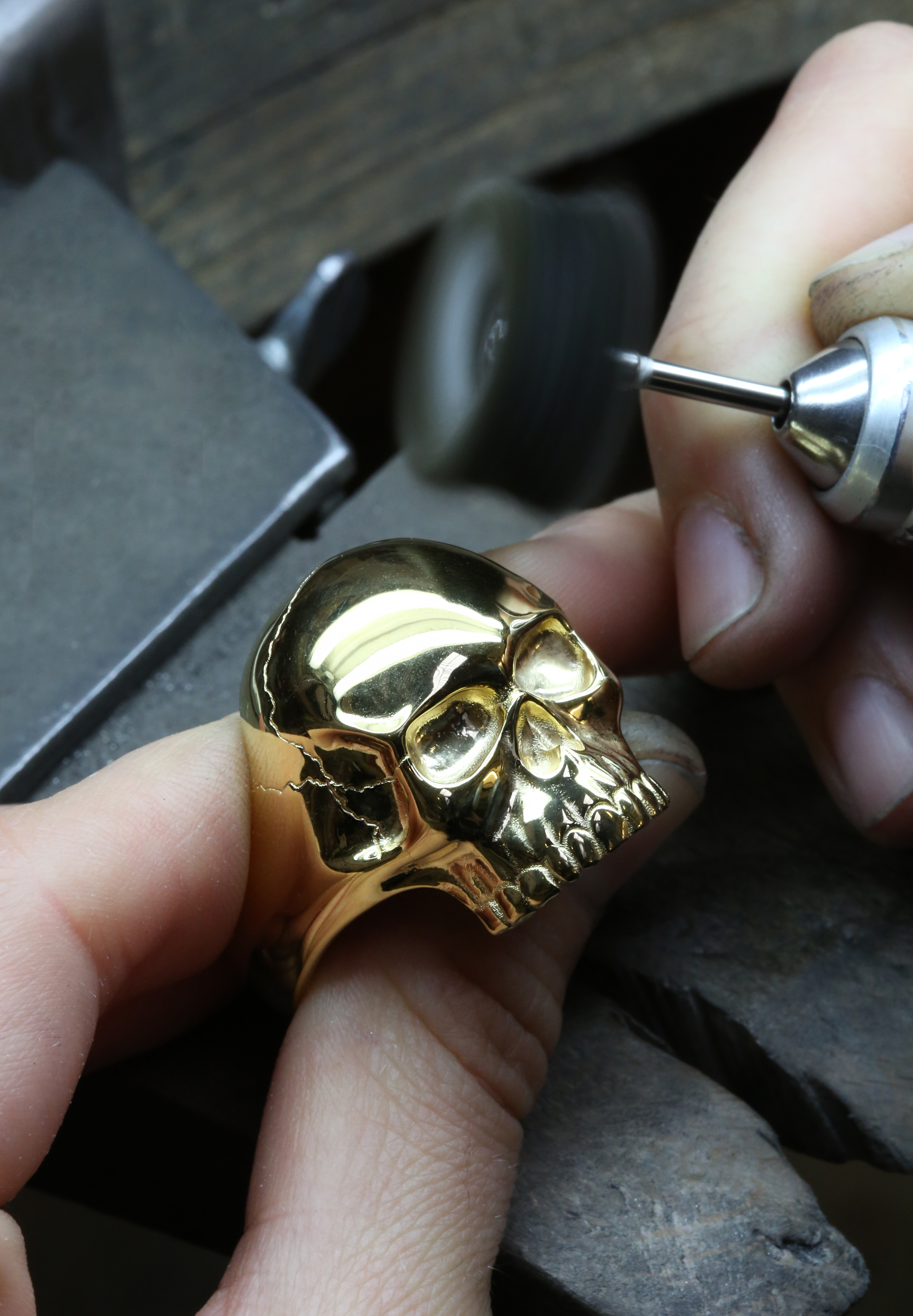 Which celebrities wear skull rings?
Johnny Depp is probably the first celebrity that comes to mind when you think of skull jewellery, but he is certainly not alone. Skull designs are popular with a lot of famous people that want to express a bit of edge and rebellion in their look.
Keith Richards, Steven Tyler, Jason Momoa, Travis Scott and Lenny Kravitz all regularly wear skull jewellery. Famous women include Rihanna, Katy Perry, Jessica Alba, Vanessa Hudgens and Alexa Chung. Even Cheryl Cole famously swapped her wedding ring for a large silver and ruby skull design during her divorce from Ashley!
Celebrities that wear and love their Stephen Einhorn skull rings include Steven Bartlett, Noel Fielding, Kristian Nairn and Arlo Parks.
How do you wear a skull ring?
So you've decided you want to invest in this powerful statement piece, but now you need to think about how you style it. We're all about celebrating the individual at Stephen Einhorn and believe you should wear your new skull however you'd like to! 
That being said...the way you wear a skull ring demonstrates the meaning behind it for you. If you are making a style statement with your ring, wear it facing away from you for others to see. Bikers also wear their ring facing outwards to show others which club they are a member of.
If the ring has sentimental meaning to you however it should be worn facing inwards, as it is personal and it is for you to see and think about.
There are so many different ways you can style your skull ring depending on the look you want to go for. You can wear a skull ring as a stand alone piece to really let it shine - we especially love our gold skull ring with striking stones in the eyes for this purpose.
You could layer up silver skull rings with snake and wolf designs for a rocker look, or wear your skulls as an unexpected detail when combined with delicate and feminine pieces and pretty painted nails. What we love most about our customers is how different they all are and how they make every Stephen Einhorn piece their own. We get so inspired when we see how you all wear your skulls!
View the full range of Stephen Einhorn skull jewellery here, and shop other pieces to complete a gothic or rocker look here.