The Storytellers: Charlie Allen
PORTRAIT PHOTOGRAPHER: JP MASCLET
By my calculations Charlie Allen has been running his business for 37 years. A pretty incredible achievement for someone who has worked without compromising his original remit to make bespoke suits of a really high quality without compromise to see where it takes him.
It's taken him quite a long way. He has become well established and much loved by his cliental with a warm and welcoming manner and a way with storytelling.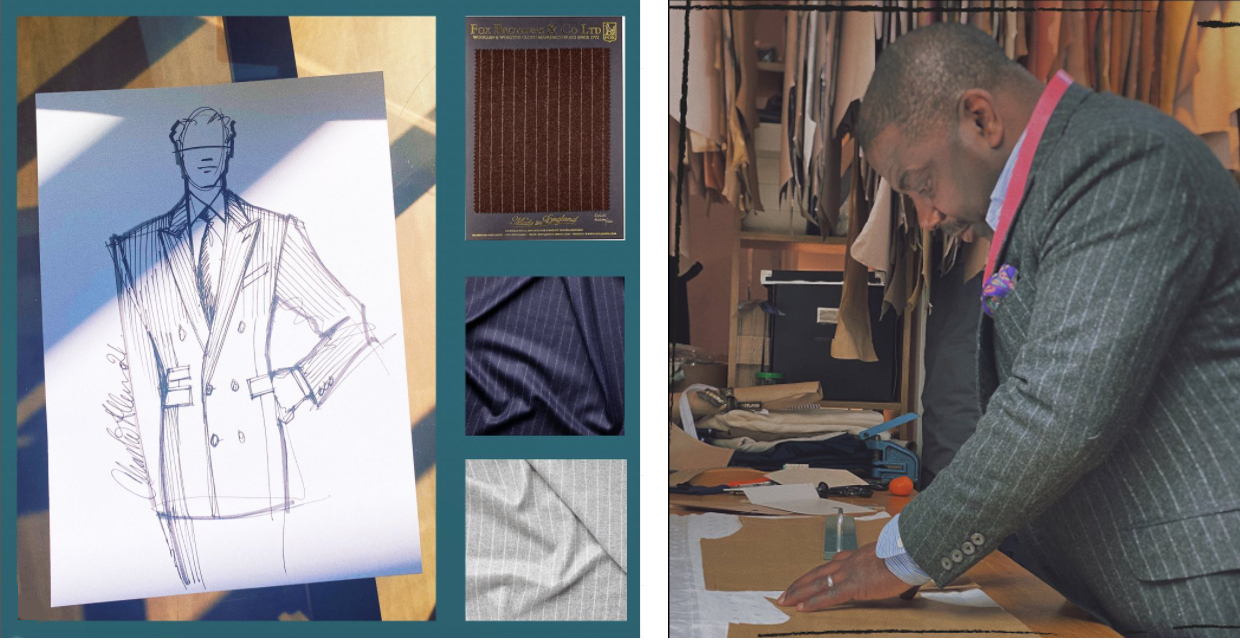 Charlie is from a tailoring family, he started his training with his father and ended up receiving his MA from the Royal college of Art, at the same time he was also running his own business. He ended up being head of Menswear at The Royal College, a pretty incredible role to be doing as well as running a company.
He has made suits for so many celebrities! You name them he's made a suit for them: Fabio Capello, Princess Anne, Lenny Henry, Andrew Flintoff, Ricky Gervais and Prince are just a few.
A lover of the beautiful game (he is a very keen supporter of Arsenal football club,) he was asked to design the England kit for our national team. He's made clothes for films most recently for John Boyega in Steve McQueen's Red White and Blue. Recently he has also been working with the new Bob Marley musical Getup! Stand up! He has designed for pretty much every major menswear label in the England such as Marks and Spencer, DAKS, BHS and was also head of Menswear at Austin Reed.
The history of Charlie's career is quite incredible,  when you start digging you realise just how much he has achieved. He is a true ambassador for 'Made in Britain'. When we put his picture up in our showroom as part of our Storytellers series, people wave and point at him through the window, everyone in Islington knows Charlie Allen.
1. Do you think the UK is a good place to live?
Yes especially in summer. August is absolutely my favourite month of the year. Everyone has left London, you can move around easily. There is no better or more beautiful place to be in the world than England in the Summer.
2. If you were Prime minister tomorrow what would be the first thing you would change?
Reverse Brexit. The stupidity of it is mind blowing. The duty on goods, the extra phone charges, it goes on and on, it took so long to sort out, 50 years and now we've suddenly gone back 50 years.
3. What is or was the best thing you did last year?
Easy, making costumes for the new musical about Bob Marley Getup! Stand up! Which is on at the moment. 
4. Who has been the biggest influence on your life?
My father. He told all his sons that we had to have a trade. From the age of 4-5 he started to teach me how to be a Tailor like he was. He was adamant that all 5 of his sons learnt his trade. I wanted to design and went on to learn about textiles and about  the History of design at Art College. But then…in the end I have come a full circle and have ended up 'making' as a career. Now I'm glad my father insisted on me learning a trade.
5. If you hadn't been a tailor is there another career you would have liked to have had, are you good at anything else?
I would have been a fine artist or a musician. I think that I have a real affinity with the drums and think I would have been a really good drummer. I feel really comfortable behind a drum kit.
6. Who alive or dead would you have really liked to have been friends with?
Thierry Henry and Mohamed Ali. Thierry is the worlds greatest footballer he is the true embodiment of genius, he has a skill that no one else can master. I've made bespoke suits for quite a few Arsenal players but never for him. He would be really interesting to talk to, he's a sophisticated European. Mohamed Ali doesn't really need any explanation. He was simply an amazing man.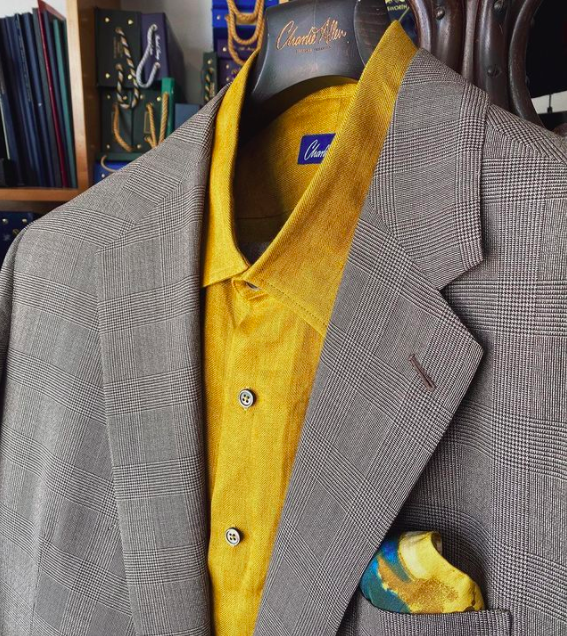 Pictured: the fawn Prince of Wales check with mustard linen shirt
7. What is the most valuable piece of advice that someone has given you that you have actually followed?
Never look down! Given to me by Jane Rapley the Dean of Central St Martins University of the Arts. Apparently her mother had said that to her, a good adage to pass on.
8. What do you think it would have been like if you had been born as the opposite sex?
Very hard. I would have become an MP so that people would have to listen to me and I could help effect change.  As a women and especially as a black women you have so little power.
9. What is your favourite film and song to pass on to your children?
Trading Places with Eddie Murphy and Dan Aykroyd. Because in this film the poor character who is supposed to fail, not only doesn't fail but wins for himself because he's smart! Favourite song is Don't worry about a thing, by Bob Marley.
10. Lastly which piece of Stephen Einhorn jewellery would you most like to own?
I would love the signet cufflinks in sterling silver inlaid with Hand cut onyx and my initials.