New York, for those about to visit…
First of all apologies for lateness and those who wanted to see Cindy Sherman, its finished!
Sad to say the first Frieze New York Art Fair has finished but it might be worth planning a trip for next May's second event.
There were numerous other contemporary art fairs running at the same time including NADA on W22nd Street and Pulse which were both worth seeing.
Here's a run down of whats worth seeing at the moment:
MOMA
11 W53rd Street
Cindy Sherman till June 11th
A fabulous retrospective covering over 30 years of work and includes more than 170 photographs from the 1970's to the present day.
The black and white series "Untitled Film Stills" are particularly powerful and show the artist in roles inspired by 1950's and '60's Hollywood films.
Another large colour series from 1989-90 in which she poses as aristocrats, clergymen and milkmaids in the manner of old master paintings is worth the ticket price.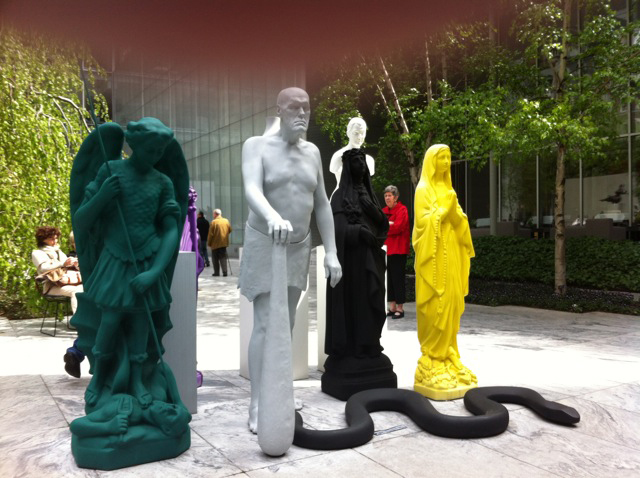 Sculpture in MOMA Gardens.
There are numerous galleries on W22nd, 23rd and 24th streets…….too many to comment on but a few current shows worth seeing are:
CRG
548 W22nd St till June 23rd
Tonico Lemos Auad:Figa
A show by a Brazilian artist including sculptures in brick, cloth and using found everyday household tins and cans that have been overpainted with splashes of bright colours.
A wall piece requires the viewer to scratch away the silver overpainting (similar to lottery tickets) to reveal a series of photographs of a religious procession.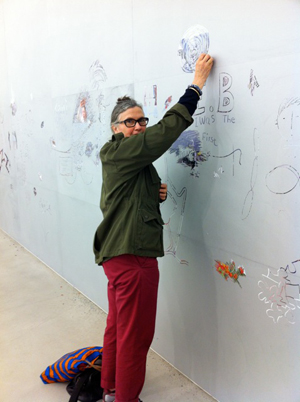 ZACH FEUER
548 W22nd Street
Florian Schmidt till June 16th
A show by the young Austrian artist includes a series of canvases with geometric shapes using muted colours hung alongside a series of black and white 3D constructions made from foam core and cardboard held together with nails and staples.
PACE GALLERY
545 W22nd Street till June 23rd
Claes Oldenburg/Coosje van Bruggen
A two part show with enlarged costumes and props from a collective work with Frank Gehry from 1985 and a large piece from 1990 which was their last combined installation piece. The show includes a model of Knife Ship, a 78ft Swiss army knife that voyaged along the Arsenale canal in Venice during the 1985 performances.
"The European Desktop" installation comprises giant postal scales, ink blotter, writing quill, an exploding ink bottle and a shattered desk pad strewn around the gallery.
MIKE WEISS GALLERY
520 W24th Street till June 9th
Jan de Vliegher
A show of paintings by the Belgian artist documenting his obsession with porcelain plates. The paintings are large, up to 5ft square and are painted in lush colours with drip marks making the usually perfect qualities become smudged and take on a new meaning.
GAGOSIAN GALLERY
555 W24th Street till June 30th
Lucio Fontana: Ambienti Spaziali
A show of more than 100 works a lot of which have never been seen in New York. The title of the show relates to six of Fontana's environments which have never been reconstructed especially for this show.
Fontana was born in Argentina in 1899 and raised in Milan. He spent his early years in Italy and Argentina and lived in Buenos Aires from 1940 till 1947.
On returning to Milan he found his studio and works completely destroyed in the allied bombings.
From that time he entitled his works 'spatial concepts' and experimented with cut and punctured canvasses.
MATTHEW MARKS GALLERY
502 & 526 W22nd St till June 23rd
Brice Marden: New paintings
In 502 is one work consisting of 9 small panels painted in different shades of blue based on a piece of Ru ware which is the rarest of all ancient Chinese pottery dating from the 11th century.
At 526 there is a collection of 15 new works in oil and graphite on marble. These are geometric compositions in vibrant colours incorporating each piece of marble's natural variations. These work particularly well and were some of the best pieces that I saw.
NEW MUSEUM
235 Bowery till 26th August
Nathalie Djurberg
A show comprising 5 'claymation' films which use humans and animals to represent some of the most primal urges including jealousy, revenge, greed and submission. The films are in parts dark and disturbing and the soundtrack by Hans Berg makes them quite an eerie experience.Alongside are a collection of more than 80 bird sculptures made from clay, wire and painted canvas some of which are somewhat monstrous in appearance.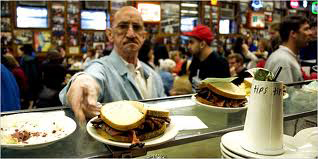 The great thing about being in New York is the abundance of independent shops and restaurants which seem largely to have vanished from the London scene.
The old favourites are still there…….salt beef sandwiches at Katz's on East Houston St……..been there since 1888 and Russ & Daughters, also on E Houston St since 1914 for smoked salmon beigels.
Vanessas Dumpling House on Eldridge St was an absolute winner…………lunch for $4 has to be good……..and they have recently opened in the ubertrendy Williamsburg, home to the eversomodern under 30's.
All good things come to an end so, now back in Londontown, a visit to the two Lisson Gallery sites are more than worthwhile
LISSON GALLERY
29 and 52-54 Bell St NW1
Jason Martin and Richard Deacon till June 23rd
Jason Martin's makes paintings about paint…….applying rich thick dark layers of oil paint onto aluminium…..experimenting with brush strokes and textures and using pure pigments applied to the textured surfaces.
There also is a series of works cast in nickel, copper and bronze using the textured surfaces as a starting point for the casting process.
Richard Deacon has used stainless steel, ceramics and aluminium to produce a collection of amazing pieces which continue his exploration of geometric shapes.
I particularly liked his ceramic 'Republic' pieces which use a variety of glazes and ceramic finishes.
The large steel piece in the outdoor yard entitled Congregate 2011 comprises eight skeletal frames that interlock to create a single unit. The machined finishing of the surface works particularly well.