Our guide to yellow gold jewellery
All that glitters is not gold. Oh, Mr Shakespeare, you are never wrong.
All that glitters
All that glitters is not gold. Oh, Mr Shakespeare, you are never wrong. But when gold does glisten, it really shines. Chalices are golden, thrones are golden, the Crown Jewels are made of it. It is the colour of decadence and luxury. Rich, voluptuous, deep.
What is gold?
Gold is found in its natural state – meaning when it is mined or found gold looks like, well, gold. But pure gold, although very dense, is an extremely soft, malleable metal, and must be combined – or alloyed – with other metals in order to give it the toughness and durability it needs to have, to be used in objects that we need to have strength and permanence. When adding metals to gold, jewellers take into account not just their strength and physical properties but also their colour. More copper is added to pure gold to form rose gold, more palladium is added to form white gold, and a combination of metals such as copper and silver are added to pure gold in order for it to retain its colour and become what we know as yellow gold. Yellow gold carries the same hallmarks as rose and white gold: Its hallmarks are 375 for 9 carat, 585 for 14 carat, and 750 for 18 carat. These numbers translate as percentages of gold in the mixture: 37.5%, 58.5% and 75% and are the standard used by the British Assay Office which tests the validity of the metal carat and stamps it along with our makers mark (an SE in a small square box) to authenticate its quality. Yellow gold can also be found in 22 and 24 carats but these are extremely soft.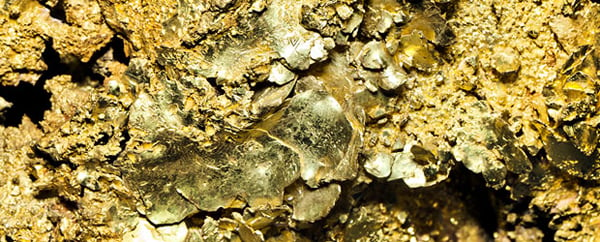 Where does gold come from?
Gold is often found in underground veins of quartz but it is also found above ground as small yellow grains or flakes that have been freed from other rocks by erosion or glacial movement. This is known as alluvial gold and it is often located in rivers or streams. It can be found by panning – a process whereby water is swirled round and round in a deep dish, causing it to slosh over the edge with less dense metals, leaving the heavier gold flakes at the bottom. But before you trek to your local river, dish in hand, you need to consider its rarity. On average every 5000 tons of earth yields just 20 grams of pure gold.
Gold through the ages
Perhaps its rarity, combined with the quickened heartbeat in the fleck of discovery, has contributed to its rich history and value over many centuries. Artefacts have been found from the Romans, Incas and Ancient Egyptians. They have discovered pieces in the Balkans from the 4th millennium BC, from Ancient Greece and South America, and gold is referred to in many ancient and religious texts.
It is also the stuff of legend. The Gold Rush of 1848 in California in many ways shaped America, precipitating a mass migration of people to the west. Legends of gold hunters looking for lost treasures abound. King Midas suffered an unfortunate fate when granted the unique ability to turn everything he touched to gold. Be careful what you wish for. And alchemists have for centuries looked for – and failed to find – ways of turning other base elements into purest gold. (You may remember an episode of Blackadder where Lord Percy tries his hand at alchemy but only manages to produce purest 'green'). It cannot be done.
Yellow gold jewellery is classic and timeless
As with all other metals there is a finite, and small amount of gold in the earth so every bit is precious, making it the perfect metal for precious jewellery. Yellow gold never goes out of fashion. It is as classic as the ancient cultures that revered it, and as modern as the new designs and twists that the 21st Century has given it. Stephen Einhorn has used gold in his jewellery designs for over 20 years and loves to use it in his elegant and simple pieces as well as in his more masculine and heavier jewellery designs. It is a durable metal that it can be easily moulded and sculpted by his team of skilled jewellers, allowing the creation of daring designs as well as comfortable classics. It is an un-reactive metal so rarely tarnishes, and can be re-polished to look like new with ease.
Gold is an heirloom; watch it glisten
Gold is the crowning glory in the Olympics. It is the postbox for sporting heroes. It is the colour of the UK's most valuable coin. And yellow gold is beautiful. It warms the skin and shines with promise. It holds diamonds carefully and reflects their coolness with its warmth. It contrasts with emeralds and deep blue sapphires, compliments rubies and sets off pearls. Yellow gold is the perfect choice for an engagement and wedding ring set as its colour can take you from classic and feminine to modern and sleek. It is not a metal you buy just to look at while you wear it. It is one you pass down. Gold is an heirloom. Watch it glisten.
Most of our men's and women's jewellery designs can be made in 9 carat, 14 carat and 18 carat yellow gold (simply use the metal drop down menu on each product page).
If you're shopping for gold jewellery online and require a little help with your search for the perfect piece, please don't hesitate to give us a call on +44 (0) 20 7359 4977 or email us at shop@stepheneinhorn.co.uk. Our expert jewellery advisers have years of experience and will be able to demystify the wonderful world of gold luxury jewellery.