Our London: Long Live Southbank – The Fight For The Undercroft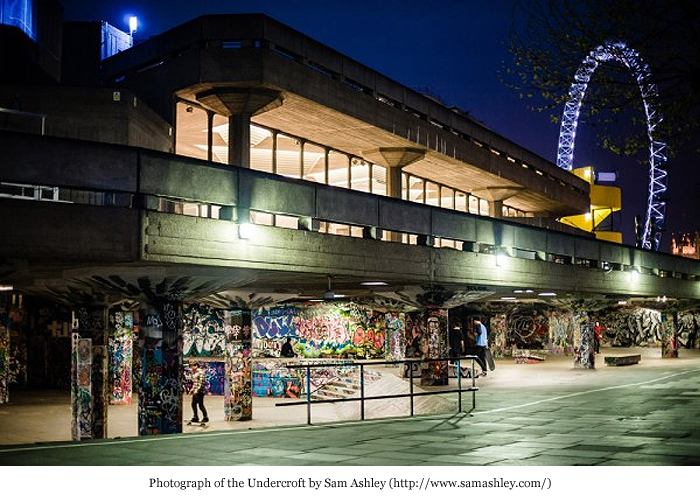 Personally I use the Southbank Centre all the time. I have done for many many years. I was born in London and have lived here all my life. The Southbank is one of my favorite places to go in London. I especially love the Royal Festival Hall, I think it's one of the best and most beautifully designed concert halls we have in this country and I went just last Sunday to see the wonderful Steve Reich.
Also how about Jeppe Heins Appearing rooms? I have countless photos on my phone of my friends children running in and out of it (usually fully clothed!) enjoying the magic of it, being soaked by it. I love the bar on the top of the Purcell Room, how amazing to have a garden up there, and to be able to sit on the grass and watch the sun set over London. Genius… So I feel very sad that the people who run the Southbank and those who are planning to redevelop it are trying to get rid of the skateboarders, BMX riders and graffiti artists of  the Undercroft.
It saddens me because our world is becoming more and more homogenised with large chains moving into every area of our lives and it appears that there are few people with the will or the energy to stop it happening.
The Undercroft is a case in point. There have been skaters there since 1973. It's a wonderful use of a space that was designed with no purpose in mind other than being a public space. No one used it, it was dark and desolate.  A public space that has been adopted by the public and is used to brilliant affect. As a space for skateboarders. Oh but of course although they are the public, they are young aren't they? Apparently easily dismissed.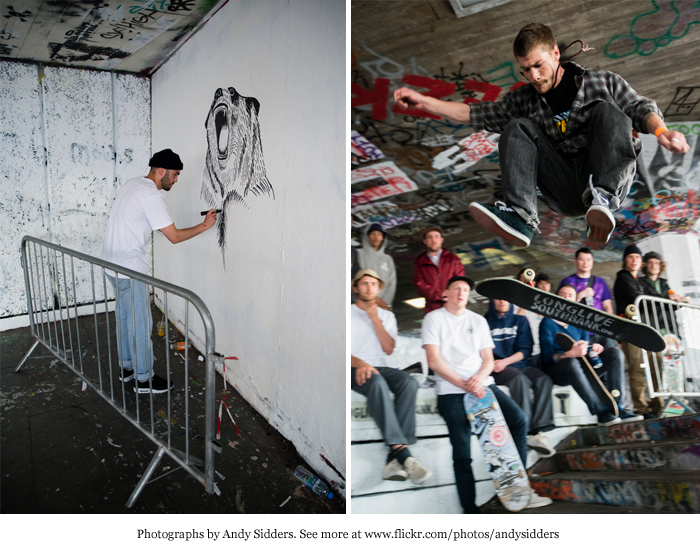 Have you ever been down to watch them? Sometimes there are just a few, jumping or trying to jump over concrete blocks, the Undercroft down small flights of steps, falling off, getting up and trying again. Sometimes there are loads, highly skilled, fast, exciting to watch. They attract hundreds of people who stand and watch. Films of them must span the globe on tourist cameras. It really is amazing. My kids loved it. I love it. So why does the Southbank want to get rid of them? They are part of our cultural landscape and should be respected for that. Why is the Southbank ignoring them and trying to move them on?
Oddly enough The Southbank have set their own precedent for changing use of space on the Southbank which is then adopted as permanent use with the fountain. That was simply a public space to walk through to get to the foyer of the Festival Hall. Well now it is the site for the fountain, why? Because people loved it so much, the public got so much use from it, it draws people in to the Southbank, just like the skateboarders.
These skateboarders should be listened to, they are putting up an amazing fight for what they believe in. We respect that. We fight ourselves for British manufacturing, it's really tough. We won't give up and nor should they. Who wants more chains… more blah… put your hands up…
Watch this excellent film made by Henry Edwards Wood
Take action and support the campaign here.