Romantic proposal to an unsuspecting boyfriend
A very heartfelt and romantic description of how a happy customer proposed to his boyfriend.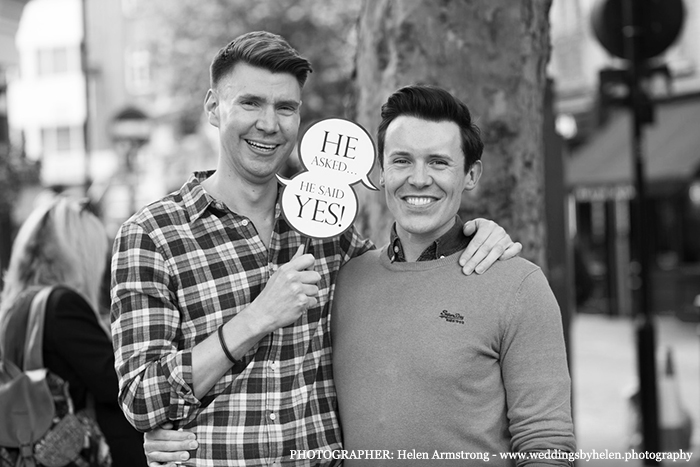 How to propose?!
Having decided that I was going to propose to Thomas, it suddenly dawned on me that I needed to decide on where, when and how to do it. Like everyone, I wanted it to be special and memorable but I also wanted it to be unique and all about him and us. I stuck to some traditions (asking his parents in person for their permission), was unsure about others (do I get down on one knee with a ring? Would he want to wear a ring?) and threw others out the window altogether (candlelit restaurant, hiding a ring in his dessert etc.).
My plan rapidly developed into something quite elaborate involving family and friends, which would mean everyone having to keep the secret for about 3 months; it was risky but if I (and everyone involved) could pull it off then I knew that Thomas would be blown away, completely surprised and that it would convey my absolute love for him.
Having decided on a date, one far enough in advance that I knew the majority of family and friends would be available but also far enough in advance that it gave me time to pull the plan together, I let everyone in on the secret whilst simultaneously threatening to strangle them with their own shoelaces if any of them accidentally let the secret out the bag.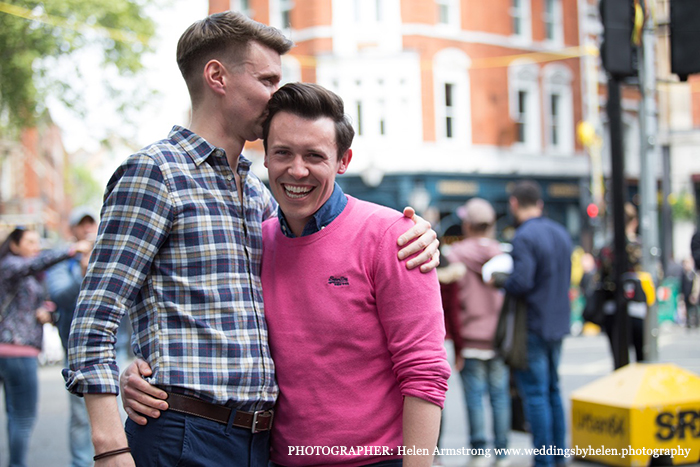 I wanted our family and friends to be there on the day as they are hugely important to us both and I thought it would be fantastic to be able to celebrate with everyone straight after proposing, whilst we were both caught up in the emotion, but don't worry I wasn't insane enough to be planning on proposing in front of them all. I also asked our family and friends to record a short video message for Thomas which I would then compile together into a video to use on the day; I wanted the messages to remind Thomas how incredible and special he is and how much everyone loves him.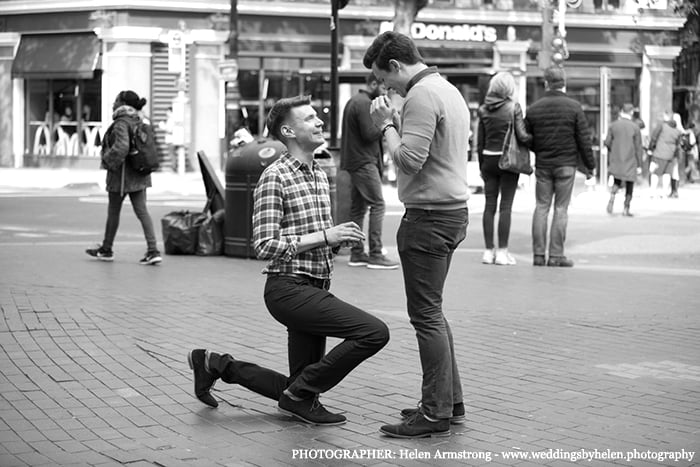 The video was just one part of the overall elaborate plan and having weaved a web of "lies" for nearly 3 months, the day final arrived. I successfully managed to lure an unsuspecting Thomas to the restaurant in the National Portrait Gallery in central London, thinking that I'd been running errands all morning and that I'd planned a romantic afternoon for the 2 of us.
However, rather than me meeting him at the restaurant, my sister and nephew walked in and handed him my laptop. Thomas was very confused by their arrival but I'd placed a tag on the laptop telling him to open the lid and play the video. The video begins with me reminiscing about our time together and a selection of photos from all of the amazing things that we have done over the last 7 years; he has since told me that at this stage he still isn't sure what's happening.
The video then moves on to the video clips from our family and friends from all around the world, everyone sending messages of love and slowly the penny drops as to what I'm really up to. The final part of the video is a message from me saying that I have 2 questions to ask him; first I ask if he remembers where we met up at the start of our first date and then the second question I tell him that I want to ask it in person, so he should come and meet me where we met for that first date.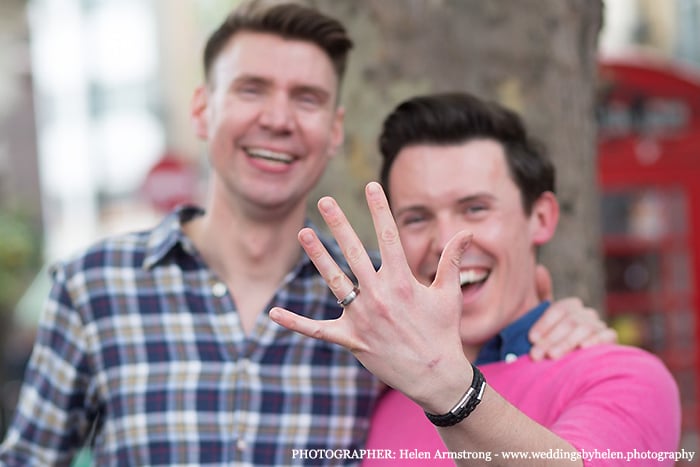 It was pretty obvious what that question was going to be and by now his emotions were pretty high. To add to those emotions, as he leaves the restaurant he is greeted by our family and friends, who I have left in small groups in strategic locations throughout the gallery to help guide him back to the exit and point him in the direction to come to where I was waiting.
It was a short walk (actually he ran!) up the road to where I was waiting and the rest, as they say, is history.
During the planning, I had decided to organise a photographer for the afternoon and she was hiding in the wings, discreetly capturing the moment that I proposed. After catching our breathe and a few posed photos, we headed back to the restaurant to celebrate with our family and friends.
Choosing 'the' ring
As you can see from the photos, I did decide that I liked the tradition of getting down on 1 knee and proposing with a ring.  Given that neither of us wear any jewellery, I had been uncertain whether Thomas would want to wear an engagement ring; I knew that if he did that he wouldn't want anything garish. After entering a few choice words into the Google search window, the first image to pop up was of Stephen Einhorn's Geo Elipse ring. Instantly I knew that this was "the ring" and my uncertainty was instantly dispelled (no exaggeration).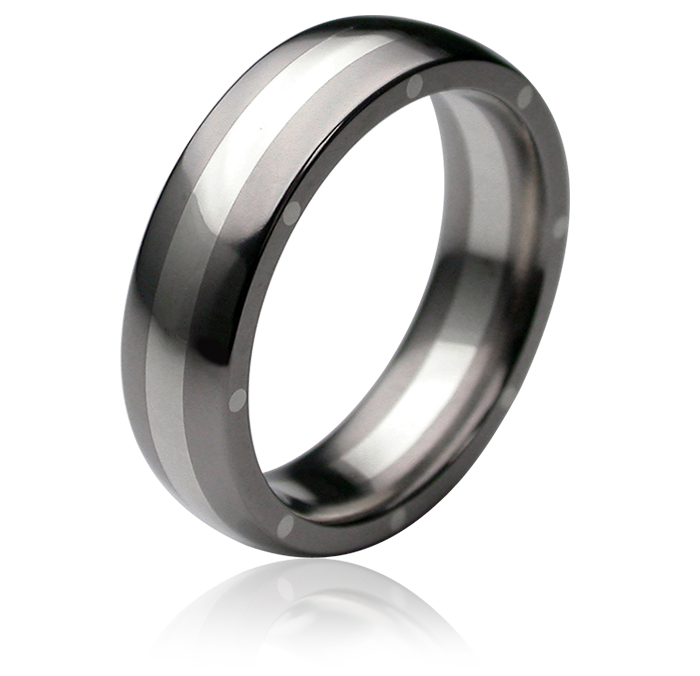 I liked the look and style of the ring; it's classical yet stylish and modern and the 3 bands and riveted construction tell a story about union and all without a hint of garishness. Next time I was in central London, I popped up to the shop in Islington and was even more impressed seeing the ring in person. Alice guided me through the various options and choices and explained their policy on exchanging the ring if I had originally ordered the incorrect size (which most people don't because very few people know their partner's ring size). I was tempted to place my order on the spot but thought it wise to look at some other rings first. Despite looking in many jewellers' windows, I didn't see a single other ring that I wanted to look at in person and a few days later I was on the phone to Alice placing my order for the slim Geo Elipse ring in Palladium.
Photographs of the happy couple were taken by photographer Helen Armstrong.