Stephen Einhorn On The Making Of The Dark Shadows Jewellery…
As I'm sure some of you may know our very own Designer Einhorn was commissioned to make several bespoke jewellery pieces for the film Dark Shadows, which included a bespoke ring for Johnny Depp's Barnabas Collins character, a bespoke fish keyring and key pendant necklace for Eva Green's Angelique Bouchard character.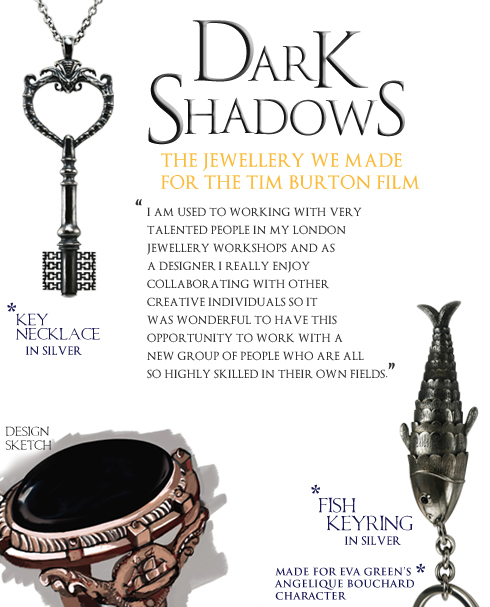 In light of this exciting project I caught up with CJ (Celebrity Jeweller) Einhorn at his London jewellery shop for a cup of tea and quick Q&A on the making of these exquisite, bespoke jewellery designs…
How did you end up making the bespoke jewellery pieces for Tim Burton's Dark Shadows film?
"I was approached by the property master on Tim Burton's Dark Shadows as he knew I had a background in model making for adverts and film, and that I would understand the pressures that go along with working in these industries and on large scale big budget projects. This is actually very important, if you've never worked on a film before you wouldn't know that when the director changes his or her mind at the eleventh hour you have to go with it. You can't just tell them you are 'too tired, you'd like to have a little lie down and will deliver the finished pieces in a couple of weeks'. A film set is a fast-paced, ever-changing environment and the costume designer and property master are under a lot of pressure, so in my role I have to be as flexible as possible."
What was the whole experience of working on such a project like?
"I am used to working with very talented people in my London jewellery workshops and as a designer I really enjoy collaborating with other creative individuals so it was wonderful to have this opportunity to work with a new group of people who are all so highly skilled in their own fields.
When I went to fit the first ring, (yes that's right he actually met Johnny Depp!) I was invited to visit the set at Pinewood, and was shown round the coastal Maine fishing town of Collinsport, complete with a water filled harbour and full sized boats and shops all purpose built for Dark Shadows, it was quite amazing.
I had to make two different sized rings for Johnny Depp's character as Tim Burton and Johnny Depp liked it so much they wanted it to be worn throughout the film, one for his extended finger and one to wear over his gloves. What surprised me the most though, and what I find interesting about the subsequent films I have been working on, is the total commitment to really fine craftsmanship the films production team have towards the costumes and jewellery. It makes it a real pleasure for my team and I to be able to work on such interesting and imaginative projects. The jewellery designs they commissioned have exactly the same level of excellence as the bespoke jewellery pieces I design and make here in my workshops"
See all the Dark Shadows jewellery designs here.
To have a bespoke jewellery piece designed by Stephen please contact bespoke@stepheneinhorn.co.uk or phone +44 (0) 20 7359 4977 for a consultation or to arrange an appointment with his bespoke manager. Alternatively you can visit us at our London jewellery showroom based on 210 Upper Street, Islington, London, N1, 1RL.