Stephen Einhorn Receives Positive Luxury Butterfly Mark: The Highest Standards in Sustainability
The Butterfly Mark recognises a brand's commitment to creating a positive impact on our world.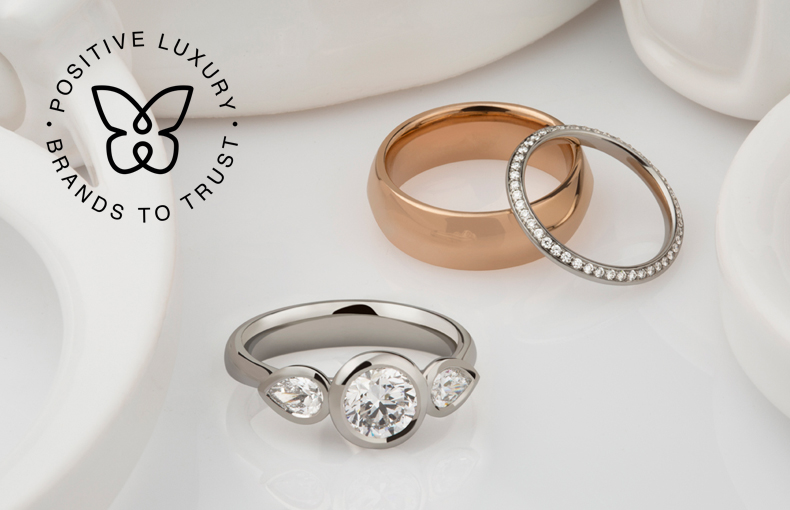 Stephen Einhorn ethical jewellery
When we opened our doors in 1995 we knew two things: we wanted to make beautiful jewellery that would last forever, and we wanted our company to be driven by our values and ethics.
We want our business to leave the world a more beautiful, kinder, more individual place and we want people to wear our unique designs in the knowledge that their jewellery is ethical and sustainable. It's why we had a Gay and Lesbian section for commitment rings long before gay marriage was legalised, why we took the decision not to use Burmese rubies at a time when consumers were mainly focusing on diamonds: we've never been content to run a business that says, 'That's just the way it is,' We want to run a business that says, 'This is how it should be.'
So we are delighted that now our commitment to how things should be has been recognised; we have been certified as a Butterfly Mark company by Positive Luxury.
Positive Luxury:
Positive Luxury exists to promote social and environmental responsibility among luxury brands, and the Butterfly Mark is their accreditation which recognises brands' commitment to creating a positive impact on our world. 
To get certified we underwent months of audits and checks. We opened up every aspect of our company to scrutiny to show how we use ethical, sustainable practices in every corner of the business, from the things you might expect like recycled metal and conflict-free diamonds, treatment of staff and labour practices, to our water consumption, what power we use (Bulb), how much waste we create and our recycling procedures (including lemel metal filings, and sink traps so no metal particles end up in the water supply), our washing up liquid and cleaning products (Ecover), toilet paper (Who Gives a Crap), avoidance of single use plastic, using FSC recycled paper… In short, everything.
We want to leave a positive legacy on our industry: making it more robust and resilient. We will continue to train newly qualified jewellers in cutting edge practices and advocating for our craft within education by continuing to work with organisations such as Walpole, The Careers and Enterprise Company, the Goldsmiths Guild and various secondary schools.

Our ethical and sustainable jewellery:
All of our platinum and gold is 100% recycled. Sterling silver is the only precious metal that we cannot guarantee this for and we are working with our suppliers to change it. Our beautiful packaging is currently 80% recyclable and biodegradable (something we worked with the manufacturer on to achieve). We have been striving to make the luxury lining which our jewellery nestles in fully biodegradable for a couple of years and are thrilled to say that our next order will contain this new lining. 
Of course it isn't just us. We are only as ethical as our suppliers, so part of this process was working with them on signing a code of conduct to ensure complete accountability on their supply chains, fair pay, fair working conditions, a diversity policy, no polluting chemicals. We have been incredibly heartened at the response and opportunity for closer partnerships. 
We believe that every piece of jewellery tells a story, and that items that are precious and full of meaning should not be tainted by exploitative practices that pollute our planet or harm the people making them.
We work in this way because it matters. The actions we take on this earth matter. Helping our communities and charitable giving matters. We are proud that the Butterfly Mark has confirmed our standing as a luxury brand who operate by their principles, who will not compromise for cheaper materials or cut corners, who are interested not in disposable fast fashion but in precious heirlooms, passed from one hand to the next. This is and always has been absolutely central to our philosophy as a company. We take responsibility because we want to live and work by our values. Our company will always make a statement about how things should be. 
Our Pledges:
All of our gold and platinum is 100% recycled. We also offer Fair Trade gold as an option. We are working towards making our Sterling Silver 100% recycled.
All of our gemstones and diamonds are ethically sourced and conflict-free. We will never use stones from areas of conflict or those tied to human rights abuses. Our diamonds are either sourced through the Kimberley Process or from Canadian or independent mines where the provenance can be guaranteed.
We use ecological and sustainable systems and products. Our luxurious packaging is 80% recyclable. Soon the inner linings will also be recyclable making our next batch, and every batch going forward, 100% recyclable. And it's not just customer facing: our soap and cleaning products are all eco. Our toilet paper is recycled. We supply organic cow's milk, plant milks and fairtrade drinks to our staff. We limit our use of single use plastics. 
We uphold a rigorous code of conduct and only use suppliers who will sign it. This relates both to materials and working practices. We treat our staff with respect, pay fair wages, provide training and development opportunities and promote dignity at work. We expect our suppliers to do the same.
We will never stop striving to be better. We know it's impossible to be ethically and ecologically perfect, but that won't stop us trying. We constantly look at our practices and processes and search for ways to improve them. We're always trying to find ways to be as good as we can be.