Bespoke Memorial jewellery
Everyone has moments or people in their lives which they wish to commemorate. Memorial jewellery is a beautiful tribute to those people or those times, a way of keeping memories close to you and creating a fitting and lasting tribute to someone or something you love. Here at Stephen Einhorn we take every care with your stories, helping you to memorialise a loved one with sensitivity and grace, hand crafting a tangible, beautiful object to be a touchstone for you throughout your life.
Bespoke Memorial Engraved St Christopher's Locket
This customer actually commissioned this locket for her son before she died. We had the pleasure of meeting her and taking down all her very specific instructions.It has been made from rose gold with a St Christopher design embossed on the outside of the locket. The plate with the inscription was specially made to sit inside. For her daughter we made a wide liquid ring in platinum with the same inscription that started on the outside of the ring and then wound into the inside. Pieces to treasure for a lifetime.
Bespoke Memorial Enamelled Magpie Charm
This beautiful Magpie was made in 18 carat white gold and enamel. We made two of these, for two sisters. There were three sisters, but one of the sisters sadly died. The Magpie holds special significance for the two remaining family members. It's a wonderful keepsake and a representation of someone sadly missed.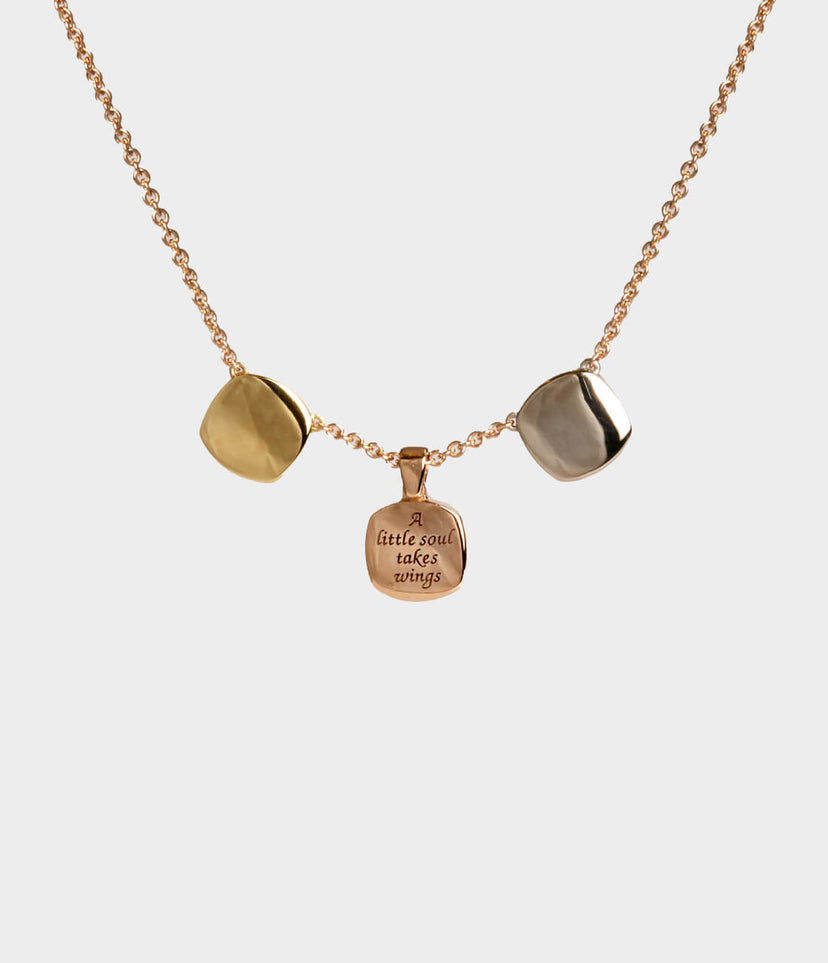 Bespoke Memorial Engraved Necklace
A gold bespoke necklace made as a memorial piece to wear all the time and to bring comfort and solace. These memorial designs are extremely important commissions to our customers and to us as a company. Whatever you want to express we will help you do it.
Other Memorial Pieces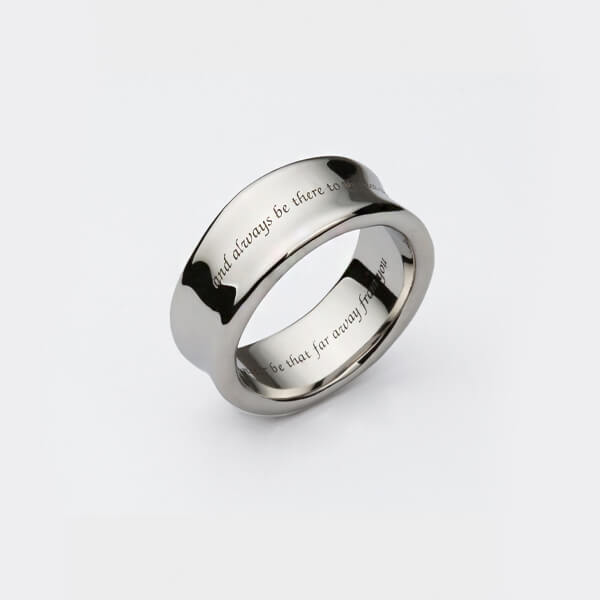 Bespoke Engraved Memorial Liquid Ring
A beautiful solid platinum ring with an inscription written by our customer for her son and daughter before she died. The inscription starts on the outside and finishes on the inside. A very luxurious and beautiful gift from a mother to a daughter.
Bespoke Heart Locket Necklace With Ashes Inside
A solid platinum heart and cross pendant on a platinum chain. We encased some of this customer's partner's ashes in this platinum heart. A very special commission and a truly unique service from us here at Stephen Einhorn.
Bespoke memorial jewellery process
Ashes in Jewellery: 
Here at Stephen Einhorn we understand the power of commemoration. For this reason we offer our bespoke memorial jewellery service. We can seal a small portion of your loved one's ashes into a piece of jewellery for you. We treat the ashes with the utmost care and respect knowing that it is a real responsibility to be trusted to do this kind of work. We will help you design something that has a personal meaning for you. 
Each piece is worked on carefully and respectfully, designed to hold and preserve something of your loved one. It's a tangible, tactile way to keep someone literally close to your heart.
Personalised Tributes: Engraving.
Every memory is unique, just like the person you have lost. To honour their memory, we offer expert engraving services. You can choose to inscribe a special date, a loving message, a line from their favourite poem, or simply their name on your memorial design. We will meticulously engrave your chosen words to create something special and unique just for you. We have helped many customers choose something really special, something heartfelt, even something funny: something that will pay tribute to your loved one. Whether it's a phrase that person used to say to you, a piece of poetry, a song lyric, the date of a first meeting or simply the dates of birth and death, we will take care to engrave it perfectly. 
Picture-Perfect Memories: Photo Engraving
A picture can speak a thousand words, and we can engrave them in the form of your much loved photographs onto our memorial jewellery. This is a unique service, one that can keep a special memory alive for you and give you pleasure every time you look at your engraved design. Photos are a little miracle of modern technology, it's a shame to keep them locked away on your phone or in a box in a drawer: let us put them on a piece of jewellery so you can look at them over and over again. Have a photo that makes you smile engraved on a pendant, locket or ring. Our advanced photo engraving technique ensures that every detail is preserved, creating a timeless tribute you'll treasure and can wear always.
Why Choose Our Memorial Jewellery?
Exceptional Craftsmanship: Our craftspeople are dedicated to creating the finest memorial jewellery, with careful attention to detail.
High Quality Materials: We use only the highest-quality recycled metals, ethical diamonds and gemstones, ensuring your piece will stand the test of time.
Customisation: Your tribute is unique, just like your loved one. We offer a range of designs and options to help you create a meaningful keepsake.
Compassionate Service: We understand the sensitivity of this process and provide compassionate support throughout. If you aren't sure of what you want, let us help you. We have created a lot of this work for other clients and we can make suggestions to you to guide you towards something that you will like.
With Stephen Einhorn, you're not just purchasing jewellery for the moment; you're investing in the heirlooms of the future. Our memorial jewellery service is a beautiful way to keep the spirit of your loved one alive, allowing you to carry them with you, close to your heart. To begin crafting a lasting tribute, contact us today. Let us help you create a memorial piece that tells your unique story of love and remembrance.
FAQ's
Answers to commonly asked questions
Read More