Create Something New bespoke
Every piece of bespoke jewellery tells a unique story: one which belongs only to you. At Stephen Einhorn we pride ourselves on crafting exceptional one-of-a-kind creations that reflect your individuality. By combining your ideas with our skills in design and craftsmanship, we open up a world of exciting possibilities. Our team of skilled craftspeople and designers are passionate about bringing your vision to life, meticulously handcrafting each piece with unparalleled attention to detail. Whether you are seeking an engagement ring that symbolises your love, a necklace that captures a cherished memory, earrings that celebrate a milestone achievement, or you simply have a design in mind but can't find it anywhere else, our bespoke service can deliver. And it isn't just the beautiful piece of unique hand crafted jewellery that we provide, but an enjoyable and collaborative process which puts you at its heart. Come and see us: you won't be disappointed.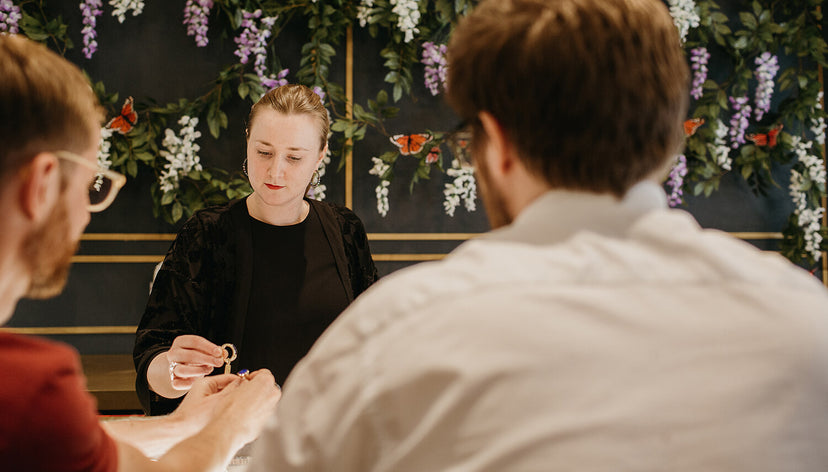 1. Consultation
Your bespoke journey begins with a consultation, where we take the time to understand your style, what exactly the piece is you wish to create, and any references you have for the design you want us to make for you. Our expert showroom sales consultants will help and guide you, letting you know what is and is not possible, working with you to refine and imagine your idea into being.
2. Design
With the insights gained from the consultation, our skilled designers will draw - often in 3D -  an initial design that will bring your ideas to life and allow you to see what your jewellery will look like. This part of the process is a collaboration. We refine the design according to your feedback, making adjustments and incorporating any specific details you would like, to get your design exactly right for you.
3. Crafting
Once the final design is approved, our master crafts people spring into action, employing their unparalleled skills and expertise. They will select the finest materials, including precious metals and fabulous diamonds and gemstones, to create your unique piece of jewellery.
4. Delivery
We understand that unwrapping and discovery is part of the joy, and so we take great care in presenting your unique masterpiece in our luxurious gift boxes. Packaged in a sumptuous, fully sustainable box, your bespoke jewellery is ready to be delivered or for you to collect. We believe every aspect of the process should be one of pleasure and delight, from the design to the jewellery to the box.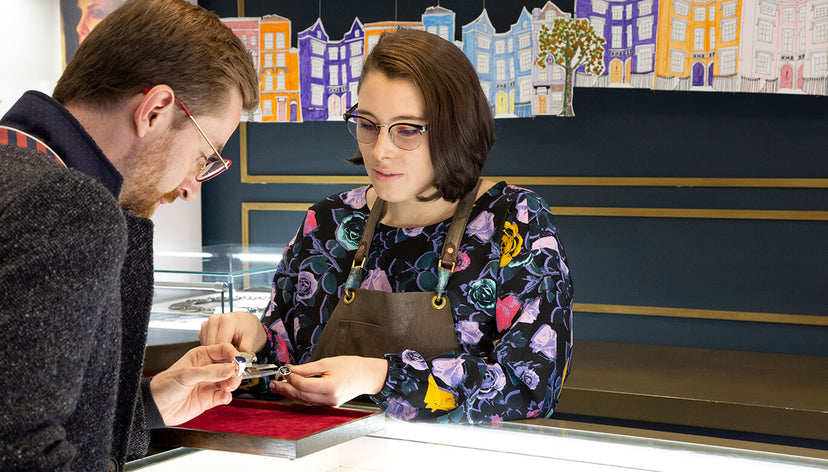 5. After Care
Our relationship with you extends far beyond the collection of your bespoke jewellery. We offer comprehensive aftercare services, including cleaning, resizing, and maintenance, to ensure your precious piece remains as exquisite as the day it was made. We are committed to providing excellent service and will always be available to answer any questions or provide further assistance.
The experience I had using Stephen Einhorn's bespoke service was nothing short of magical... To say I am thrilled with the result is an understatement. It turned out even better than I could have imagined. It has brought new life to the diamond and made me a very happy lady.
My husband adores the cufflinks and will without a doubt treasure them for a lifetime. 
It has far exceeded my expectations and I don't really know what to say! I have never had any item made specifically for me but will look forward to buying another magnificent piece...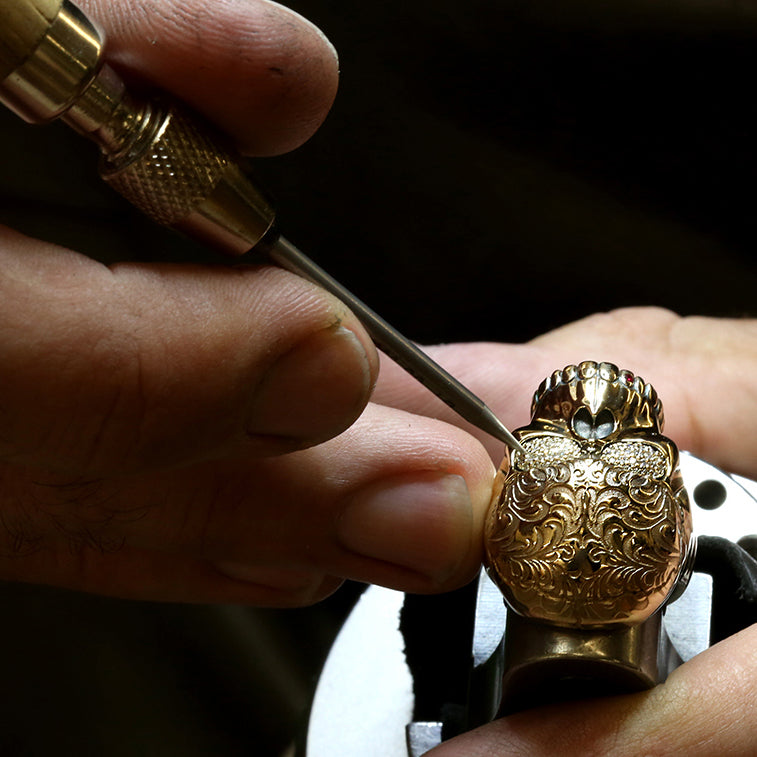 Brand collaborations are an exciting part of the Stephen Einhorn range. We love to work with other creative people. It gets the synapses working in a very different way and enables both parties to come up with something new and different. It's great for our customers and our design team love a challenge.
About creating something new bespoke
At Stephen Einhorn, we believe that true luxury lies in owning something as unique as you are. That's why we are proud to offer our bespoke jewellery service, where creativity is everything. Step into a world where dreams become reality, and every piece is a testament to your individuality and our skill. From the initial spark of an idea to the final fabulous masterpiece, we are dedicated to crafting a piece that captures who you are, your taste and your style. 
The bespoke process begins with a personal consultation, where our team of expert sales consultants and designers take the time to understand your vision, preferences, and inspirations. Whether you desire a stunning engagement ring, a dazzling necklace, a one-of-a-kind bracelet, or something special for a new-born, our team will guide you through every step of the journey.
Drawing upon decades of craftsmanship and creativity, our talented designers will bring your ideas to life through sketches and stunningly real looking 3D artwork. We will collaborate closely with you, refining the design until it perfectly embodies your vision. Every detail matters, from the choice of gemstones and recycled metals, to the precise placement of each element.
Once the design is finalised, our skilled craftspeople begin the meticulous process of handcrafting your bespoke piece. With unparalleled attention to detail, they bring together their technical expertise and artistic flair to shape precious metals and set your exquisite diamonds and gemstones. Each step is performed with utmost care, ensuring that every element is harmoniously integrated into the final composition. We get together as a team to discuss elements of your design and to work out the best technical way to realise it.
When the final touches are complete, we present you with a one-of-a-kind jewellery creation: a symbol of your unique journey with us, encapsulating your own personality. Your bespoke piece is exclusively yours, to be sighed over, loved and passed down.
When the final touches are complete, we present you with a one-of-a-kind jewellery creation that is exclusively yours: a symbol of your unique journey with us, encapsulating your own personality. Your bespoke piece is uniquely yours, to be signed over, loved and passed down.
FAQ's
Answers to commonly asked questions
Read More