Behind The Scenes – The Making of a Stephen Einhorn Metal Geo Ring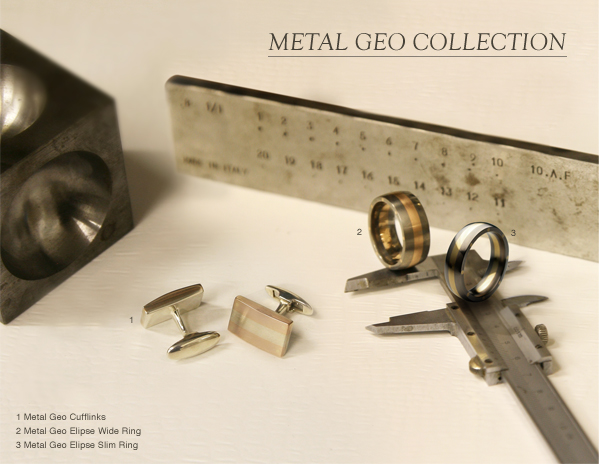 Stephen Einhorn's men's designer Metal Geo jewellery collection is a unique collection of contemporary, and masculine, men's rings and cufflinks, which have become a firm favourite amongst our customers.
The Metal Geo ring designs are elegantly precision engineered using aerospace titanium and precious metal, which gives them a luxurious and lightweight look and feel. Over the years we have seen our titanium ring designs rise in popularity and we can certainly see why – it's a metal that has a lot going for it. For one, it's the hardest natural metal in the world (even harder than steel) which makes it highly durable, but unlike steel is incredibly lightweight. It also has an unusual cool grey colour and when used alongside precious metals like silver, gold, white gold, rose gold, platinum and palladium, gives a distinctive look that is urban yet refined.
All of Stephen Einhorn's Metal Geo rings are handcrafted in the same way and each is a small miracle of jewellery engineering. What makes the Metal Geo Elipse Slim, Metal Geo Elipse Wide, Metal Geo Slim and Metal Geo Wide rings so special is the fact that there is no soldering used. Each ring is marked out and measured before assembly and is then riveted together using solid sterling silver, yellow gold, rose gold, white gold, platinum or palladium rivets, depending on which precious metal option you decide to combine with the two titanium outer strips.
Take a look at our behind-the-scenes photos below which were taken in our London workshops. Here you'll see Hugo (one of our expert jewellers!) making a Metal Geo Wide ring in titanium and silver. The inner strip and rivets which he is using to hold the ring together are solid sterling silver and the two outer stripes which sandwich the inner strip of silver are titanium.
A marriage of form and function, these easy to wear men's ring designs are perfect for a man wanting to invest in a stylish, durable and unique everyday ring or as a modern alternative to a plain men's wedding band.