Celebrate Día De Los Muertos – Day Of The Dead
Today is Día de los Muertos, (Day of the Dead) a holiday celebrated around the world in many different cultures. The holiday focuses on a ritual initially celebrated by the Aztecs to honour the memory of the dead and celebrate their life on earth. This is a particularly big festival in Mexico and the celebration takes place over two days in connection with the Catholic holidays of All Saints' Day on November 1st and All Souls Day on November 2nd. Families come together around their family burial plots, prepare special foods and give offerings for their deceased relatives, which includes lots of fireworks.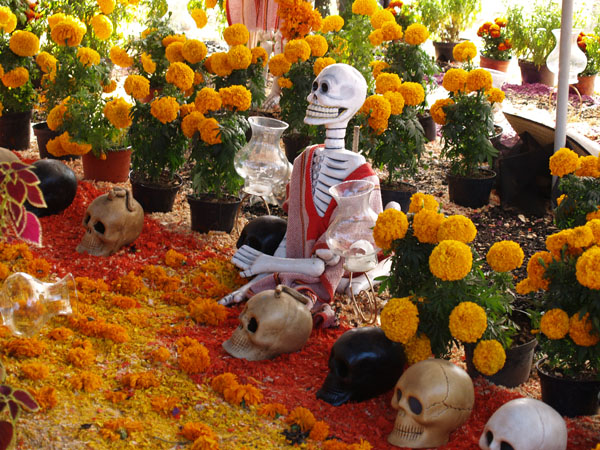 A special, heavily decorated commemorative alter is made at home which is full of the dead person's favourite foods, maybe a few of their favourite possessions' (motorbike, rolling pin, cashmere socks) and even a bowl of water and a nice clean towel so that the deceased relative can freshen up before dinner – it's believed that the the souls of the dead pay a holiday visit to their past homes each year.
It is in celebration of this day that The Lord Einhorn has designed his new Dia de los Muertos Large Skull bracelet which sits nicely in his iconic skull jewellery collection. Having always been a lover of all things 'skull and crossbones' this is the perfect day of celebration for him. To some, skulls are a symbol of death, darkness and destruction of human life but on Día de los Muertos, the skull is seen as a celebration of life.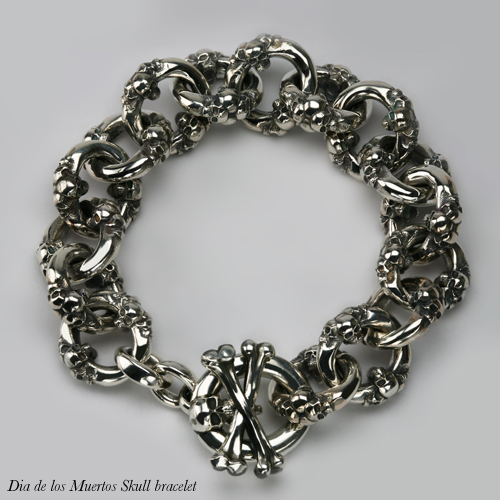 He is also crazy about fireworks…in fact he should have been Mexican. We may have to give him a special Mexican name….Esteban Suntuosa? Anyhoo I got up early and made some pan de muerto, (sweet rolls with dough shaped like bones) and some animas (dark bread moulded into the shape of humans) Aah I'm just too good to that Esteban!
To join in the celebrations…
Create an altar with lots of bright marigold flowers or flowers in season
Place photographs of your deceased loved ones on an altar
Prepare food and drink that remind you of them
Place candles on the altar to be lit during your celebration
Play their favourite music
Retell stories of the deceased to those in attendance