Every Guitar Hero Needs a Ballad & A Stephen Einhorn Skull Ring
Listening to 'The Wind That Shakes The Heart' is a roller coaster of a ride, mainly because Andy James is an amazing guitar player! It gets the blood rushing through the veins, speeds up the heart rate.
Watching the ease of Andy James's fingers fluttering over the guitar strings is like watching a hundred dainty birds searching for food, his fingers slide so gracefully over the strings like a majestic swan moving slowly down the river, all creating the sound of a song that flies to the heavens on the back of a giant golden eagle. All this and 'The Ring of Destiny' (otherwise known as our silver Skull ring with amethyst eyes) as well, it doesn't get much better!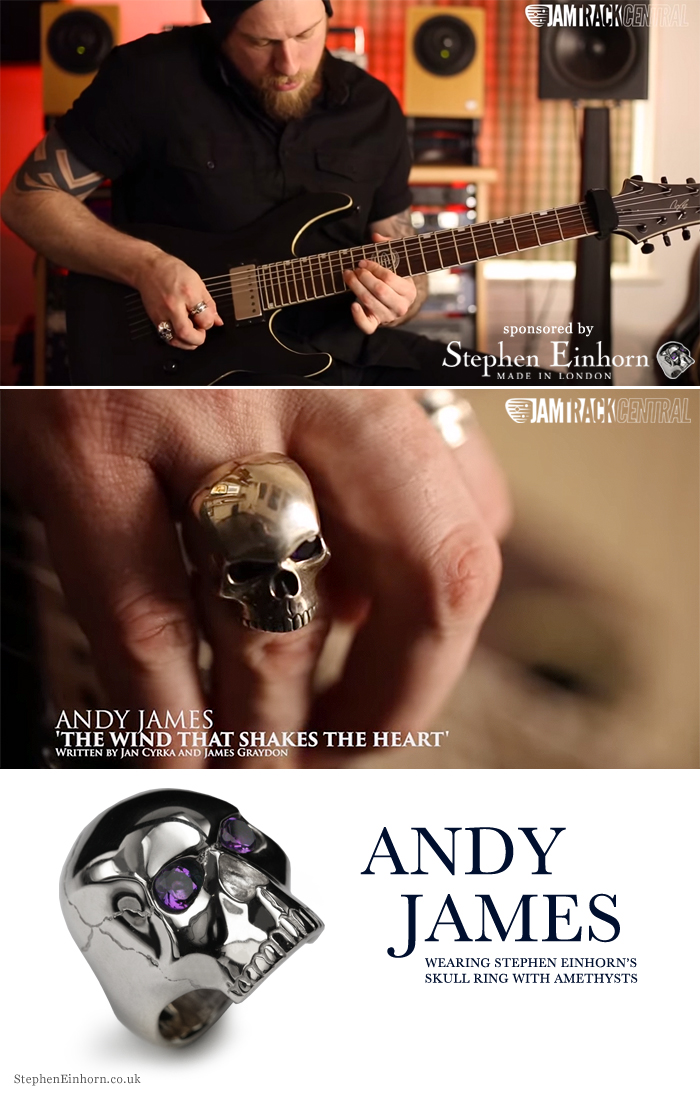 Here is some very informative blurb from Jam Track Central about their new album… we love these guys, they have such good taste!
'Every Guitar Hero Needs a Ballad'. That is what our co-founder Jan Cyrka said when we decided to create our first ever JTC original full length album. Vai, Satriani, you name them… they have one!
So we spoke to a number of the artists on our glittering roster and asked them to compose their ultimate ballad. The result is a powerful album that is full of pure emotion and drive and takes you on a journey through the minds of 11 incredibly talented guitar players and composers.
Starting with Andy James' 'The Wind That Shakes The Heart' (which was written by Jan Cyrka and James Graydon) the emotion sucks you in from the first note, just as you would expect from a brilliant ballad track. The scene is then set and from there, all 11 JTC artists continue the same trend with their own individual take on the ultimate ballad.
Any album that has brand new original tracks from the likes of Guthrie Govan, Alex Hutchings, Marco Sfogli, Jack Thammarat and more should be in any guitar players collection, there is no questioning that.