Jennifer Lawrence – Pale & Interesting
We didn't watch the Oscars as it was on far too late UK time, we were all tucked up in bed with a hot water bottle. However we've had a little look through the pics from last nights 85th Academy Awards and have decided our gong for best-dressed female goes to Jennifer Lawrence (she'll be so happy when she finds out…).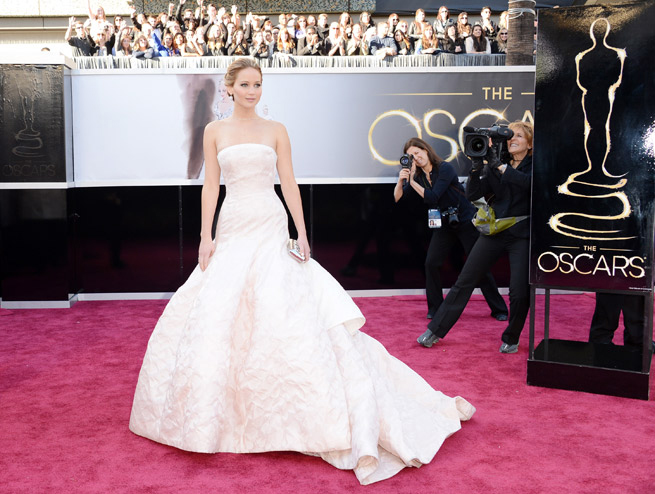 But there were so many fabulous looks I hear you cry, why did Jennifer Lawrence stand out? Well… here at Einhorn Towers we're big fans of elegant simplicity and her look is a perfect example of this.  If we're honest though, what gives her the edge over the others probably has a lot to do with the fact that we have a real soft spot for the new(ish) young actress. She's talented, but she also appears to be a rarity amongst a sea of homogenous young Hollywood actresses.
Agreed, like most young, successful actresses she's very attractive but it's her character (obviously this is based on interviews she's done, we don't walk our dogs together or anything…) which makes her stand out. She seems to be witty, dry and very candid, and says things we're not used to Hollywood starlets saying.
Last night she looked like grace personified then she tripped up the stairs on the way to collect her award and later jokingly flipped photographers the bird when one of them told her to watch her step. Now we're not saying that swearing is good but it was a human reaction to a situation, not a publicity stunt type of reaction, just a real one.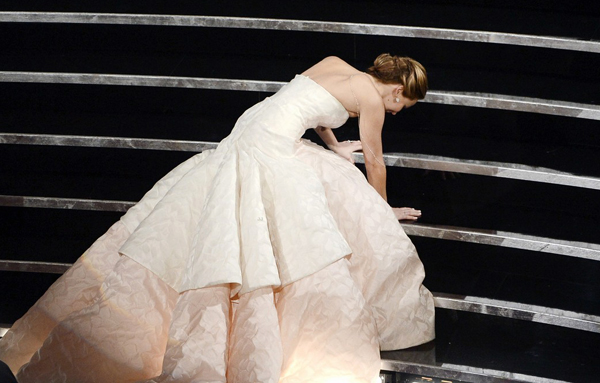 Lawrence has spirit and individuality, things that we here at Stephen Einhorn really celebrate, so for us the gracious and goofy Lawrence was the clear winner. The only thing that was missing was our diamond raspberry heart earrings, which would have looked perfect with her pale pink strapless gown. However Designer Einhorn will only lend his jewellery to actors who have already won an Oscar (he can be very strict!). Of course, now you're part of this special group Jen give us a bell sometime and we'll see what we can do…