My Stephen Einhorn Fairtrade Gold Engagement Ring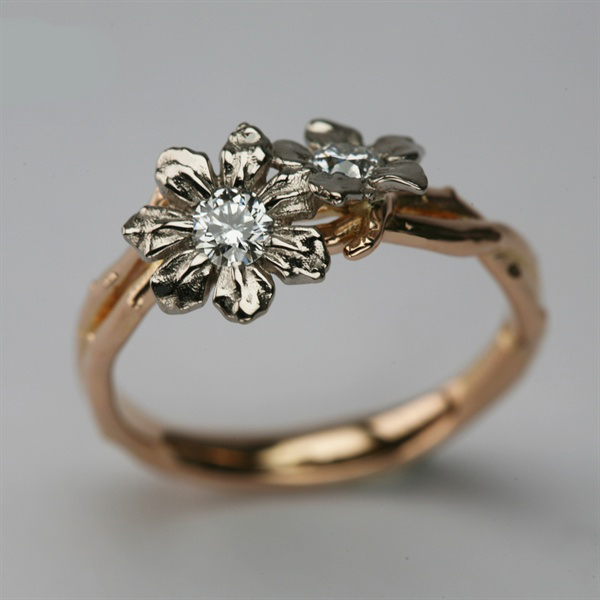 The first time I stood behind the counter in Stephen Einhorn's (my parents) London shop I was really young. There was a range of men's jewellery back then, a few women's jewellery pieces and some amazingly quirky household objects (Past Heroes eat your heart out). The shop was tiny – a recently converted space from the front of the workshop. I was terrified of the customers. Terrified they would ask me questions I didn't know the answer to. I willed them not to come in until I was relieved from my sweaty-palmed vigil.
14 years later, things have changed a lot. I love our customers, there are very few questions I don't know the answer to (geek), and I like nothing more than when they come in. I love getting a little involved in people's lives. I'm nosy. The most personal purchases are engagement rings. Even more personal than wedding rings. Wedding rings are something solid and decided. With engagement rings there is something about a promise and a beginning which makes couples with the most pragmatic of hearts less than rational… Also, you wear this ring for the rest of your life: you want something pretty damned fabulous.
So when my boyfriend and I decided to get hitched I wanted a fabulous engagement ring, too. You'd think that after five years of living with someone, and 14 of selling rings, I'd know what I wanted. You would be so very very wrong. Oh the indecision. There are two new engagement ring designs in the shop because of me. You're welcome! (Sorry, Dad). I would not put up with a customer like myself. There was one thing I was certain of, though, and that was that I wanted it to be as ethical as possible.
I'm really proud of the ethical jewellery policies here at Stephen Einhorn – they are my particular passion when it comes to the shop. It was really important to me that I (quite literally) put my money where my mouth was. Using our recycled and reclaimed gold  is much better than using gold that is freshly mined in uncontrolled environments, but I wanted to take it one step further which is why I chose to have my really rather fabulous ring – my bespoke Passion engagement ring to give it its fancy title – made in Fairtrade Gold (and Canadian diamonds. But that's another story).
Opting for a piece of jewellery made in recycled and reclaimed gold doesn't make the world worse but choosing to have jewellery made in Fairtrade Gold actively makes it better by supporting small-scale miners from developing countries and their local community, whilst ensuring that the miners are over 16 and that they are paid and treated properly. In the end it was fortuitous that I am so indecisive as this has only just become an option. I knew one day it would pay off. It does cost a bit more, but it's worth every penny, and I feel happy when I look at it, not just because it's beautiful and symbolic and all those other high falutin' romantic ideas, (not to mention totally fricking awesome) but because it's an expression of how me and my boyfriend want to try to live our lives together, and how we want the world to be.
And we want it to be fair.
If you're interested in having one of Stephen Einhorn's men's or women's jewellery designs made in Fairtrade and Fairmined gold or would like to commission a bespoke piece please contact us at bespoke@stepheneinhorn.co.uk.