Sighs Of A Different Kind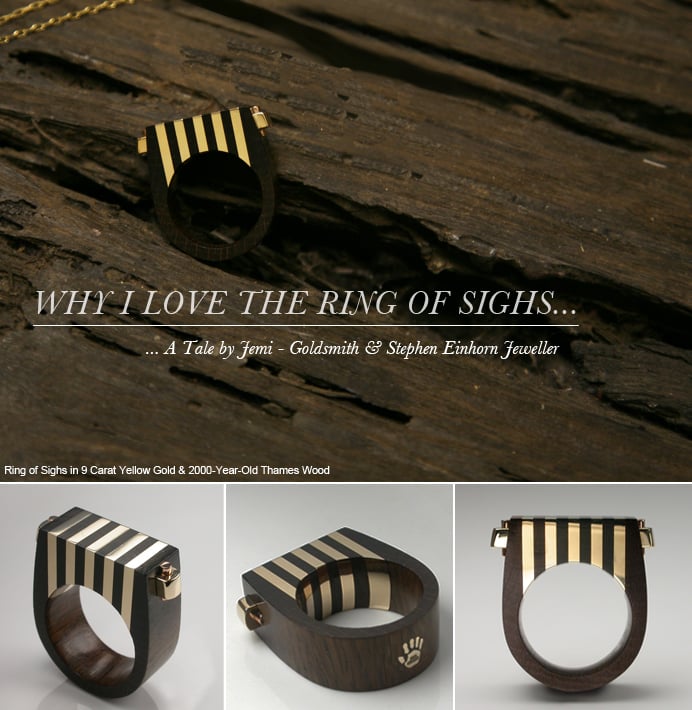 When I decided to move to the 'Big Smoke' in search of streets that are paved with gold I wanted to work somewhere with an exciting creative flare mixed with good old fashioned skill. When I saw the Ring of Sighs I knew I had found the place I was looking for.
To me the Ring of Sighs is everything Stephen Einhorn and his jewellery stands for. First and foremost it is beautifully executed, the way the gold smoothly meets the Thames wood is perfect. The contrasting stripes of 2000-year-old Thames wood and gold are fun yet elegant. As a jeweller I love the curve underneath those cheeky gold stripes and how smooth, comfortable and totally tactile a design it is.
The fact that 2000-year-old Thames wood from London's first Roman dock is used as the primary material is a unique twist. Add to this the chunky little rivets on the sides and what you have is a really special piece.
As a technical person this ring gives me the "how on earth did they make that?" feeling, because it is just so bloomin' clever in the way that it's held together by a pegged mortise and tenon joint – an extremely old construction technique which produces seamless joints that are incredibly strong.
The Ring of Sighs is a true Einhorn ring. Be it an engagement ring, dress ring, ring for a man or ring for a woman. As long as you love it and look after it, you could have this piece forever…