Stephen Einhorn X A Bathing Ape: Exclusive Launch
We are so excited to share that we are teaming up with A Bathing Ape yet again, more than twenty years since we first created a collection together! Our very unique 'Firegarden' candle installation piece, and silver enamelled ring (handmade right here in our London studio), is now being sold in BAPE stores around the world.
While our brands are so different in some ways, our playful, creative approach is what helps us work so well together.
The Stephen Einhorn X A Bathing Ape ring, featuring an enamelled BAPE logo, echoes the trending 90s aesthetic of the original design, but with a slightly more ergonomic shape and heavier weight. Each ring is handmade to the highest standard using sustainable methods in Stephen Einhorn's London workshop, and will be available as a limited edition run in Japan, Hong Kong, USA and the UK.
 The 'Fire Garden' is a completely unexpected and very unusual night light design, featuring four apes holding their hands out to the flame, representing the discovery of fire. This is a little piece of man's evolution that you can sit and watch for hours, and shows the sense of fun that is key to both brands. 
Stephen Einhorn has developed packaging for the collection which is as beautifully and thoughtfully designed as the products themselves, whilst also caring for the planet. The luxurious boxes are 100% sustainable, with a 100% recyclable exterior and a compostable interior, and even the inks used are environmentally friendly.
Founder Stephen Einhorn has said of the collaboration:
"The collaboration with A Bathing Ape is very exciting. They have always been a really innovative brand, not just a fashion brand but a brand with wider interests. You couldn't really describe BAPE as just a streetwear fashion brand - they are so much more. We don't think of ourselves as an ordinary brand either, as we have the facility to make and design anything as well as very high end fine jewellery due to our background in different disciplines. We have created a very unique collection together which is completely original and unavailable anywhere else, and both products are made here in the UK"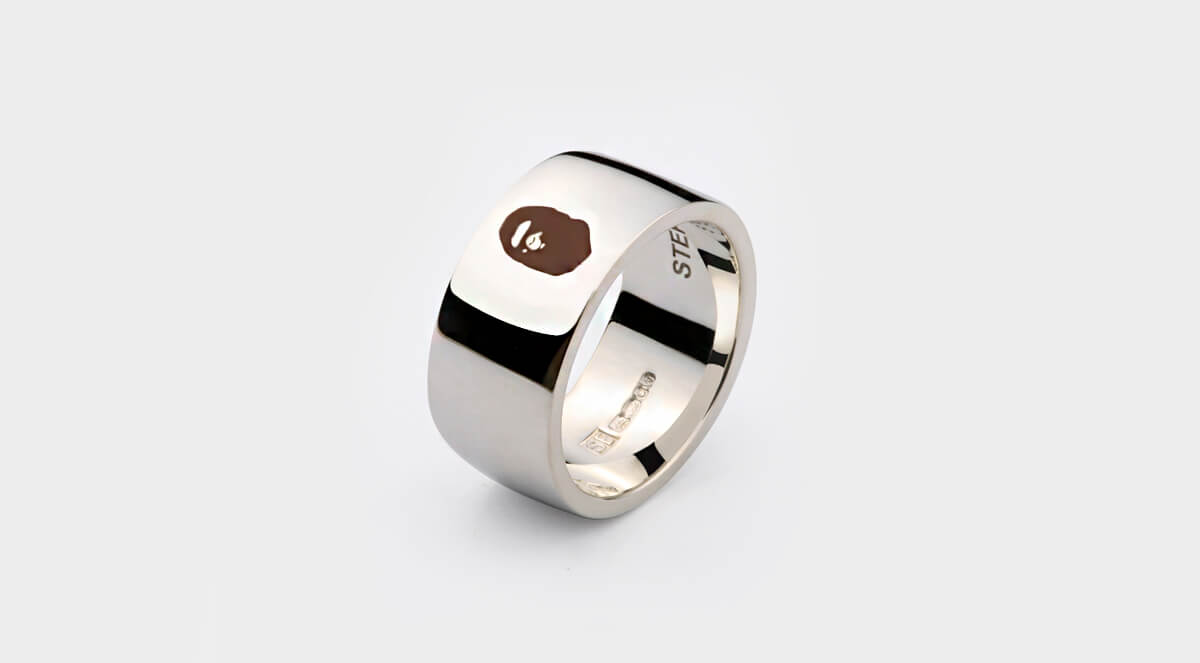 Stephen Einhorn and A Bathing Ape first worked together in the late 1990s. Stephen was known in the UK for creating original and distinctive men's jewellery, as his slogan 'we make beautiful things for interesting people' would suggest, and his ranges for Paul Smith became very popular in Japan. After BAPE founder Nigo bought several Stephen Einhorn pieces for himself, he then approached Stephen to collaborate - and the original Stephen Einhorn X A Bathing Ape Ring and Fire Garden was born.
Stephen Einhorn X A Bathing Ape will be available to purchase via our website and and our Islington, London store from Saturday April 2nd.