Unique gifts for Father's Day 2019
Ah Father's Day. The day to thank your dad for teaching you to ride a bike and watch football, bake a pie and darn your socks.
So who celebrates Father's Day? That's easy. Anyone with a father. Whether that's your biological father, adopted, honorary, gay, trans… If you are a father to somebody then you should be celebrated. There is even a tradition of Father's Day gifts from bump: the nearly Father's Day present. And when is Father's Day 2019? It's soon, people! Sunday 16th June. But relax. We've got you covered.
Where does Father's Day come from?
First things first, it's good to know what you are celebrating. Contrary to popular belief, the day was not manufactured by greetings cards companies to optimise sales. In fact the tradition of honouring fathers dates back to the Middle Ages and Catholicism, where they were commemorated in the feast day of St Joseph. Our modern, secular version is often attributed to two single celebrations in the US: that mounted in 1908 by Grace Clayton, and in 1910 by Sonora Smart Dodd. Here in the UK, it has been celebrated since some time after the Second World War.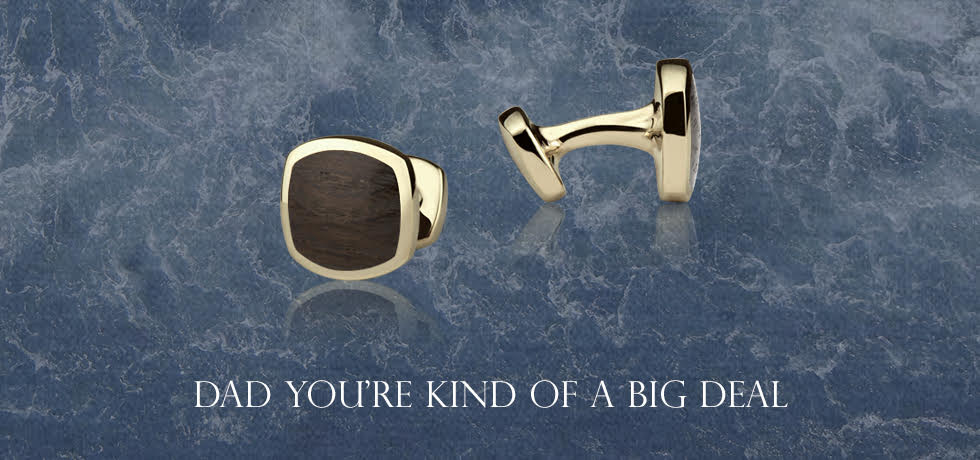 First Father's Day gifts
The very first Father's Day is the biggie, marking a turning point in someone's life. This is also one of the last ones where the child has absolutely no say in the choice of a present so it's the perfect opportunity to embrace your grown-up side. A tie pin or money clip, or perhaps a pendant or engravable signet ring. It's one to treasure when you're sitting in an empty teenager's bedroom wondering where that tiny little ball of noise has gone.
Personalised and Bespoke Father's Day gifts
Every father is different, and personalising the gift for them is a great way of showing that. For us, personalisation is key. We have created a whole host of meaningful and timeless gifts. We have made a men's lockets with a lock of their child's hair inside, made a bespoke pair of Monkey and Chick cufflinks (monkey and chick are the nicknames of their two children), and made a drawing into a three-dimensional charm to hang on a neck chain. Father's Day jewellery gifts can be as traditional or as unconventional as you like.
Engravable jewellery
Engraving is another fantastic way to personalise something for the father in your life. Engraving pendants or wrist cuffs with a date of birth, a first word, or a child's name is a lovely way to commemorate the relationship between a father and child. Engraving is also a great way to take a very masculine piece of jewellery and add a secret, sentimental touch.
Just something fabulous to show you we love you
There are no hard and fast rules about what you should buy for the dad in your life. Whether you are an adult buying for a father, or a partner buying for a co-parent, you just want to make someone feel loved, and thought about. A Skull ring because that's their style. A leather bracelet to match their biker jacket, or a silver bangle to casually shake out of the end of a suit sleeve.
Anything to make someone feel appreciated and special is key, no matter how big or small is key. And don't forget breakfast in bed!
Shop all our unique Father's Day gift ideas here.