What's On- Art & Design in September
Folkestone Triennial
Numerous locations across Folkestone. Open daily 10.30 – 5.00. Ends September 25th.
The Folkestone Triennial is an ambitious public art projects which is located in the seaside town of Folkestone on the south-east coast of England. Here artists are invited to use the town as their canvas, utilising public spaces to create striking new pieces that reflect issues affecting both the town and the wider world.
The Triennial takes place every three years and is the flagship project of the Creative Foundation, a charity based in Folkestone which is leading a large-scale renewal of the old town area close to the scenic harbour.
There are almost 30 different locations, some of which are showing permanent works from the last Triennial including Richard Wilson's '18 Holes' and Tracey Emin's 'Baby Things'. There's a Triennial visitors centre at 3-7 Tontine Street where it's best to get a map showing all the locations.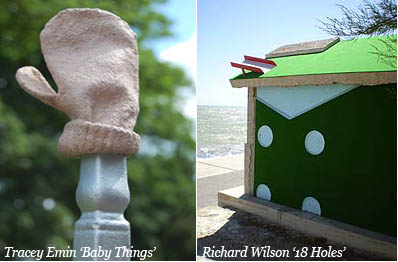 New exhibits include Charles Avery's show entitled Sea Monster with a mysterious hybrid beast and large watercolour and drawing pieces. Hew Locke's installation entitled 'For Those in Peril on The Sea' consists of approx 100 model ships of all varieties and sizes, some made by the artist, which are suspended from the nave of St Mary & St Eanswythe church which is the oldest building in the town.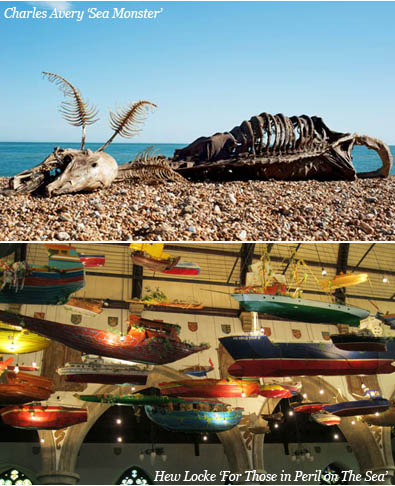 Another must see is an amazing collection of Kosovan textiles entitled 'Boutique Kosovo'. Collected by Erzen Shkolloli it includes folkloric and ritual clothes collected over a two year period.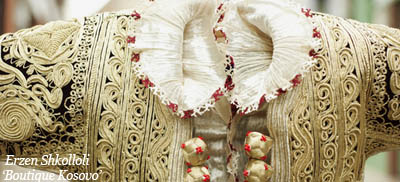 A piece entitled 'Towards the Sound of Wilderness' by Cristina Iglesias enables the visitor to see a martello tower which is covered in ivy and other growths through a specially constructed mirror and resin foliage structure which has a window overlooking a foliage filled moat and tower.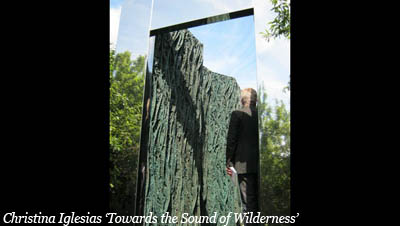 For nourishment I highly recommend fish & chips at The Smokehouse, a recently opened restaurant by the harbour.
Venice Biennale
Numerous locations across Venice. Ends November 27th.
This is the 54th extravaganza of contemporary art from all over the world and ideally would need at least a week to do it justice. Sadly I only had three days so can only report on a small proportion of what's on display. The two main sites, Giardini and Arsenale are must-sees and can take at least a day for each venue. The Giardini is the setting of over 30 individual pavilions representing countries ranging from Australia to Venezuela some of which have buildings which are worth seeing regardless of what's being shown inside them. These date from the 1920's to the '70's.
Particularly good is Mike Nelson's British Pavilion where he has constructed an Istanbul interior complex of run down rooms both domestic and commercial using material sourced in Turkey.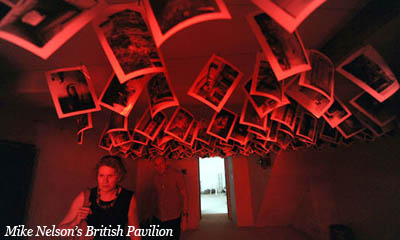 Christian Boltanski's French Pavilion contains a piece entitled 'Chance' consisting of a large scaffold with an oversized film strip showing newborn babies faces which randomly stops to display the face on a LCD screen, whilst in two adjoining rooms large digital clocks show the worlds daily birth and death rates.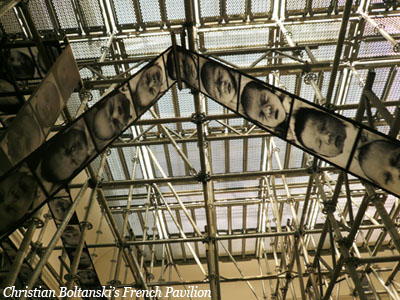 Hajnal Nemeth's installation 'Crash-Passive Interview' at the Hungarian Pavilion is an experimental opera and sculptural piece reflecting stories of car crashes. It includes a smashed BMW and filmed opera in 12 acts.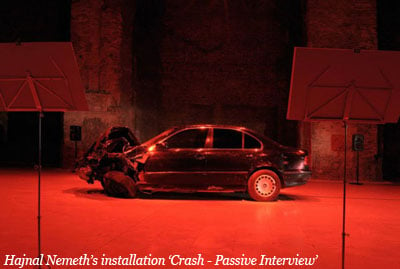 The USA is showing work by Allora and Calzadilla entitled 'Gloria'. The main piece is an upturned tank turned into a running machine harnessed to the tracks which are being propelled by the runner. One of the inside works is a vast pipe organ which has an ATM machine as 'keyboard' and dispenses cash whilst producing organ music.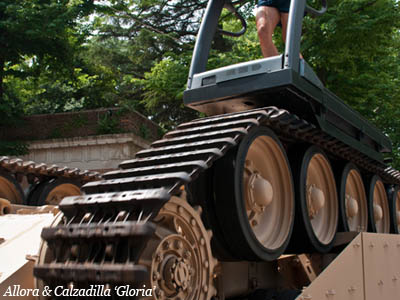 The Korean pavilion has work by Lee Yongbaek including vast cast/moulded figures, films of mirrors being pierced with a shot bullet and military style outfits made from floral fabric. There are over 20 more pavilions and many other installations.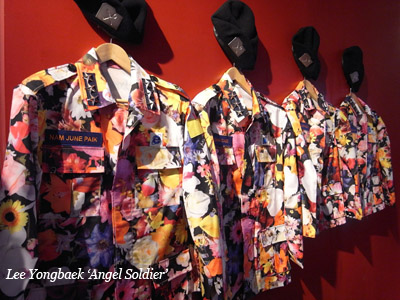 Meanwhile at the Arsenale, a vast ex shipbuilding yard and munitions store is showing work by over 60 international artists including Ryan Gander, Christian Marclay, Franz West and Rebecca Warren. I particularly liked the work of Argentinian artist Adrián Villar Rojas who has filled a space with vast concrete sculptures resembling a fusion of prehistoric and space age shapes.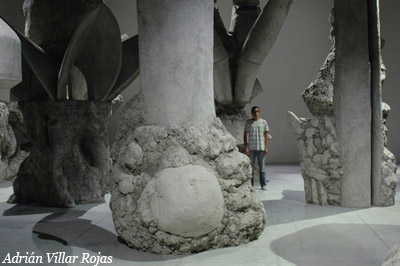 Paintings by the German artist Corinne Wasmucht are large canvasses of domestic interior parts which appear to be upside down.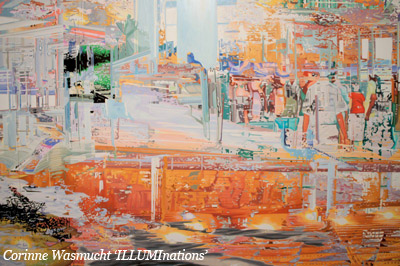 Now onto the other venues of which there are over 100 to choose from…
The Palazzo Fortuny's show entitled TRA, Edge of Becoming is worth seeing for the venue alone and has a mixture of contemporary and period items displayed on three floors. Works include pieces by Mark Rothko, Marcel Duchamp, Man Ray, James Turrell, Conrad Shawcross and many others.
The two Pinault collections at Punta della Dogana and Palazzo Grassi have to be seen. The interiors have been designed by Tadao Ando and Dogana is particularly impressive, showing work by Jeff Koons, Donald Judd, Maurizio Catalan, Chen Zen, Thomas Schutte, plus others.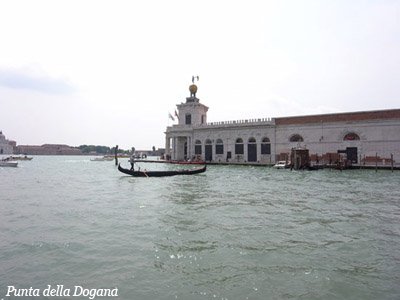 Another good exhibition entitled Glasstress at Palazzo Cavalli Franchetti shows works using glass in the widest context and includes pieces by Tony Oursler, Vik Muniz and a particularly fabulous 'squashed' full size house by Erwin Wurm.
For your stay I can recommend Charming House DD724 which is a small boutique hotel in the Dorsoduro district and in terms of good food look no further than La Furatola Restaurant on Calle Lunga S.Barnaba which is a 10 minute walk from the hotel.