Bespoke braceletes and bangels
Having a bespoke bracelet or bangle made especially for you is the epitome of luxury. In this section we have examples of our exquisite Bespoke Bracelets and Bangles service. Tailored to your unique taste and style, this is where creativity and craftsmanship unite to create a truly one-of-a-kind accessory that tells the world who you are. Create something really special for yourself or that very special someone by having a Stephen Einhorn Bespoke Bracelet or Bangle. Elevate your personal style, celebrate your individuality, and cherish a piece that is uniquely yours. If you need a little help with deciding what you want, all you have to do is ask.
Bespoke Padlock Bracelet
Bespoke men's bracelet custom made in 9ct rose gold and solid sterling silver. This design is exactly what the customer asked for. The gentleman who commissioned this owns a hardware business so he wanted a suitable bracelet to be made for himself. A very beautiful and successful piece. The letters on the padlocks are his children's initials.
Bespoke Les Pitons Vertes Bracelet
The bespoke Les Pitons Vertes bracelet has been set with a colourful array of round brilliant cut ethically sourced precious gemstones and uses beautifully graded vitreous enamel. The bracelet depicts all the amazingly abundant flora and fauna that Stephen experienced throughout his time spent in St Lucia. The round brilliant cut pavé set emeralds form the rich and vibrant central motif of the island's breathtaking Pitons.
Bespoke Rubber ID Wrist Cuff
Bespoke platinum and rubber ID wrist cuff set with three 2mm round brilliant cut diamonds, with nine different interchangeable pieces of coloured rubber. All handmade here in our workshop every single bit is solid platinum, (except for one tiny spring) The customer that commissioned this likes to change the colours of the bands depending on his mood.
Other pieces
Bespoke Platinum Bracelet
Bespoke bracelet custom made in solid platinum. This was made to replace a much loved bracelet which had been lost. This was entirely handmade which makes it a rather special and very expensive chain, in fact, a bit of a masterpiece. We copied his old bracelet exactly.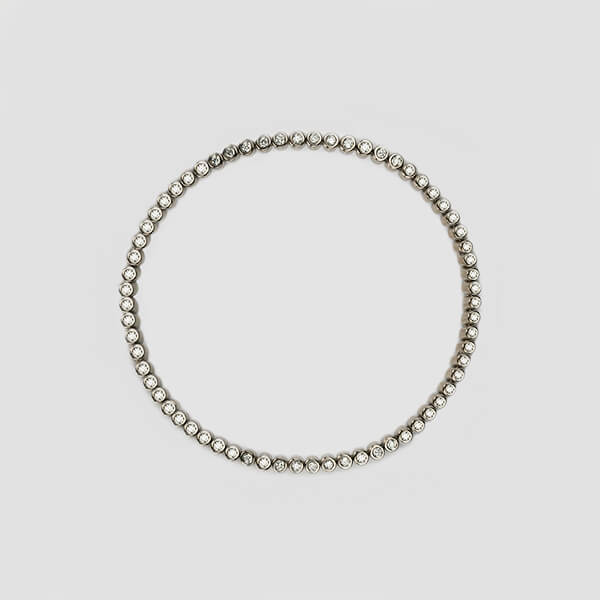 Bespoke Diamond Tennis Bracelet
Bespoke Tennis bracelet custom made in 18 carat white gold with round brilliant cut diamonds commissioned as a joint Birthday/Christmas gift. It's very sparkly and delicate. Did you know that the reason these bracelets are called Tennis bracelets is because Chris Evert lost her diamond bracelet during a match. She stopped the game until it was found, hence the term 'Tennis bracelet' fascinating!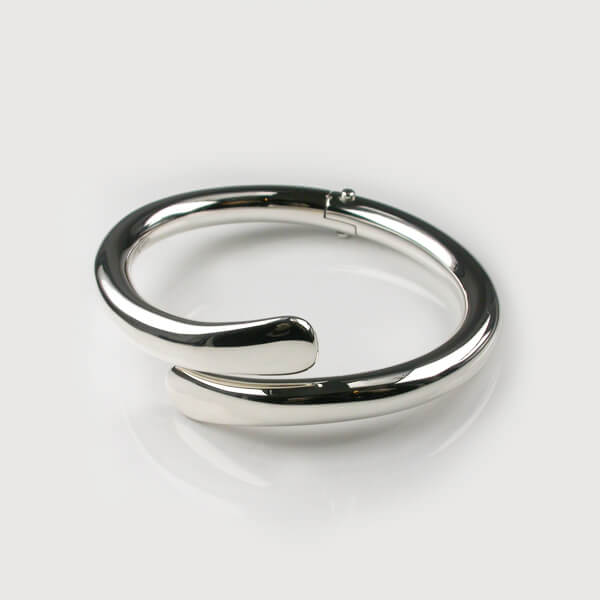 Bespoke Hinged Bangle
This very chunky bangle has a hinge that opens and closes. Because of the way this bangle has been designed it needed an opening mechanism. The customer wanted to wear it fairly tightly around the wrist.
About bespoke bracelets and bangles
At Stephen Einhorn, we are renowned for our uncompromising commitment to craftsmanship. Every piece is meticulously crafted in our London workshop where our team of skilled craftspeople combines traditional techniques with contemporary innovation to bring your vision to life whilst ensuring exceptional quality that endures.
Collaborate closely with our experienced design team to make your ideas a reality. Whether you're seeking a minimalist masterpiece or an opulent statement piece, we'll guide you through every step of the design process.
Choose from a selection of the finest materials, including ethically sourced recycled metals such as 9ct gold, 18ct gold, platinum, and sterling silver. Our gemstone collection boasts a huge range of wonderful options, from vivid sapphires to deep red rubies to exquisite sparkling diamonds, enabling you to commission a piece that reflects your own taste and style.
Your bespoke bracelet or bangle can be engraved, enamelled, inlaid with another metal or shaped figuratively: whatever you would like. We will bring our expertise and design skills to bear on your idea but the ultimate style of the jewellery is entirely up to you.
From the first sketch to the final polish, our team is dedicated to providing an unparalleled bespoke experience. We pride ourselves on transparency, ensuring that you're informed and involved in every aspect of the design process. Your delight is our ultimate goal.
Our bespoke pieces are designed to stand the test of time. Stephen Einhorn Bespoke Bracelets and Bangles are not just accessories; they're heirlooms waiting to be passed down through generations, carrying with them the stories of who you are.
Showcase your personal style with a bespoke bracelet or bangle from Stephen Einhorn. Contact us today to begin creating your unique masterpiece.
FAQ's
Answers to commonly asked questions
Read More