Creating a Bespoke Jewellery Crest is a meticulous and time-honoured process that marries traditional craftsmanship with contemporary artistry. Our skilled designers and craftspeople, who possess a wealth of expertise and a genuine love for their craft, employ a range of techniques to bring each piece to life.
A bespoke Jewellery Crest is an opportunity to celebrate your personality, heritage, and achievements. Crafted with the utmost care and attention to detail, our crests are designed to be treasured for years to come, to enable you to pass down your unique story to future generations.
Crest engraving involves the skilled art of carving or etching a family crest or emblem onto a piece of jewellery. It captures the rich heritage, values, and stories associated with the crest, transforming the jewellery into a personal and meaningful keepsake. Crests can take the form of a 2D or 3D design. Here at Stephen Einhorn we do not believe that crests should be limited to only those people who already have a family crest in their archives: we think they should be available to everyone. Come to us and we will create your together.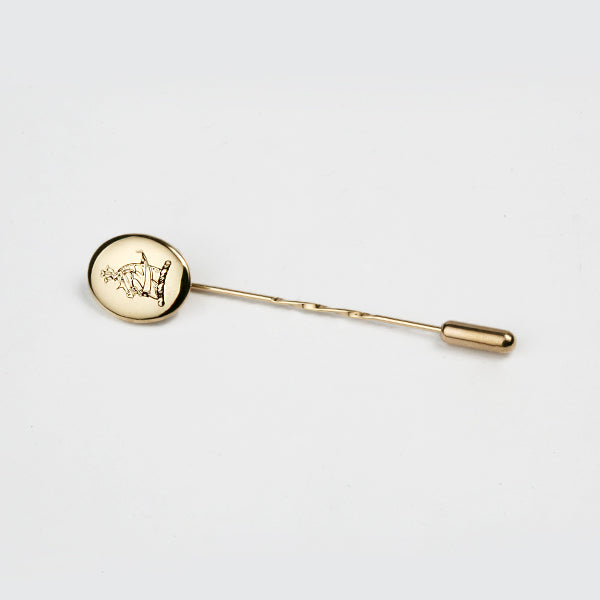 Bespoke Tie Pin With Crest Engraving
Have our classic tie pin engraved with your unique family crest or any other design that you would like to wear proudly on your tie. This is a one of a kind piece and also a unique gift to give that deserving person.
Bespoke Family Crest Signet Ring
Bespoke family crest Familias signet ring custom made in 18ct yellow gold with light blue and brown enamel. This is a lovely solid family heirloom, with a little bump in the band in which to set a secret diamond. This is a unique family crest designed by the family, for all the older family members. If you don't have a family crest why not make one up?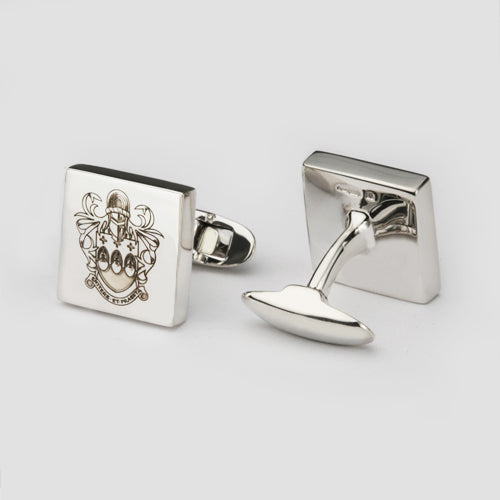 Custom Family Crest Square Cufflinks
Beautiful sterling silver handmade cufflinks with a hand made torpedo back. These cufflinks have been engraved with 2D engraving so the surface feels flat to the touch. As long as there is enough of a flat surface we can engrave on anything.
Other techniques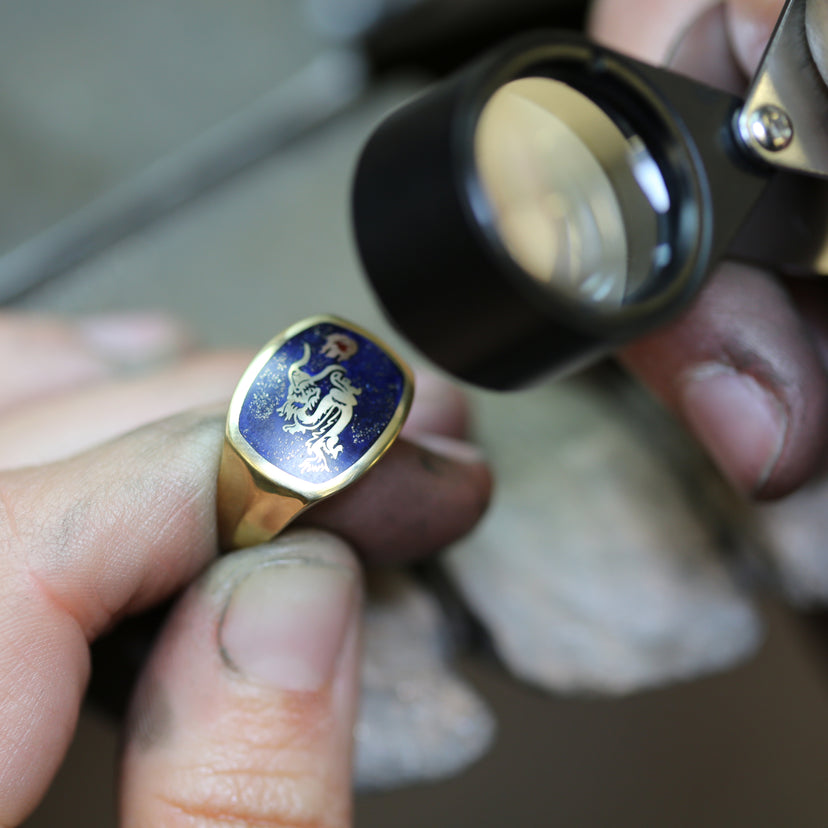 The art of enamelling breathes vibrant life into our designs. The use of enamel to infill a design and add depth of colour has been done since the 13th Century BC. At Stephen Einhorn we mix then delicately paint the enamel into each design. Add a bit of originality and exclusivity to your chosen Stephen Einhorn jewellery with the addition of a design in enamel.
The type of engraving that you can have here at Stephen Einhorn can be figurative, a family crest, a seal engraving or simply a message, date or symbol. The choice is yours. An elegant monogram, a heartfelt dedication, or a design that captures your unique story, our engraving transforms each piece into a cherished heirloom. Get creative and think about designing your own family moto.
Delve into the rich and interesting heritage of seal engraving, a centuries-old art form that exudes elegance and prestige. Our skilled craftspeople expertly carve intricate designs onto precious metals, capturing the essence of tradition in your own wearable masterpiece. A seal-engraved design from Stephen Einhorn is a symbol of refinement, allowing you to make a statement in your own way. If you don't have a family crest, why not invent one?
About bespoke family crest
Crest engraving refers to the intricate art of carving a design onto a piece of jewellery, typically in the form of a family crest or emblem.
Crests, also known as heraldic crests, are traditionally associated with family heritage, nobility, and a 'distinguished' lineage. They often feature a combination of symbols, animals, colours, and intricate patterns that represent a family's history, achievements, or values. Crest engraving allows these unique and meaningful designs to be permanently etched onto jewellery, transforming them into exceptional heirlooms. There is nothing to say you can't start your own family tradition and design your own family crest. In fact, we actively encourage it.
The process of crest engraving begins with a design, which can be created by one of our skilled artists or based on a pre-existing family crest. The design is then carefully transferred onto the surface of the jewellery. Once the design is in place, the engraver uses specialised tools, such as gravers or bruins, to remove small amounts of metal and create the desired pattern.
The engraving process requires exceptional skill and precision. The engraver must carefully control the depth, angle, and pressure of their tools to ensure that the lines and details of the crest are accurately carved. This delicate technique allows for intricate patterns, fine lines, and subtle textures to be created, resulting in a captivating and highly detailed design.
Some crest engraving can be 3D and stand proud of the ring. This type of crest ring is usually cast. The design is drawn and then a mould is made for it to be cast to create a convex design. This is also a fantastic way of making multiple pieces for your family. 
Crest engraving can be performed on various types of jewellery, including rings, pendants, cufflinks, and signet rings. It adds a touch of personalization and distinction to a piece, making it truly one-of-a-kind. Whether it is a family heirloom, a commemorative piece, or a symbol of personal identity, crest engraving elevates the jewellery's significance and transforms it into a cherished treasure. Your journey towards a bespoke crest begins here.
FAQ's
Answers to commonly asked questions
Read More