Bespoke Enamelling Technique
Discover the artistry of bespoke jewellery enamelling at Stephen Einhorn. Here you will find exquisite craftsmanship where traditional techniques blend seamlessly with contemporary design. It's an unusual combination!
At Stephen Einhorn, we believe that jewellery should be as unique as the individual wearing it. That's why we offer a specialised enamelling service, allowing you to transform your precious piece into a true work of art. Our team of skilled craftspeople possess a deep understanding of enamelling, a centuries-old technique that brings vibrant colours and intricate details to life.
Bespoke jewellery enamelling at Stephen Einhorn really is beautiful. From intricate, delicate flowers to bold brush strokes, we use the jewellery as our canvass to create unique pieces. Whether you seek a striking statement piece or a subtle accent, our craftspeople will bring your vision to life with unparalleled precision and artistry. Elevate your personal style and celebrate the things you love with a bespoke enamelled jewellery creation that is as individual as you are.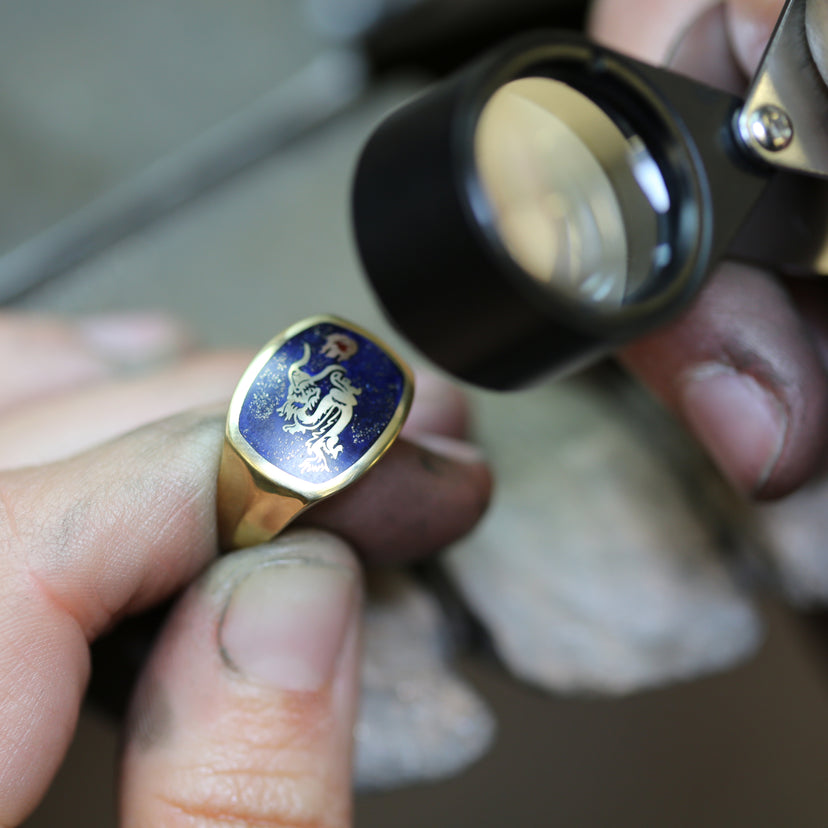 Bespoke Enamelled Signet Ring
A bespoke sterling silver signet ring with blue enamel and inlaid with a sterling silver lion. You can have any design made like this and have your own unique signet ring.
Bespoke Enamelled Cufflinks
Bespoke bat, spider, frog and parrot cufflinks. Each symbol represents one of the members of the customer's family, the spider representing the lady who commissioned these exquisite cufflinks. The colour is translucent aquamarine and soft gold glass enamel with flinking (very technical for the jewellery anoraks amongst you, what it means is, the metal has been engraved before the enamel was applied).
Custom Enamelled Signet Ring
A bespoke Crest Enamelled Signet ring, Stephen and our talented bespoke team will help transform your vision into a one-of-a-kind design that you will treasure for a lifetime. Have a unique crest motif inlaid with your colour of choice in enamel.
Other techniques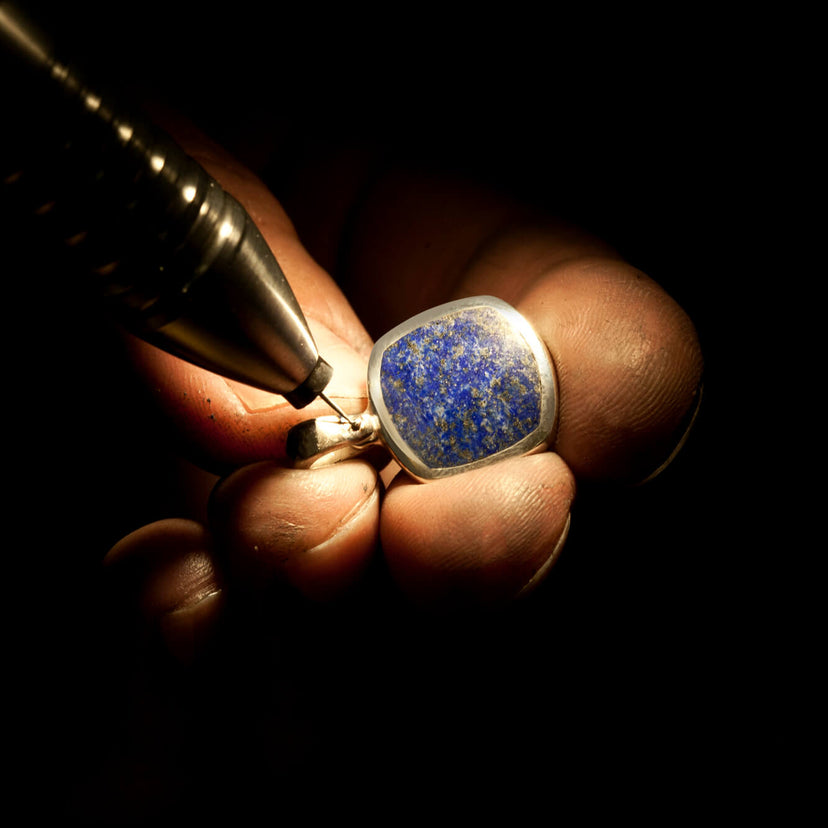 Inlaid jewellery is that extra layer of luxury that the discerning customer will want. Using historical jewellery techniques we can inlay gold, platinum or silver into stone, wood or enamel. We can even inlay yellow gold into white for a very subtle effect. Have your initials a family crest or a design you have created yourself, inlaid into one of our signet rings. The exciting fusion of materials in our inlaid pieces sets them apart as truly luxurious and exceptional works of wearable art.
Celebrate your heritage and family legacy with our impeccable crest engraving. We can carefully reproduce your unique family crest, coat of arms, or emblem onto a wide range of jewellery pieces, no matter how complex. Each creation is a treasured heirloom, embodying your own heritage and connecting generations through exquisite design and meticulous craftsmanship.
Our gemstone setting is an art form. It takes real skill and many years to perfect your craft. With meticulous precision, our stone setters carefully set each stone, showcasing its brilliance and enhancing its natural beauty. Whether it's a sparkling diamond, a vivid sapphire, or a mesmerising emerald our stone setting technique ensures that every stone radiates its own beauty.
About bespoke enamelling technique
At Stephen Einhorn, we love to work with colour as well as texture. Our skilled craftspeople carefully hand-apply each enamel layer, creating vivid, captivating hues. With our commitment to excellence and attention to detail, your bespoke jewellery piece will be transformed into a startlingly vibrant and stunningly beautiful object.
When you choose bespoke jewellery enamelling techniques at Stephen Einhorn, you get something really personal. Whether you have a family heirloom longing for a modern twist or a desire to create a one-of-a-kind piece from scratch, our craftspeople will work closely with you to bring your vision to life. From initial concept sketches to selecting the perfect enamels and colours, every step of the process is done in close collaboration with you.
Our enamellers employ a range of techniques - painting, inlaying and 'flinking' - an engraving technique to 'bright cut' patterns underneath translucent enamel - or the art of enamelling over a 3D engraving in metal, in order that an engraved pattern shines through a transparent enamel colour. All of these varied techniques ensure that your jewellery piece is truly extraordinary. Each enamel is meticulously hand-applied, layer by layer, and fixed in our workshop to achieve a flawless, radiant finish. The result is a mesmerising fusion of colour and texture which creates something incredibly tactile and wearable.
Imagine colouring your bespoke jewellery piece with a rich, lustrous deep blue enamel that captures the essence of tranquillity and elegance. Indulge in a lush emerald green, reminiscent of forests and emerald gemstones. Bask in rich, yellow hues… We can also colour match providing you can supply the reference. (For a true colour match it mustn't be a colour on a computer screen as all screens are slightly different).
Let your favourite colours come to life, adorning your jewellery with an extraordinary burst of brilliance. Embrace the artistry of enamelling and make a bold statement that makes works of art of your jewellery.
FAQ's
Answers to commonly asked questions
Read More