Our passion and interest in creating unique and extraordinary pieces has led us to master the art of inlaid jewellery - an exquisite method that allows us to create intricate designs.

This is yet another technique that we can do for you here at Stephen Einhorn where we seek to elevate the art of jewellery making on a daily basis. Our commitment to impeccable craftsmanship ensures that every piece is crafted with the utmost care and attention to detail, guaranteeing its longevity and enduring beauty.

Our bespoke service is at the heart of what we do because it allows us to really work with our customers and create intricate, unusual, bold designs to their exact tastes. Bespoke jewellery commissions present exciting design and craft challenges - and inlaying allows us to push the boundaries of that design, playing with metals, materials, shapes and colours to make you something truly unique.

Bespoke Inlaid Oxford Type Ring
A modified version of our Oxford ring using Malachite. This customer wanted an entirely different shaped ring to our standard Oxford design. A lovely colour, this ring is solid, heavy and a very satisfying shape. It has 4 diamonds set into it 2 on each side.
Bespoke Inlaid Cufflinks
Bespoke solid silver cufflinks with a raised 18ct yellow gold inlay leopard motif. This leopard design was very special and part of a family crest, it's quite unusual, and very stylised. We can do figurative work that stands proud like this.
Custom Inlaid Stoned Signet Necklace
Bespoke 'C' pendant necklace custom made in silver with midnight blue enamel and a diamond. The design also has the word family engraved onto the back along with an infinity symbol. This is a great example of what skills in our workshop we can apply to make something and also how very personal and unique our customers' requests are.
Other techniques
Our gemstone setting is an art form. It takes real skill and many years to perfect your craft. With meticulous precision, our stone setters carefully set each stone, showcasing its brilliance and enhancing its natural beauty. Whether it's a sparkling diamond, a vivid sapphire, or a mesmerising emerald our stone setting technique ensures that every stone radiates its own beauty.
Delve into the rich and interesting heritage of seal engraving, a centuries-old art form that exudes elegance and prestige. Our skilled craftspeople expertly carve intricate designs onto precious metals, capturing the essence of tradition in your own wearable masterpiece. A seal-engraved design from Stephen Einhorn is a symbol of refinement, allowing you to make a statement in your own way. If you don't have a family crest, why not invent one?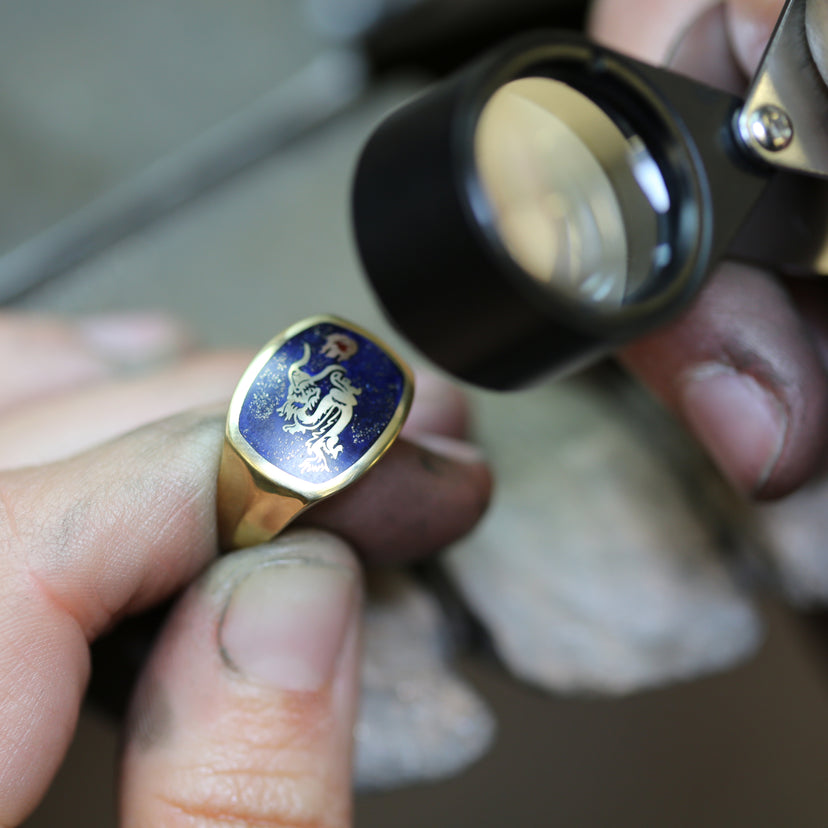 The art of enamelling breathes vibrant life into our designs. The use of enamel to infill a design and add depth of colour has been done since the 13th Century BC. At Stephen Einhorn we mix then delicately paint the enamel into each design. Add a bit of originality and exclusivity to your chosen Stephen Einhorn jewellery with the addition of a design in enamel.
About bespoke inlaid technique
The inlaid technique is an interesting process that involves carefully embedding one material into another, resulting in a clever mixture of textures, colours, and patterns. Our skilled craftspeople delicately craft each piece, ensuring that every detail is thoughtfully executed to perfection. The most common form of inlaid jewellery is to have inlaid gold initials inlaid into stone, wood or enamel.
One key element of our inlaid jewellery is the intricate setting of gemstones into an inlaid design. We expertly select the finest precious stones and seamlessly integrate them into the jewellery's design, creating a harmonious blend of luxury and artistry. The gemstones become an integral part of the piece, enhancing its beauty.
In addition to gemstones, we also employ the inlaid technique to incorporate other materials such as precious metals, wood, enamel, and even unconventional elements that our customers bring in. This fusion of different materials adds depth and uniqueness to our creations, completely transforming them into something luxurious and original.
The inlaid technique allows us to create pieces that tell a story. Our designers draw inspiration from a myriad of sources, ranging from nature's breath-taking landscapes to urban aesthetics and cultural motifs. 
The craftsmanship involved in the inlaid technique demands both precision and creativity. Our craftspeople have honed their skills over years of practice, mastering the delicate balance between technical expertise and artistic vision. Each piece they create is a testament to their dedication and passion for their craft.
FAQ's
Answers to commonly asked questions
Read More