Bespoke Jewellery Stone Setting
Our stone setting service is really unique, allowing you to collaborate with our talented team by selecting your stone from some examples which we hand pick for you. Every stone is subtly different - each emerald a slightly different green, each ruby a deeper or more pink red, and each diamond - even to the same specification - has a different level of fire, scintillation and brilliance. That's why we think you should be a part of the process of selecting the best stone that's just right for you.
Whether you want an engagement ring with a diamond that catches the light and turns heads, a pendant with prominent coloured gemstones, earrings with subtle coloured accents or an eternity ring with tiny, sparkling precious stones, our craftspeople will guide you through the design process, ensuring every detail is meticulously crafted to perfection, and every stone is just what you want. Each method of stone setting has different qualities and we will help you choose the right design for you.
When you choose Stephen Einhorn for your bespoke jewellery stone setting, you embark on a journey where craftsmanship and creativity intertwine. Our craftspeople create jewellery you will be proud to wear, transforming precious metals and gemstones into wearable works of art. With unwavering dedication to quality and a passion for innovation, we invite you to experience the exceptional beauty and modern elegance of our bespoke jewellery stone setting.
Bespoke Diamond Engagement Ring
Handmade in platinum, this customer wanted a ring that looked 'antique' the result is stunning. Made with a 2 carat diamond surrounded by 22 1.5mm sapphires and 6 graduated diamonds on the shoulders. This design also includes vintage style grains that have been carved on the top of the ring.
Bespoke Stoned Flower Ring
Stunning bespoke double flower ring custom made in 18ct yellow gold and 18ct white gold with blue tourmalines.The precious stones in this special commission were a very unusual colour and were slightly different from each other - therefore the flowers were slightly different sizes.The end result was absolutely beautiful. It's an example of how versatile our bespoke team is.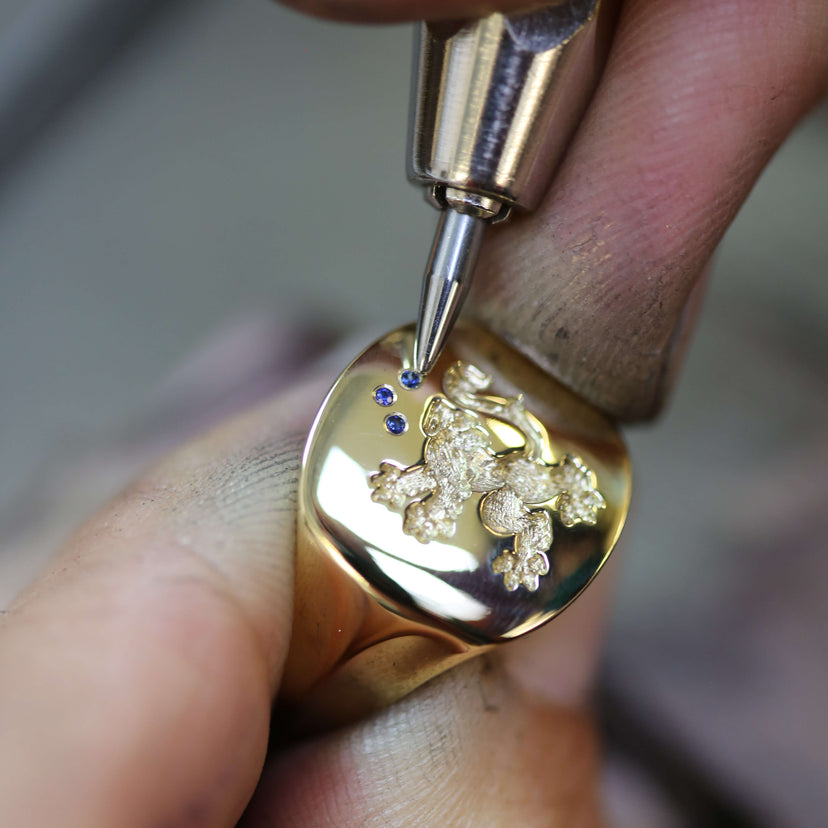 Custom Stoned Signet Ring
A solid gold bespoke signet ring with a very unusual 3D engraved family crest. The head of the Lion has been  replaced with 3 blue sapphires. We don't know the meaning of this but the end result was lovely, and our customer was extremely pleased.
Other techniques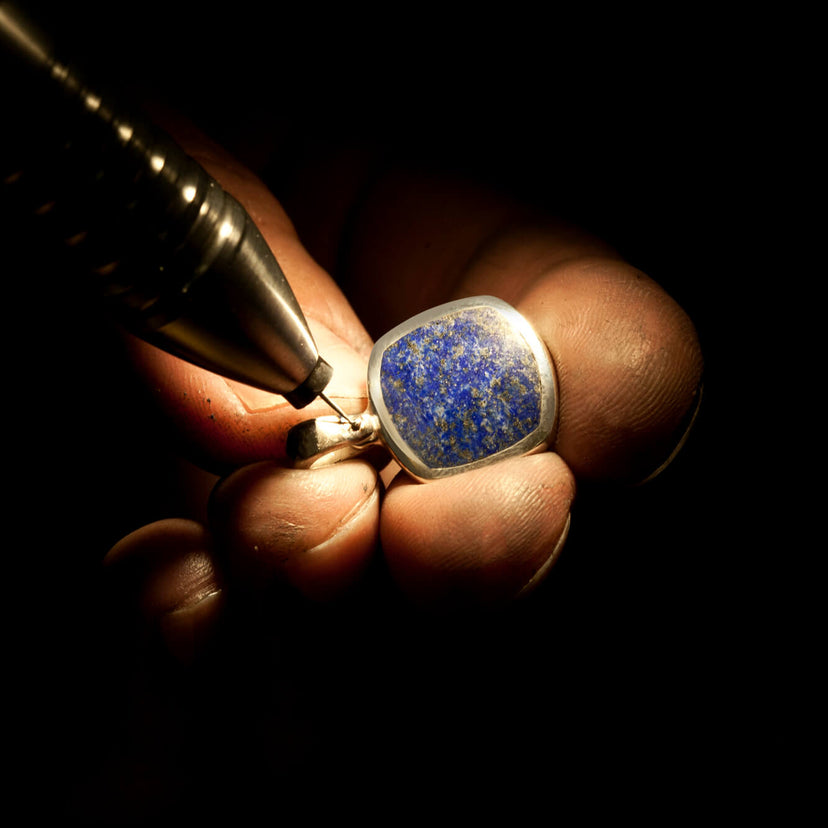 Inlaid jewellery is that extra layer of luxury that the discerning customer will want. Using historical jewellery techniques we can inlay gold, platinum or silver into stone, wood or enamel. We can even inlay yellow gold into white for a very subtle effect. Have your initials a family crest or a design you have created yourself, inlaid into one of our signet rings. The exciting fusion of materials in our inlaid pieces sets them apart as truly luxurious and exceptional works of wearable art.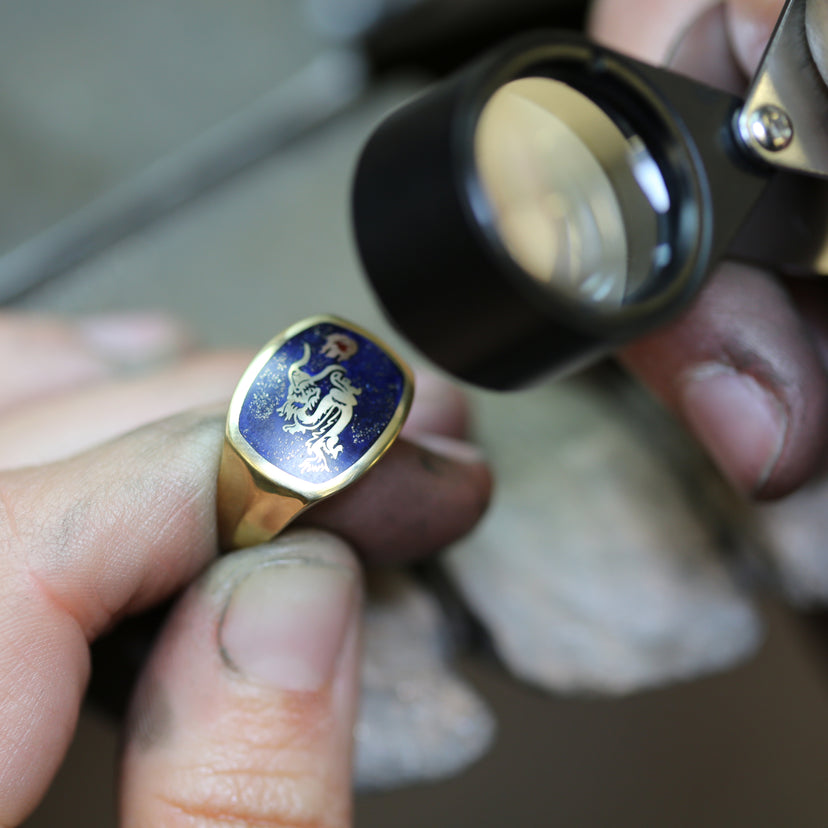 The art of enamelling breathes vibrant life into our designs. The use of enamel to infill a design and add depth of colour has been done since the 13th Century BC. At Stephen Einhorn we mix then delicately paint the enamel into each design. Add a bit of originality and exclusivity to your chosen Stephen Einhorn jewellery with the addition of a design in enamel.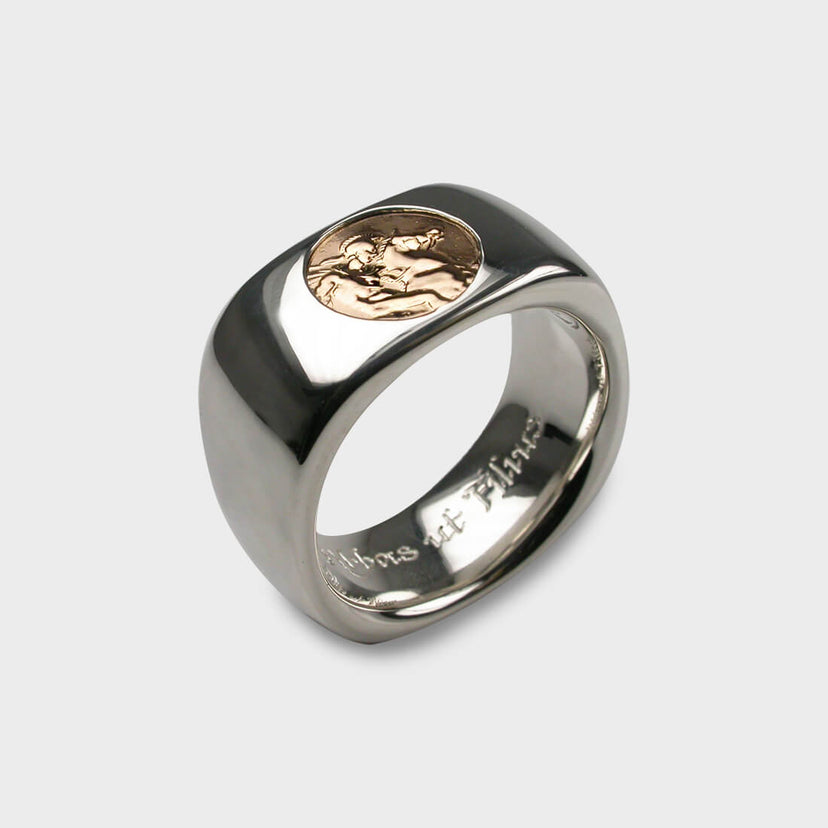 At Stephen Einhorn, we are able to set your old collectable coins into a necklace or ring using our coin setting technique. Coin setting is quite traditional, and makes a lovely heirloom to pass down the generations. With meticulous craftsmanship and an appreciation for history, we transform treasured coins into much loved pieces of wearable art. When you commission a coin-set piece from Stephen Einhorn, you acquire more than just a stunning accessory, you have bought something truly your own. You become a custodian of history, a bearer of stories.
About bespoke jewellery stone setting
Stone setting is a cornerstone of goldsmithing and this traditional artform is vital to creating the fluid clean lines and vibrant open settings you can expect from a Stephen Einhorn piece. The choice of stone and setting is a personal one, and reflects your own unique style, personality and lifestyle. Our bespoke jewellery stone setting techniques are cutting edge, combining traditional craftsmanship with innovative design. Explore the our exquisite stone setting, where artistry meets precision:
Different types of stone setting in jewellery:
Our skilled craftspeople have honed their craft over decades, perfecting the art of stone setting to create stunning, one-of-a-kind pieces. With great attention to detail, they employ a range of techniques to ensure each gemstone is securely and elegantly held in place.
Prong Setting: Also known as claw setting, this classic technique involves delicate metal prongs that are expertly positioned to grip the gemstone, allowing maximum light to pass through, holding it securely whilst enhancing its brilliance and natural beauty. This is a very popular form of stone setting and one you will see worn every day. It's often used for solitaire, or round, brilliant cut, diamond engagement rings.
Bezel Setting: Offering a sleek and modern aesthetic, bezel setting involves surrounding the gemstone with a thin metal band. Our craftspeople meticulously shape the metal to create a custom-fit setting, holding the gemstone firmly in place while providing an elegant frame.
Pavé Setting: For those seeking a sparkling display of brilliance, pavé setting is the perfect choice. Tiny, carefully placed gemstones are set closely together, creating a continuous surface that appears to be paved with tiny, glistening stones. Our craftspeople skilfully arrange and secure each stone, resulting in a breathtakingly dazzling effect. This style of setting can only be done using a very powerful microscope. Not every setter has the steady hands for this technique.
Channel Setting: This technique involves placing gemstones side by side in a precisely carved channel, with no metal separating them. The stones are held securely in place, creating a seamless and elegant row of captivating stones which can create a kind of mirror effect. Our craftspeople pay meticulous attention to detail, ensuring each stone aligns flawlessly, resulting in a truly refined looking piece.
Flush Setting: The gemstone is placed within a small, meticulously cut opening in the metal, allowing it to sit completely flush with the metal surface. Our craftspeople expertly carve the metal to create a secure and seamless setting, then fold the metal over the edge, enhancing the overall smooth design of metal and stone. This technique showcases the stone's brilliance while providing a smooth and sleek appearance which looks very contemporary.
FAQ's
Answers to commonly asked questions
Read More