Bespoke Jewellery Coin setting
Stephen Einhorn has always been fascinated and inspired by history - it's what led him to create the Thames Wood Collection - and it has also led him to coin setting. This unusual jewellery option allows you to set historical artefacts into modern pieces to create something really extraordinary.
Whether it's a penny you found on your first day of school, a farthing passed down to you by a grandparent, currency from your home country or favourite place, or even a Roman coin, we can incorporate it into a fabulous piece of jewellery.
Discover the first crucial step in this remarkable journey – selecting the perfect coin and the perfect setting. We are equally careful with an heirloom passed down through generations or a coin that carries sentimental value: entrust us with your personal treasure and we will honour its significance by making it into something really special.
At Stephen Einhorn, we understand that the value you attach to objects is uniquely yours, that's why we believe in the power of collaboration. Our expert designers will work closely with you, carefully considering the coin's shape, size, and intricate details to create a design that reflects your vision. Through thoughtful dialogue and our creative design skills, we will bring your coin to life in a truly unique jewellery piece.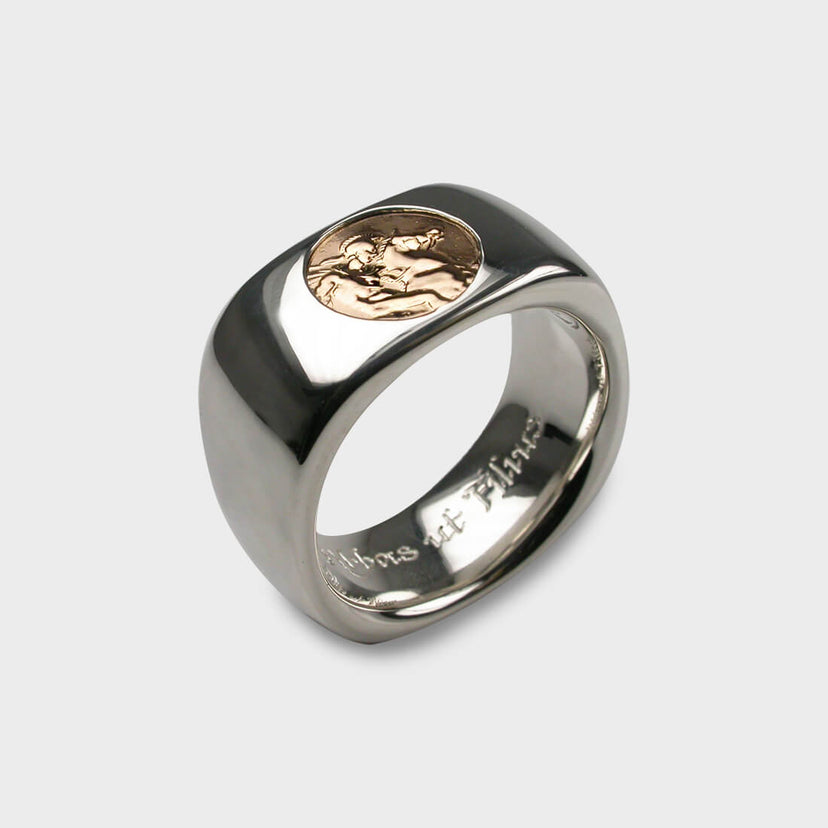 Bespoke Coin Ring
A tapered solid sterling silver ring handmade incorporating the customers heirloom signet ring. We have set the coin on the top for him, creating a really unique piece of jewellery that will in turn become another heirloom. This is all part of the circular economy and why we are proud to do what we do. Nothing is wasted. We often get enquiries about taking sections out of family heirlooms and setting them in something more contemporary, it's a great way to keep the sentiment of the old ring and create something new.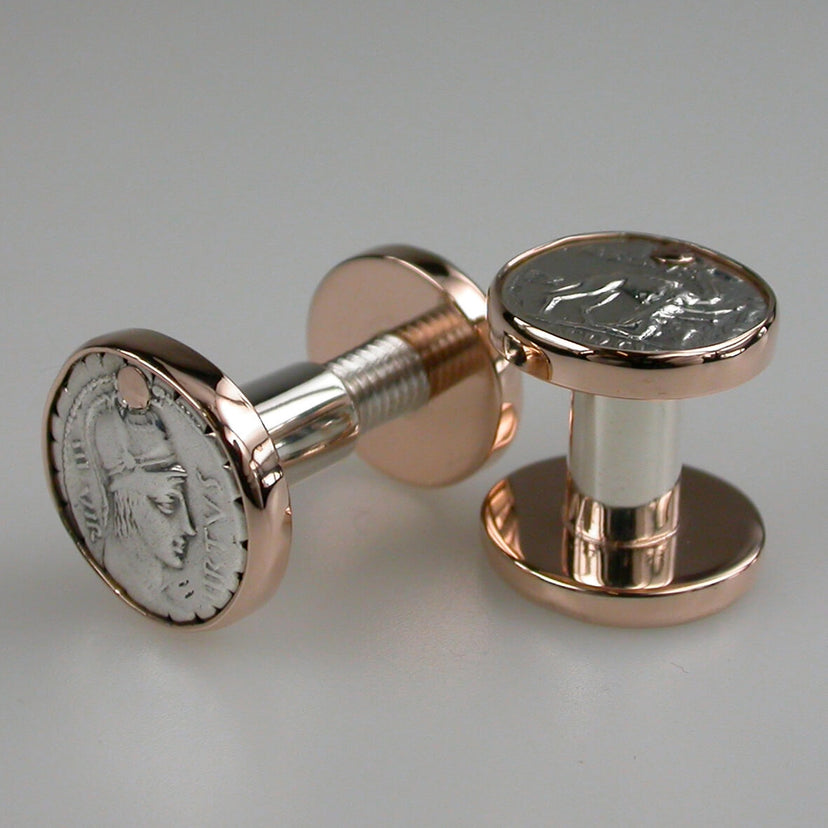 Bespoke Coin Cufflinks
Four coins set into some bespoke red gold cufflinks. These have been made with a screw mechanism as there are 4 coins on these cufflinks and they were too big to fit through a shirt buttonhole.
Custom Signet Coin Ring
This is a bespoke commission which was custom made in 9 carat rose gold. It is based on our Signet ring design but has the customer's ancient Celtic coin set into the top of it. This bespoke Signet ring was made as a wedding ring. It's very unusual and loaded with significance. Certainly a ring to wear forever.
Other techniques
If you have some cremation ashes that you would like to have encased in our jewellery, you receive more than just one of our designs. You receive a tangible symbol of remembrance, a connection to the past, and a way to keep the spirit of your loved one close forever. We understand the profound importance of honouring the memories of loved ones who have died. Our unique technique allows us to transform cremation ashes into meaningful and beautiful pieces of memorial jewellery, providing comfort, solace, and a tangible connection to those we hold dear.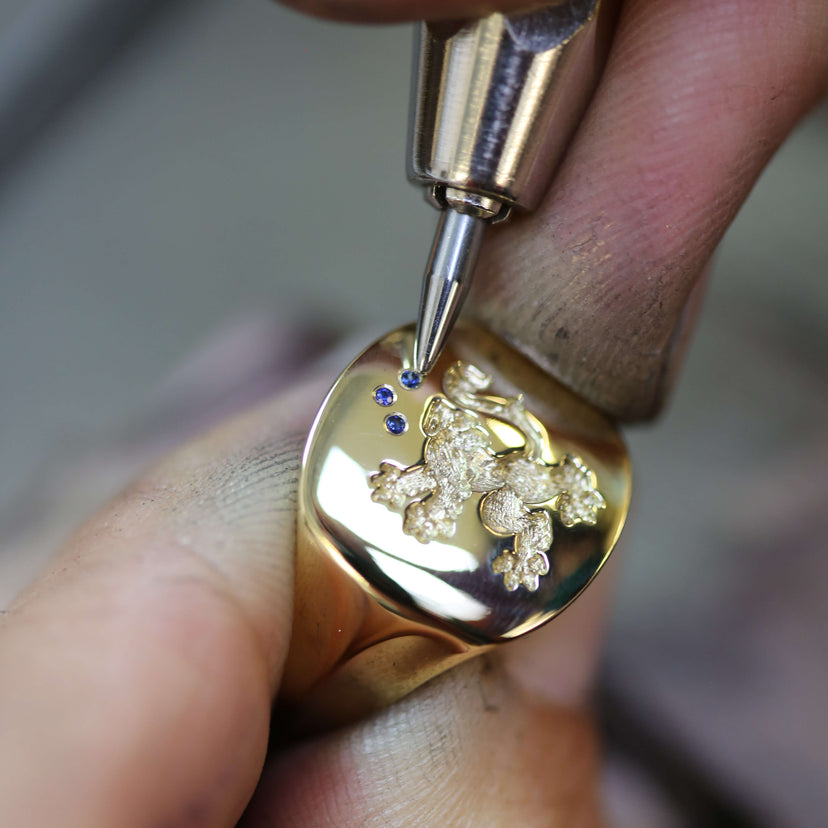 Our gemstone setting is an art form. It takes real skill and many years to perfect your craft. With meticulous precision, our stone setters carefully set each stone, showcasing its brilliance and enhancing its natural beauty. Whether it's a sparkling diamond, a vivid sapphire, or a mesmerising emerald our stone setting technique ensures that every stone radiates its own beauty.
Dive into the captivating world of intaglio, an unusual technique where intricate designs are engraved into gemstones, sometimes underneath the stone or sometimes carved into the top of the stone. As far back as 5000 BC the craft of Intaglio was being used. This is a rare and unusual technique. Its very subtle. Because of its rarity it takes time to do but the end result is not only fascinating but is also stunning. To have a stone carved using the Intaglio technique is a sign of real luxury. A true 'one of a kind' design.
About bespoke jewellery coin setting
Our highly skilled craftspeople really show off their deftness and care in the process of coin setting. With their unmatched expertise they ensure your coin's secure placement, being careful not to harm it in any way. All coins we set are precious but some are priceless: we always take this into account. The process of creating jewellery using coins creates an irreplaceable piece of jewellery which is both historical and contemporary.
Every element of our jewellery is thoughtfully considered to harmonise with the embedded coin. Our goldsmiths take pride in enhancing your coin's inherent beauty, using their expert skills to best showcase it. The result is a wonderful fusion of smooth precious metals with the different metals and texture of your cherished coin. With you we create a wearable piece of history that no one else in the world will have.
Stephen Einhorn's designs are rooted in both the historical and the contemporary: looking back to designers and techniques which inspire him and looking forward to new techniques and modern aesthetics. By combining traditional craftsmanship with innovative design, we ensure that your coin-set jewellery piece becomes an heirloom to be treasured for generations. Entrust us to transform your precious coin into a work of wearable art that embodies your individuality and allows you to own a little bit of jewellery history.
FAQ's
Answers to commonly asked questions
Read More