Bespoke Intaglio Technique
Discover Intaglio jewellery at Stephen Einhorn. An ancient technique, intaglio is breathtaking, and deserves to be seen up close to appreciate its fusion of artistry and design.
At Stephen Einhorn, our talented craftspeople practise the art of Intaglio, creating exquisite wearable masterpieces. Each piece is a testament to their exceptional skill and unwavering dedication to craftsmanship. With precision and care, they transform gemstones into miniature cameos.
The Intaglio technique involves carving designs into gemstones such as sapphires, rubies, and agates, enhancing their natural beauty with remarkable depth and dimension. These intricately carved motifs range from classic symbols and mythological figures to contemporary patterns, allowing you to express your unique style, whatever that may be…
Bespoke Intaglio Blue Topaz Signet Ring
This bespoke intaglio ring was custom made in 14ct white gold with a blue topaz stone. The ring has a gold anchor mirror polished and then bonded under the stone so that it can be seen. This was made to a very specific brief. The mermaid is intaglio (carved) on top of the stone. An incredible piece of craftsmanship from our amazing workshop.
Bespoke Intaglio Amethyst Signet Ring
This dazzling ring features our customer's family crest seal engraved on an amethyst. ( Intaglio)  The stone is a 300 year old heirloom and this customer had been looking for this stone for years! Being very aware of the stone's precious and irreplaceable qualities we were extremely careful. The ring shank is solid 14 carat white gold.
Other techniques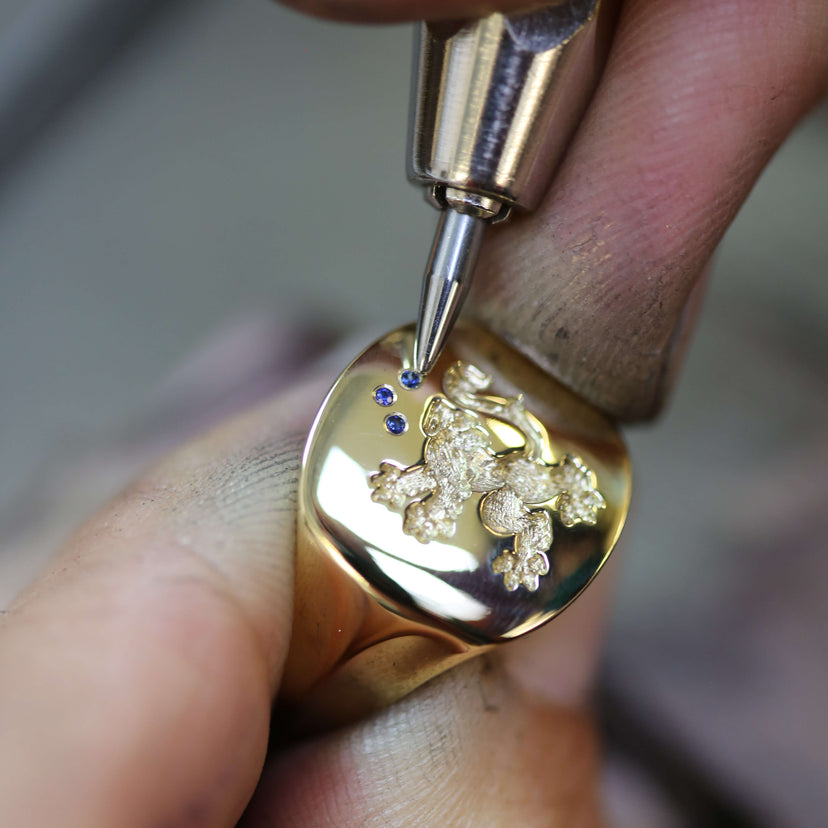 Our gemstone setting is an art form. It takes real skill and many years to perfect your craft. With meticulous precision, our stone setters carefully set each stone, showcasing its brilliance and enhancing its natural beauty. Whether it's a sparkling diamond, a vivid sapphire, or a mesmerising emerald our stone setting technique ensures that every stone radiates its own beauty.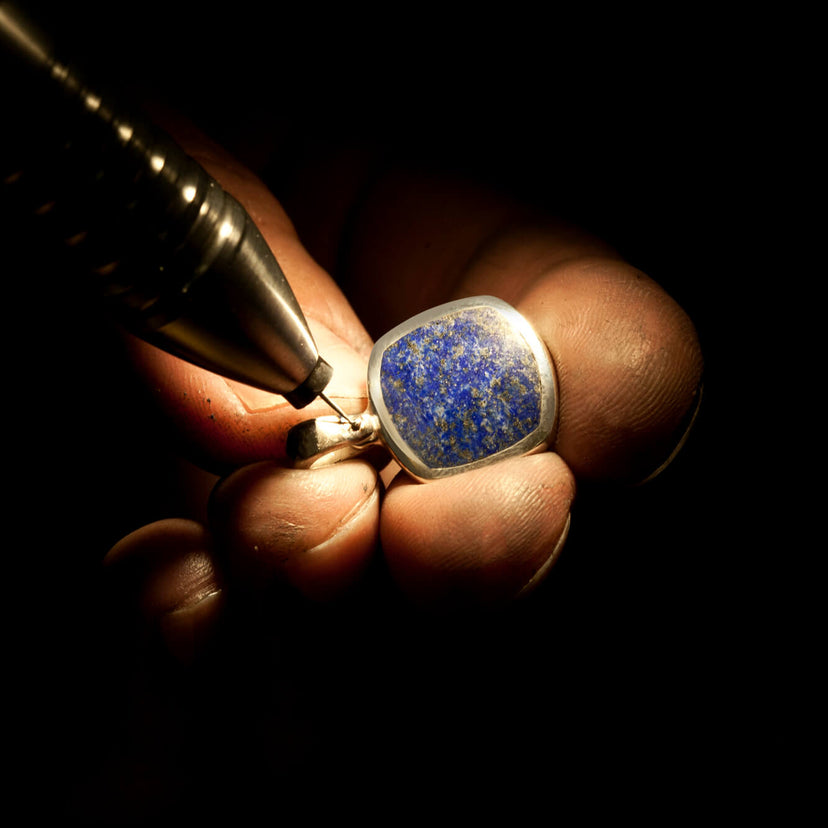 Inlaid jewellery is that extra layer of luxury that the discerning customer will want. Using historical jewellery techniques we can inlay gold, platinum or silver into stone, wood or enamel. We can even inlay yellow gold into white for a very subtle effect. Have your initials a family crest or a design you have created yourself, inlaid into one of our signet rings. The exciting fusion of materials in our inlaid pieces sets them apart as truly luxurious and exceptional works of wearable art.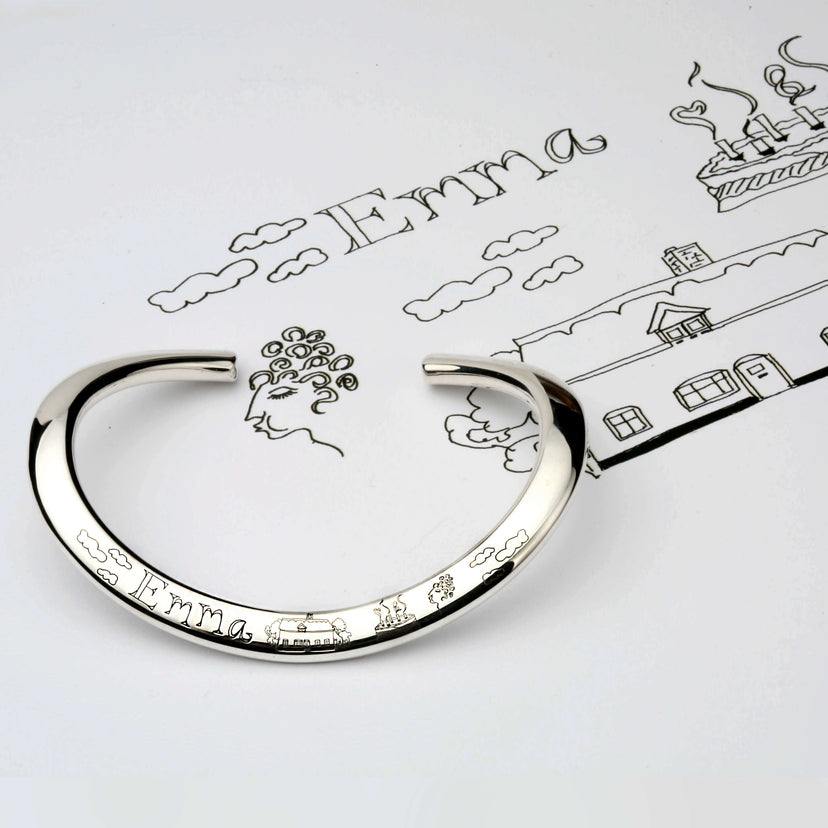 The type of engraving that you can have here at Stephen Einhorn can be figurative, a family crest, a seal engraving or simply a message, date or symbol. The choice is yours. An elegant monogram, a heartfelt dedication, or a design that captures your unique story, our engraving transforms each piece into a cherished heirloom. Get creative and think about designing your own family moto.
About bespoke intaglio technique
Intaglio, derived from the Italian word 'intagliare' meaning 'to carve' is a meticulous process where intricate designs are delicately carved into precious gemstones. With a rich history dating back to ancient civilizations, intaglio has captured the imagination of jewellery connoisseurs for centuries.
From mesmerising rings and pendants to elegant earrings, bracelets and cufflinks, each piece showcases the artistry of intaglio. Every detail is meticulously considered, from the choice of gemstones to the harmonious marriage of design and craftsmanship.
At Stephen Einhorn, we understand that jewellery is an expression of individuality. Intaglio offers an unusual option to create a one-of-a-kind piece. If you are seeking a bespoke creation, our team is dedicated to crafting a piece that speaks to you.
With intaglio jewellery from Stephen Einhorn you can experience the beauty of this ancient art form, where the past seamlessly merges with the present to create heirlooms for generations to come. We love embracing new technologies and techniques but we also love the traditional, the ancient and the artisanal. We pride ourselves on our skills and our designs, nowhere is this more evident than in intaglio work.
FAQ's
Answers to commonly asked questions
Read More