Bespoke Jewellery Photo engraving
This unique fusion of photography and jewellery translates your most cherished photos into exquisite, personalised jewellery pieces. At Stephen Einhorn, our photo engraving jewellery technique freezes moments in time in a long lasting, tangible way, allowing you to carry them close to your heart for a lifetime. 
Our skilled craftspeople employ the latest technology to engrave a photograph onto a wide range of jewellery designs, including pendants, bracelets, and lockets. All we need is a smooth surface. With this technique, we transform your treasured photographs into wearable heirlooms that encapsulate love, joy, and precious memories. Seeing a photograph rendered in precious metals is really spectacular and makes a wonderful gift (for someone else or yourself…)
Bespoke Photo Engraved Signet Necklace
This necklace was a photo engraved for a customer who wanted his children close at all times. It's a unique service that we offer here at Stephen Einhorn. If you bring us a photo we can transform it into artwork for our photo engraving.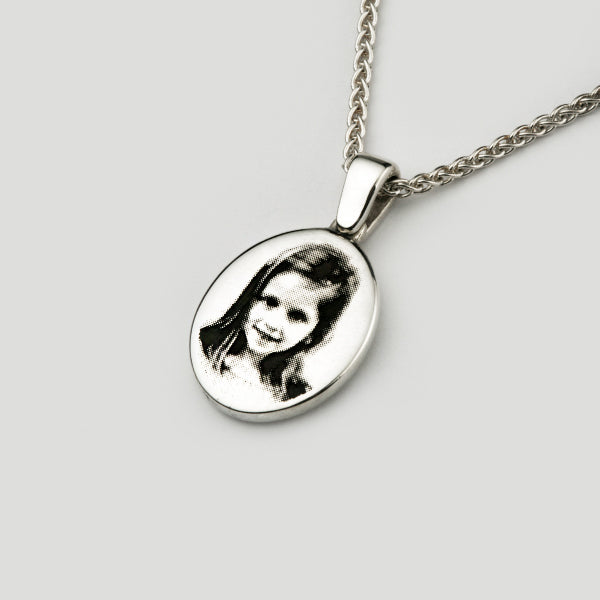 Custom Photo Engraved Oval Signet Necklace
Our sterling silver Oval Signet pendant with a customer's photo of a child photo engraved. An extremely unique gift for someone.
Other techniques
Dive into the captivating world of intaglio, an unusual technique where intricate designs are engraved into gemstones, sometimes underneath the stone or sometimes carved into the top of the stone. As far back as 5000 BC the craft of Intaglio was being used. This is a rare and unusual technique. Its very subtle. Because of its rarity it takes time to do but the end result is not only fascinating but is also stunning. To have a stone carved using the Intaglio technique is a sign of real luxury. A true 'one of a kind' design.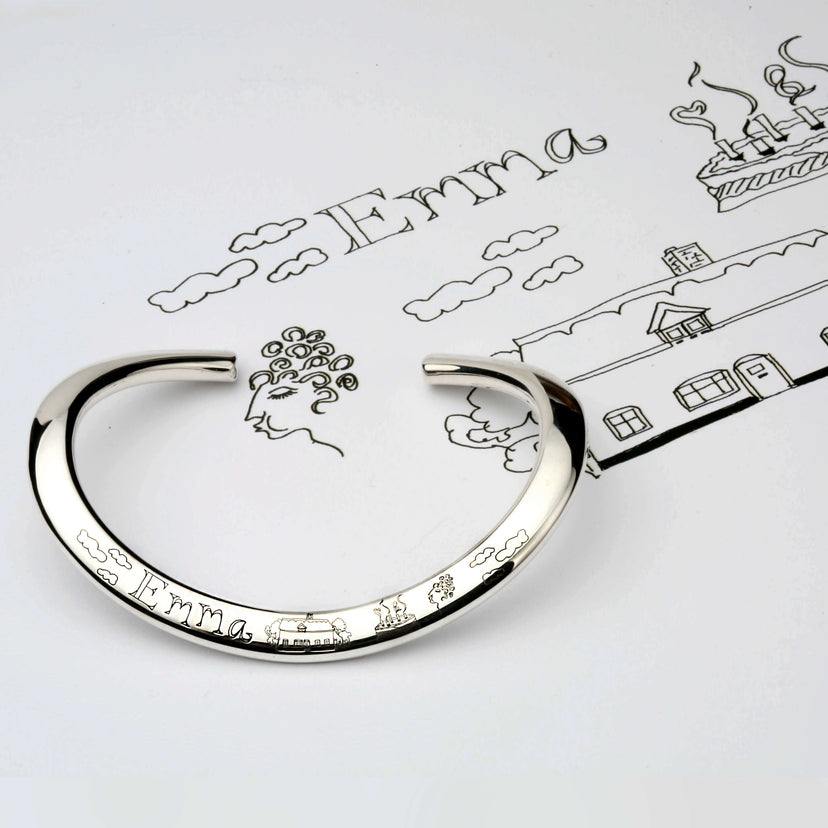 The type of engraving that you can have here at Stephen Einhorn can be figurative, a family crest, a seal engraving or simply a message, date or symbol. The choice is yours. An elegant monogram, a heartfelt dedication, or a design that captures your unique story, our engraving transforms each piece into a cherished heirloom. Get creative and think about designing your own family moto.
If you have some cremation ashes that you would like to have encased in our jewellery, you receive more than just one of our designs. You receive a tangible symbol of remembrance, a connection to the past, and a way to keep the spirit of your loved one close forever. We understand the profound importance of honouring the memories of loved ones who have died. Our unique technique allows us to transform cremation ashes into meaningful and beautiful pieces of memorial jewellery, providing comfort, solace, and a tangible connection to those we hold dear.
About bespoke jewellery photo engraving
Photo engraving is an extraordinary technique that merges the worlds of photography and jewellery. You begin with a personal consultation, where we ask you to bring in the photograph you wish to engrave. We discuss the jewellery piece that will best showcase your picture, ensuring every detail is considered. 
Once we receive your photograph, our skilled designers utilise cutting-edge digital software to prepare it for the engraving process. This involves enhancing contrast, adjusting brightness, and refining the image to ensure optimal clarity and expression.
With the digital image ready, we employ state-of-the-art laser photo engraving jewellery technology to carefully engrave your photograph onto the chosen jewellery piece. This high-precision technique guarantees impeccable accuracy, capturing even the finest details of your image.
After the engraving is complete, our master craftspeople meticulously hand-polish and finish the jewellery piece, ensuring a flawless finished surface that showcases the engraved photograph. This final touch elevates the overall aesthetic and quality, making each creation a true masterpiece.
The result is a truly extraordinary jewellery piece where your photo is rendered in precious metal - it really does have to be seen to be believed. This technique is a longer lasting and purer alternative to a photograph in a locket, and unlike them will not fade over time - in fact the technique can even be used inside a locket.
Our photo engraved jewellery is the epitome of craft, skill and artistry. Whether it's a wedding photo, your children, partner or best friend, our photo engraving technique brings your memories to life in an exceptionally personalised way.
FAQ's
Answers to commonly asked questions
Read More