Bespoke signet rings are one of our most popular services here at Stephen Einhorn. A bespoke signet ring allows you to really express yourself, to be part of your own tribe, to show who you are. Nothing shouts 'individual' as loudly as your own specially commissioned signet ring. It has a unique sensibility, a unique sense of style, and a bespoke signet ring made by us is of uncompromising and unparalleled quality. We believe that jewellery should be as unique as the person wearing it, and that's why we're excited to offer you an exceptional experience in creating bespoke signet rings that reflect your individuality and tell your story. If you aren't sure what you would like, why not contact us and we will help guide you through all the wonderful possibilities.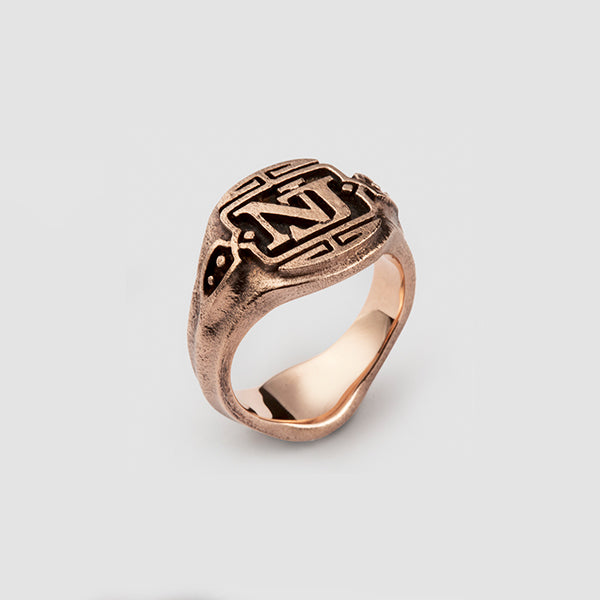 Bespoke Raised Initials Signet Ring
Bespoke Signet ring custom made in 9ct rose gold. Our customer specified the initials and border design, and he also wanted the ring to look distressed. It worked and this is the result, aged on the outside new and shiny on the inside.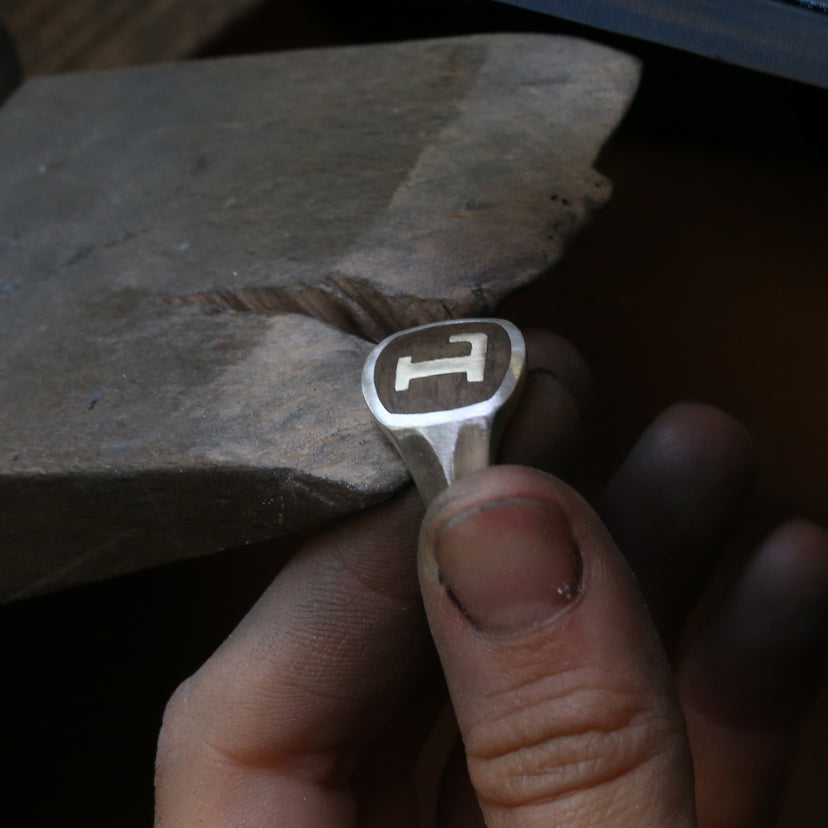 Bespoke 'L' Signet Ring
A bespoke Signet ring in sterling silver, with a yellow gold L inlaid into our 2000 Thames Wood London Oak.
Bespoke Enamelled Signet Ring
A bespoke yellow gold Signet ring made to fit the gold inlaid dragon and fireball design. The gold has been inlaid into blue enamel. We made the enamel look like blue lapis…because we can!
Other pieces
Bespoke Onyx Signet Ring With Crown Engraving
Bespoke Signet ring custom made in solid silver and onyx with a crown 2D engraving on one shoulder. This design was inspired by our Oxford Signet ring. It's a beautiful strong angular design. A truly stunning work of art for your finger.
Bespoke Embossed Round Signet Ring
This bespoke 9ct yellow gold signet ring was set with a Coventry City coat of arms. A lovely design in yellow gold with coloured enamel. The Elephant is thought to signify the city's strength.
Custom Signet Inlaid Thames Wood Ring
This is the family crest of an illustrious Islington dynasty. It is made from solid 18 carat white gold, with the inlaid flowers on the side in 18 carat yellow gold. The 18 carat rose gold flower on the top of the ring has been inlaid in our 2000 year old Roman Thames London Oak.
About bespoke signet jewellery
Our experienced craftspeople bring decades of skill to every ring they create, ensuring unparalleled craftsmanship that will stand the test of time. With our bespoke service, you have complete creative control, from choosing the finest recycled metals to selecting from a large choice of precious stones and engraving options. 
We have a range of unisex signet designs in our signet collection. Choose a large or small signet necklace or a large or small signet ring. Whether in silver, gold or platinum these pieces that we create become objects of desire that can be passed down from one generation to another. Why not commission a bespoke signet ring for every member of your family for meaningful symbols of belonging?
Signet rings honour tradition by continuing a legacy. They were originally made and used to seal important documents using a family crest: to show who you were and what family you came from. These signet rings would be passed down from father to son but in more modern times (thank goodness) they can be given to any gender, any time, and worn by anyone with pride. 
If you don't have a traditional family crest why not make one up and start a new family tradition? Anything is possible and anything is allowed. Whether it's initials, monograms, significant dates, or meaningful symbols, we'll ensure your ring tells a story. Beyond their beauty, these rings are built to last, destined to become cherished family heirlooms.
Our expert design consultants will collaborate closely with you, whether you have a clear idea or need a bit of inspiration, we are always here to help. These bespoke signet rings are not just accessories; they're timeless gifts that commemorate significant milestones and moments in life. We stand by our craftsmanship, guaranteeing the quality and authenticity of every piece we create. 
Really express your personality with a bespoke signet ring from our wonderful workshop, a wearable masterpiece that celebrates your uniqueness and individuality. Contact us today for a personalised consultation. Let's create a piece of jewellery you'll treasure for a lifetime.
FAQ's
Answers to commonly asked questions
Read More