Berlin for Art Lovers!
If you've not been I can say that its one of the most fabulous cities to visit. The population of 3 million ensures there are never crowds especially when travelling on the superb transport system………make sure you get a 1/3/5 day travel pass as they are well worth it as Berlin is a big city!
Too many galleries and museums to mention but here are a few must-sees.
HAMBURGER BAHNHOF
Invalidenstasse 50-61
10557 Berlin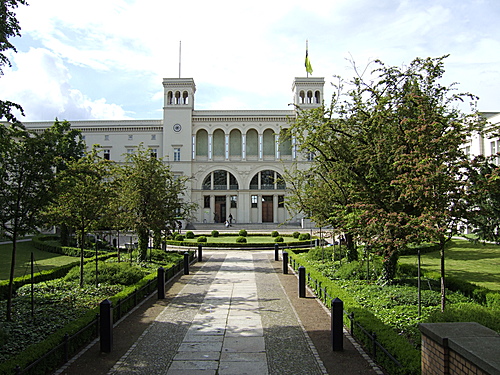 Created from a disused railway terminal this is Berlin's Contemporary Art museum and houses work by Kiefer, Warhol, Twombly, Clemente and Rauschenburg amongst others which is displayed in vast white spaces.
Until January 2013 there is a special show entitled Architektonika 2 which highlights the connections between architecture and art. This is housed in a series of interconnecting spaces which must be 500 metres long!
Should you get there before October 14th there is an amazing show by the American artist Morton Bartlett entitled Secret Universe. Bartlett died in 1992 leaving an unseen collection of semi  lifesize realist sculptures of children and hundreds of black and white photos of them. He would take up to a year to make each sculpture having studied anatomy books and costume history.
MUSEUM DER DINGE
Oranienstrasse 25
10999 Berlin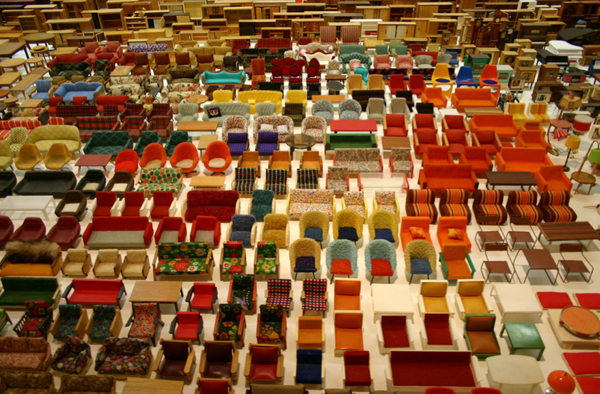 This is the Museum of Things housed on the top floor of a former factory building in East Kreuzberg and contains approx 30,000 items from the early 20th century to today which are displayed in glass fronted cabinets in one vast gallery space. The items relate to the history of design as well as everyday life and range from matchboxes to furniture in scale.
The area is part of the former East Berlin and is still undergoing transformation towards a 'modern day' Berlin……..there are plenty of galleries, independent shops and cafes to explore.
JEWISH MUSEUM
Lindenstrasse 9-14
10969 Berlin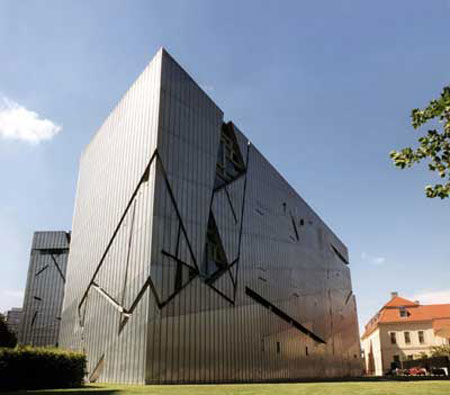 You don't have to be Jewish or be a descendant of a European émigré family to be transfixed by this amazing museum. The new building designed by Daniel Libeskind is a stark zinc covered construction said to resemble a deconstructed Star of David.
The basement area is entitled Axes and houses personal documents, photos and mementos on persecution and emigration displayed in  3 spaces entitled Axis of Continuity, Axis of Exile and Axis of the Holocaust.
There are 2 other spaces one being the Holocaust Tower which has to be the closest that one could feel to being in an extermination chamber and an outdoor Garden of Exile.
The upper floors show displays relating to the history of the German Jewish community.
Another amazing experience is the outdoor Memorial to the Murdered Jews of Europe on  Cora-Berlinerstrasse. Built in 2003-5 to a design by Peter Eisenman it consists of 2711 concrete slabs or 'Stelae' of varying heights laid out in a vast grid pattern that you can walk through. Some of the slabs are 4  meters high so one get the feeling of being lost amongst a field of concrete towers.
I won't say any more about what else to see as there are so many other museums and galleries to discover.
There are some great antique markets including those at Arkonplatz (Sunday) and Tiergarten (Saturday and Sunday).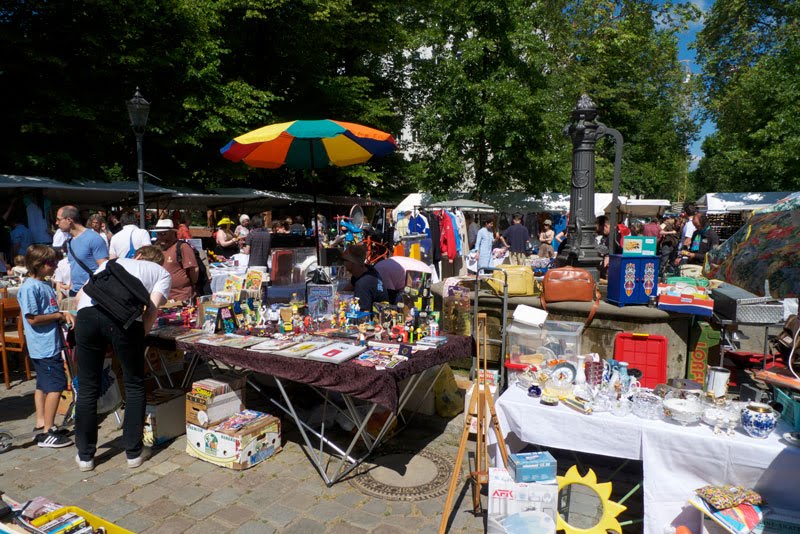 Eating and drinking seemed a lot less expensive than London, Paris or Venice……..shops are closed on Sundays so brunching is a favourite Sunday pastime……….try Pasternak on Knaackstrasses where there is a vast self service buffet of incredible food for £10 a head.
Lubitsch Restaurant on Bleibtreustrasse 47 served an excellent traditional dinner albeit not too cheap but well worth visiting.
I didn't eat in the Clarchens Ballhaus on Augustrasse 24 but its a fabulous old ballroom which still has dances and has a restaurant and bar which looked great.