Bespoke Commission: Stephen's Platinum, Diamond, Ruby & Emerald Wedding & Eternity Ring Set
Here are some lovely 'making of' photos of my rings. I love looking at these… It's a real pleasure to see all the amazingly skilled work that goes into making one of our pieces, especially when it's something that I wear every day.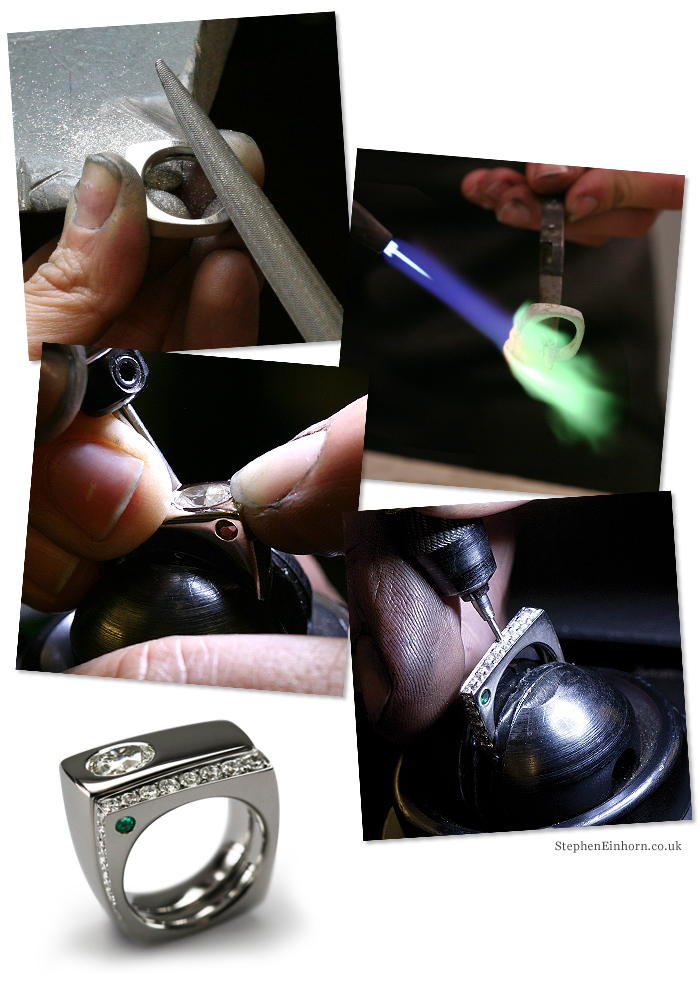 I find it incredible that one of our jewellers can actually set stones this small using our powerful microscope, which is 20 times magnification. Whenever I try to have a go I always end up looking at my fingernails and that's about as far as I get. My fingers loom into view, very scary and always a bit of a surprise – using a microscope that powerful makes your hands look horrendous! After I've finished playing on it, looking at scrunched up bits of paper, I move aside so that one of our wonderful jewellers can actually do a bit of work. I don't know how our jewellers do it – how they have the patience to make such small objects of perfection… Actually I do, it's because of their incredible skills which they've honed over many years. As I walk through the workshop and trip over the waste paper basket for the hundredth time, I look at my hand as I try to save myself… I really enjoy looking at my bespoke wedding and eternity ring on the way down!
Stephen Einhorn bespoke is exclusively offered to customers who wish to have a one-of-a-kind piece of jewellery created. Stephen's bespoke work has built up an unparalleled reputation and for nearly 20 years he has been personally designing one off jewellery pieces for people seeking original design, high quality craftsmanship and the highest levels of client care.
Stephen's bespoke service provides you with the opportunity to be involved in each step of the creation of a totally unique piece of jewellery that is designed and handmade to your personal requirements.
A Stephen Einhorn bespoke commission encompasses design, artwork, pattern making and other set up costs, as well as craftsmanship and precious materials. If you would like to talk to us about your idea for a bespoke commission, or have any questions regarding the process or costs, please contact our bespoke manager via the telephone number or email address below. If you prefer you can also arrange an appointment to come and speak to our bespoke manager in person at our London jewellery shop.
Call our bespoke manager on: +44 (0) 20 7359 4977
Email our bespoke manager at: bespoke@stepheneinhorn.co.uk.