Fairtrade & Fairmined Gold Micro Pop Rings By Stephen Einhorn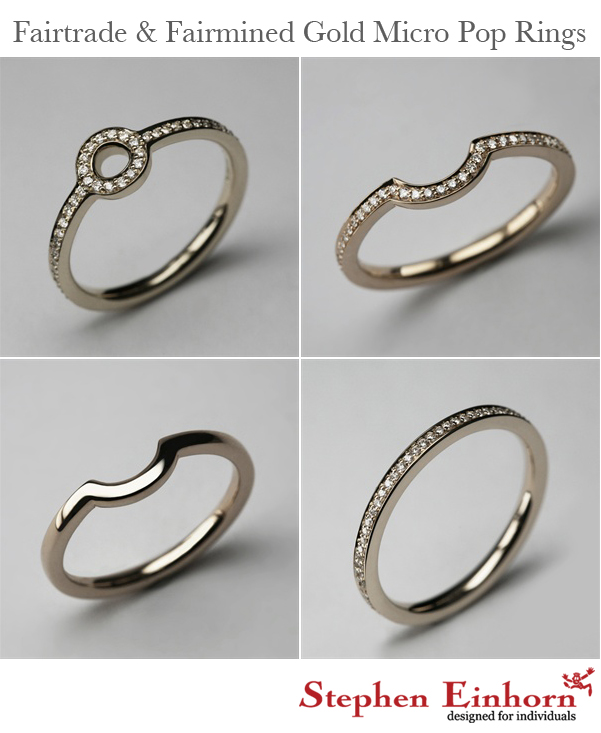 Stephen Einhorn's gorgeous Micro Pop ring collection can now be made in Fairtrade and Fairmined gold. How exciting! This is one of our steps in support of the Fairtrade Fortnight 'Take a Step' campaign – a campaign to encourage people in the UK to engage with the Fairtrade Foundation's vision of an even bigger movement for positive change on unfair trade, including making the switch to buying Fairtrade.
Launched last year, Stephen was one of the first jewellers to sign up to use Fairtrade and Fairmined gold and is now amongst the few businesses in the UK licensed to use this precious commodity. After trying to be as ethical as possible for the last seventeen years, it has finally become a reality for us to use a certifiable Fairtrade and Fairmined dual stamp.
We started our Fairtrade and Fairmined gold jewellery collection with our Liquid Slim and Liquid Extra Slim rings and have now added our Micro Pop ring, Micro Pop wedding ring, Micro Pop eternity ring and Micro Eternity ring to our collection. Our Pop women's ring collection is simply delicious and these understated, delicate and expertly crafted designs can be made in 18 carat white or 18 carat yellow Fairtrade & Fairmined gold. You can chose from a variety of ethical stones including Canadian diamonds, blue sapphires and ethically sourced rubies.
Fairtrade and Fairmined gold is more expensive than our recycled gold because, at the moment sadly, it is a small resource.  However small-scale miners and their communities who run the mines, are benefiting from its sale and get a minimum guaranteed price for their fairtrade gold. This then provides better living and working conditions for these communities.
If you're interested in having a different jewellery piece from Stephen's collection made in Fairtrade and Fairmined gold please contact us at our London shop at shop@stepheneinhorn.co.uk or on +44 (0) 20 7359 4977. You can also visit our shop at 210 Upper Street, Islington, London, N1 1RL.
Read more about our Fairtrade and Fairmined gold story here.
You can also register your own step for Fairtrade at www.fairtrade.org.uk/step. Get involved!