Talking Top Glastonbury 2013 Moments With The Lovely Jo Whiley…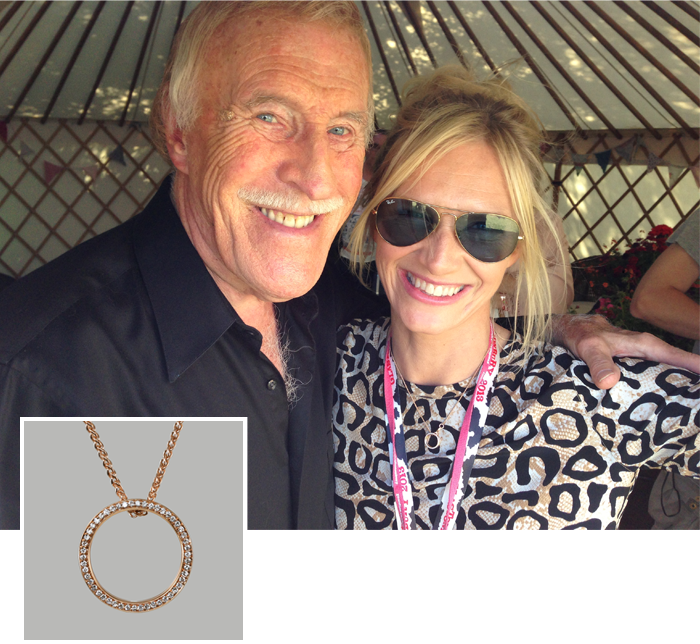 Jo Whiley very kindly sent us this photo of her (wearing our stunning diamond Micro Pop necklace) with Brucie. It's a fab pic, there is something very personal and touching about it. I hear he is a really lovely guy, and all the people from Team Einhorn who are too young to have even heard of him, said he was absolutely amazing and had the crowd eating out of his hand – a real professional performer. Wish I'd seen him!
We love Jo Whiley, her coverage of this years festival was fantastic and we are dead chuffed that she likes our jewellery designs so much! We were lucky enough to catch up with her to find out what her favourite moments of this years Glastonbury festival were. Here's what she said….
'Arctic Monkeys doing Mardy Bum – an old favourite they hadn't done for a long time. This version was string laden and melancholic. Had me in tears.
Chic – their set had everyone in the best party mood ever. All the hits they've had plus all the hits they've written or produced. A real celebration of Nile Rodgers.
Ben Howard played the Pyramid stage on Saturday afternoon and it was wonderful. He drew a massive crowd – everyone sang along. He was close to tears at times. A career defining performance.
Then there was also interviewing Bruce Forsyth and Kenny Rogers in the space of an hour. Both of them absolute gents! Bruce was very emotional because of the crowd's reaction. He said he'd come back anytime.
Plus interviewing John Humphries who couldn't stop raving about Glastonbury and how fantastic it was. When asked if he'd come back he just said "Probably Not".'