The Perfect Winter Marriage Proposal Calls For A Unique Stephen Einhorn Engagement Ring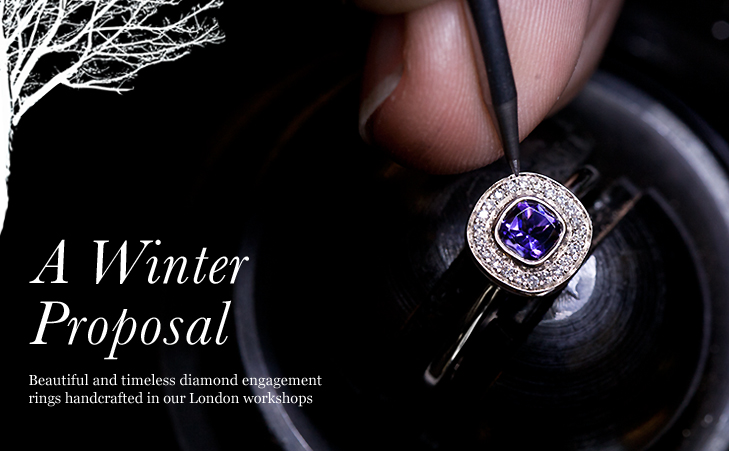 A winter marriage proposal you say? How lovely! Well you've come to the right place. If you're looking for a contemporary engagement ring that has been handmade in London by expert jewellers look no further. Stephen Einhorn is one of London's leading engagement ring jewellery designers. He loves romance; he loves winter, snow, the smell of Christmas pine…
In our collection you will find unique diamond engagement rings, platinum engagement rings, ruby rings and solitaire rings, which have all been lovingly handcrafted in our London workshops.
London and UK based customers can visit our showroom on Upper Street Angel, Islington. Here you are able see our beautiful engagement ring collection up close and personal. We can talk you through our conflict free diamond and ethical stone policy, we will happily explain to you about the 4C's of diamonds, we will even let you know our wedding cake preferences should you feel like asking. We'd love to see you… and don't forget we are one of the few British companies left who make everything on site. We can alter, we can revamp, we can service, and generally look after your cherished Stephen Einhorn engagement ring. We pride ourselves on the highest levels of customer care and aftercare; with us it's a lifelong relationship. A bit like being married really.
If on the other hand you aren't based in the UK fear not. You can choose and buy your engagement ring right here online. If you have any questions or need a little guidance please don't hesitate to contact us. Don't be shy, we're here to help and our expert jewellery advisers have years of experience. You can call us on +44 (0) 20 7359 4977 or email us at shop@stepheneinhorn.co.uk.
Stephen Einhorn's engagement rings are all made with hand-selected ethical diamonds and precious stones. Each ring is handmade in solid platinum, white gold, rose gold, yellow gold and palladium right here in our London workshops. None of our rings are plated and each design can be made in a variety of carats, including 9ct, 14ct and 18ct gold. Luxury engagement rings at their best, each design is expertly crafted with love and exquisite attention to detail.