Hands Up If You Don't Like Beautiful Ruby Jewellery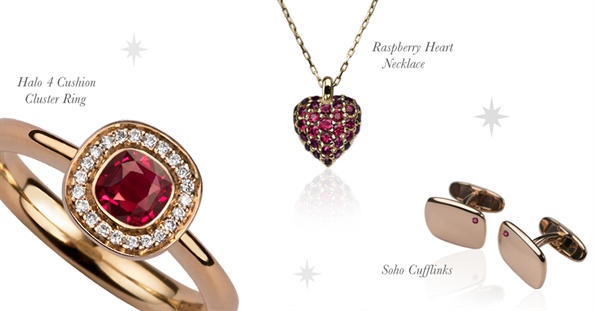 Who doesn't like rubies? Hands up… no one? Well in that case you will enjoy our ruby jewellery collection…
If you'd like a ruby Halo ring, we will make it for you. A lovely ruby heart necklace – no problem! It will be an heirloom for you to pass down. What did you say? Your children are ungrateful curs and therefore you will leave it to someone else? Why please do, it's up to you. We don't want to get involved in your personal problems we just love designing and making jewellery!
Our rubies (along with every other stone we use) are all ethically sourced. We do not use rubies from Burma or any other conflict area and we never have.
Stephen Einhorn's men's and women's ruby jewellery is all handmade in solid yellow gold, rose gold, white gold, platinum and palladium right here in our London workshops. Not a single design is plated and each piece can be made in a variety of carats, including 9ct, 14ct and 18ct gold. Luxury jewellery at its best, each design is expertly crafted with love and the utmost attention to detail.
You can shop Stephen Einhorn's ruby gemstone jewellery collection right here, right now, or you can visit us at our London showroom on Upper Street, Angel, Islington, N1. We'd love to see you… and don't forget we are one of the few British companies left who make everything on site. We can alter, we can revamp, we can service, and generally look after your Stephen Einhorn jewellery. We pride ourselves on the highest levels of customer care and aftercare; with us it's a lifelong relationship.
If you're shopping for ruby jewellery gifts online and require a little help with your search for the perfect piece, please don't hesitate to give us a call on on +44 (0) 20 7359 4977 or email us at shop@stepheneinhorn.co.uk. Our expert jewellery advisers have years of experience and will be able to demystify the wonderful world of luxury jewellery.