Our London: New River Walk Meets Our Skull Jewellery
We are very lucky here in Islington that the beautiful New River Walk is incredibly close to our London jewellery shop/workshop and offices. Opened on the 29th September 1613, it's hard to believe it's been there for so long. An integral part of our local landscape, it adds a lovely bit of greenery that runs through Canonbury. I have walked it with small children, fed ducks and have also fished out my friends toddler who decided to jump in head first and had to be pulled out by his feet. Luckily he was not particularly bothered by the experience especially as he was then given hot chocolate! Kids eh? I have sat on the grass with friends and shared a lovely picnic on a summers evening. There's a very good pub nearby too.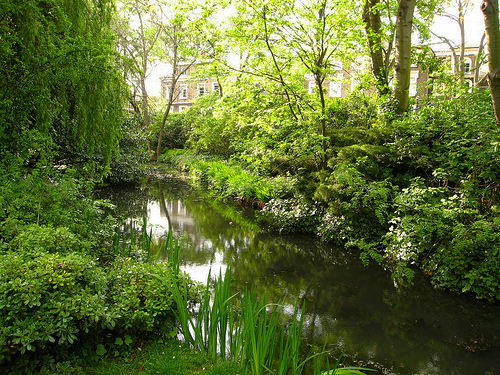 Originally it was built to supply London with fresh water but currently it only supplies 8%. You can walk along the original route which is about 40 miles, from Hertford to the East Reservoir in Stoke Newington. Part of the water flow was diverted and goes underneath Petherton road off  Newington Green road. It was built with a charter from James I and it seems amazing that we are still using it – it's still there, bringing in fresh water for those lucky 8% (the rest of our drinking water comes from many different sources). There are numerous really interesting facts about these pretty gardens, but I could be here all day, and I'm sure you should be working… so if you want to know more get googling.
During our last visit to the New River Walk we did a little skull jewellery shoot with the fab Justine (how amazing is her tattoo). The lighting was totally gorgeous – such a lovely time of day…

Justine is wearing our gold small Skull necklace in 9ct yellow gold, Bone hoop earrings in silver and Dia de Los Muertos Para Las Mujeres Skull bracelet in silver.
Stephen Einhorn's skull jewellery collection is handmade in solid silver, white gold, platinum, rose gold and yellow gold right here in our London workshops and our gold skull jewellery designs can be made in a variety of carats, including 9ct, 14ct and 18ct gold.
You can shop our women's and men's skull jewellery right here, right now, or you can visit us at our London showroom on Upper Street, Angel, Islington, N1. We'd love to see you… and don't forget we are one of the few British companies left who make everything on site. We can alter, we can revamp, we can service, and generally look after your cherished Stephen Einhorn designs. We pride ourselves on the highest levels of customer care and aftercare; with us it's a lifelong relationship.
If you're shopping for skull jewellery online and require a little help, please don't hesitate to give us a call on +44 (0) 20 7359 4977 or email us at shop@stepheneinhorn.co.uk. Our expert jewellery advisers have years of experience and will be able to demystify the wonderful world of luxury jewellery.