Trick Or Treat?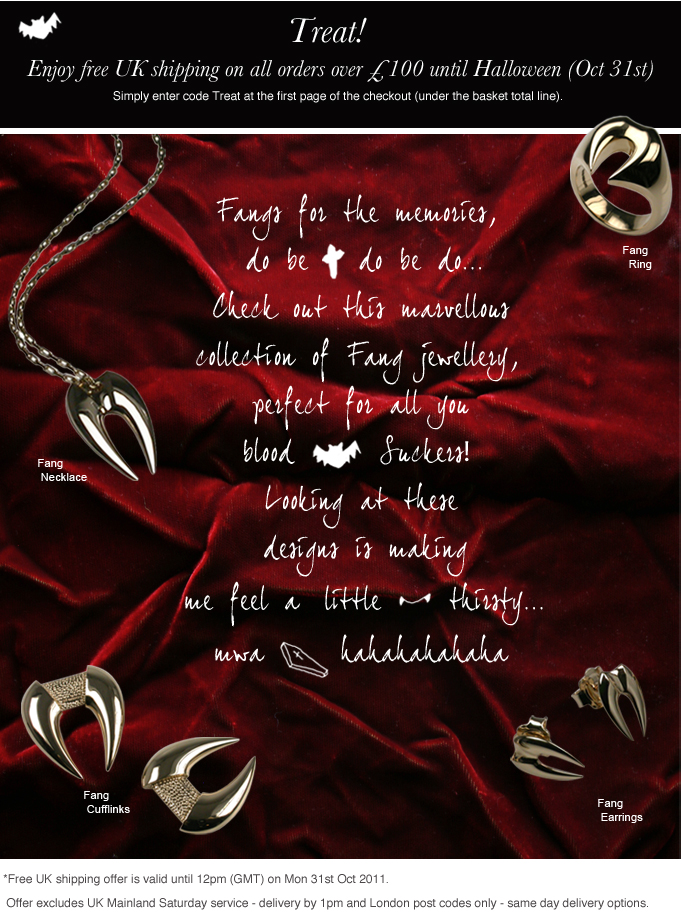 We thought we'd get in the Halloween spirit and what better way to do this than with Stephen Einhorn's Fang jewellery collection – simply dielicious! Full of unusual and compelling designs, these designer jewellery pieces will add attitude to any outfit.
The Fang ring is perfect for both men and women. Inspired by a wolf's fang, it's an edgy contemporary piece but also incredibly comfortable. Obviously you can wear it any way you like! But we think it makes a great thumb ring.
Designer Einhorn's Fang cufflinks are one of his most popular cufflink designs, a favourite amongst musicians, stylists and old school rockers, as well as city workers, who like the fact that they can subtly inject a bit of their own personality and character into their 9-5 look. They're also the perfect wedding accessory for a rock and roll groom and we've even had one stylish groom-to-be buy several pairs – one for him and the others as gifts for his ushers which they all wore on his big day. As well as looking terribly cool what makes these cufflinks so unique is the way they slip through the cuffs. Very sleek – they're the perfect mix of form and function.
The earrings and necklace from this collection are also rather fangtastic (sorry just couldn't help it). The Fang necklace and Fang earrings have the same edgy sprit as the rest of the collection but they are slightly more delicate designs, which makes them perfect for everyday wear.
All pieces from the Fang collection can be made in a variety of solid precious metal options including sterling silver, yellow gold and platinum and if you're buying a design as a gift why not add our breakable heart packaging to the mix. The black breakable heart and orange ribbon combo is perfect for Halloween! (If you'd like this colour combination simply tell us in the addition information box at the checkout).
Don't forget to take advantage of our free UK shipping until 31st October. For all details see the picture and info above.
We'll leave you with a few our our favourite blood suckers…
Happy Halloween