What's On – Art & Design In Los Angeles
There's plenty to see in Los Angeles and nearby places at the moment. The 'Pacific Standard Time: Art in LA 1945-1980' shows which are taking place all over the city are plentiful and somewhat varied. Sadly, by the time you read this, some of the better shows will be finished but here follows tips on what's still worth seeing.
At MOCA, Museum of Contemporary Art aka The Geffen Contemporary, a show entitled 'Under the Big Black Sun: California Art 1974-1981′ Untill Feb 13th exhibits work by approx 125 artists working in a wide variety of styles and mediums. Film by Bruce Conner, sculpture by John Outterbridge, Betye Saar, Tony Oursler and Bruce Nauman and paintings by Ed Ruscha, Raymond Pettibon and John Baldessari give an idea of the standard of the work. The space itself is fabulous so well worth seeing.
At LACMA, Los Angeles County Museum of Art, Untill June 3rd is a fabulous show entitled 'California Design, 1930-1965: Living in a Modern Way' which explores all aspects of California Mid-Century Modern Design including Furniture, ceramics, metalwork, fashion and textiles plus plenty more. The exhibition is excellently designed and full of great examples of the period. Whilst there it's worth seeing the contemporary art displays including vast Jeff Koons sculptures, Warhol paintings and two sculptural installations by Chris Burden.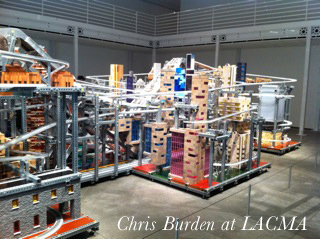 The J Paul Getty collection on show at the Getty Center and Getty Villa is another must see. The Center designed by Richard Meier on a 750 acre site opened in 1997 and houses work from Roman times to the present day. The outside spaces with gardens and sculpture areas with views over the city are spectacular. The Getty Villa sits on a 64-acre site overlooking the ocean in Malibu. Originally constructed in the 1950's and renovated and extended in 1997-2006 to resemble a 1st century Roman country house it originally housed a collection of Greek and Roman antiquities which has now been enlarged to fill the newly created galleries.
Another must is a visit to The Watts Towers on East 107th Street. These structures were constructed over a period of 34 years by Simon Rodia, an Italian emigre using a structural steel rod covered in mortar and decorated with broken china and glass pieces. He bought a triangular plot of land in 1921 and proceeded to construct memories of his early years in Italy including a gazebo, three birdbaths and a ship as well as numerous towers the tallest of which stands at 99.5 ft high and was built without the use of scaffolding. There is the Watts Towers Arts Center alongside which has changing shows relating to the towers as well as a short film about their construction.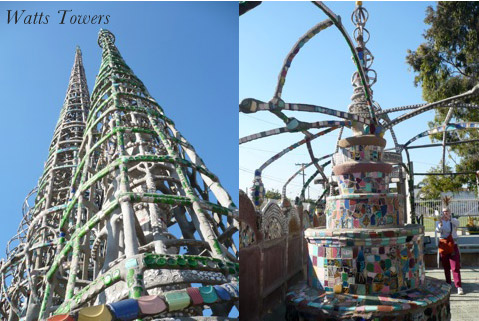 Further a field, a trip to Joshua Trees which is near to Palm Springs can unveil another amazing spectacle. On a 10-acre plot far off the nearest road is a collection of assemblage sculptures by Noah Purifoy. He was part of the LA art scene in the 1970's and '80's and had been one of the founders of the Watts Towers Arts Centre before moving to the desert in 1989 searching for enough space to create his environmental sculpture. He sourced all kinds of discarded materials in all sizes, which enabled him to make pieces the size of buildings if desired. The result is a fabulous landscape of over 50 sculptures.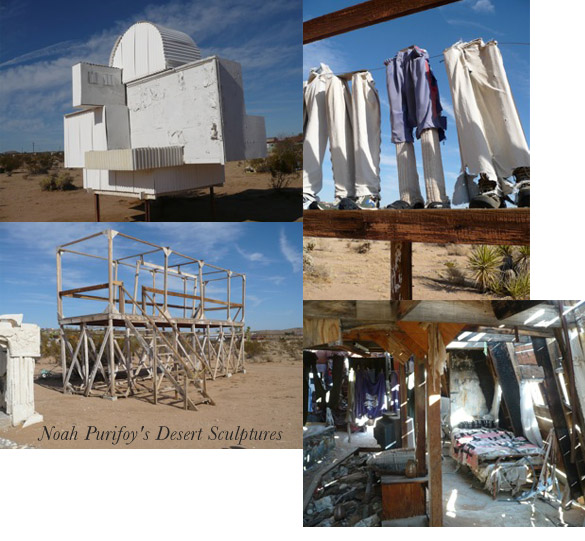 Not too far away is another interesting experience of a somewhat different nature. The Integratron situated at Landers is worth the 'experience'. It was built in the 1950's by George Van Tassel who claimed that a visit of a UFO from Venus resulted in him knowing the technique for rejuvenating cell tissues. The dome was described by Tassel as a high-voltage electrostatic generator that would supply a broad range of frequencies to recharge the cell structure. Many years later and after various different owners it is now used primarily to provide Sound Baths which are sonic healing sessions using nine quartz crystal bowls played live within the highly resonant multi-wave sound chamber………..well worth the drive.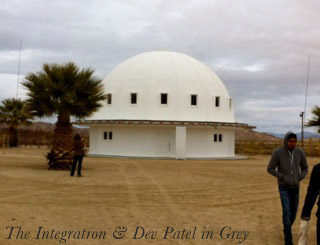 A great place to stay nearby is Hope Springs which has three mineral water pools ranging from 90-105'. There are 10 rooms/chalets situated around the pools.