Why we will not be having a summer sale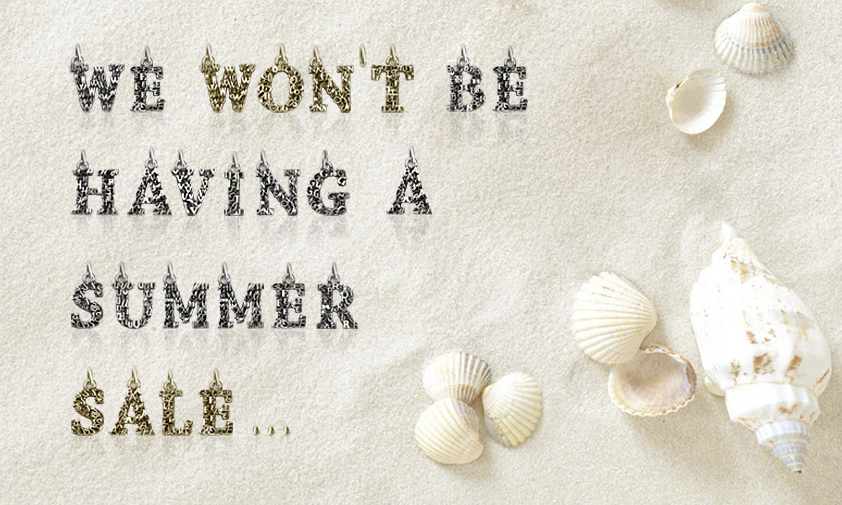 It's that time of year again when all summer clothes that have been languishing in the shops since the coldest months of February are all going on sale. Now, when we're in the midst of a June heatwave (we hope!) all we will be able to buy will be winter woollies.
This all makes no sense to us, or anyone really… least of all the shops that are selling clothes, who are now so out of step with the seasons you wonder if anyone is ever able to sell a piece of clothing at full price.
There's a problem here. Over production of items that people will not pay full price for leads to mass sales. It is also unsustainable and polluting; there's a huge ecological cost.
So on the subject of sales, we thought it would be a good time to remind you our lovely customer's that we never have sales. That is not what we are about.
You will not pay full price for any of our jewellery designs only to find three weeks later the price has been reduced. Why? We are a British company making luxury jewellery here in London. Our workshops, design studio, enamelling studio and office are all behind our shop. We employ extremely skilled craftsmen and women who have honed their skills with years of practice. We believe in trying to keep those skills firmly here on our premises and we do all we can to promote them. These skills are not cheap to learn and they are not cheap to employ nor should they be.
We make luxury jewellery to be treasured, and we offer a bespoke service. We only make what people want to buy and our designs are lovingly handcrafted. This is why our pieces are priced the way they are. Our collections are a labour of love and we hope you get as much joy and satisfaction wearing our designs as we do making them.
Thank you for your continued support!
Stephen & Jane
Co-Founders