Women's Necklace Or Women's Backlace?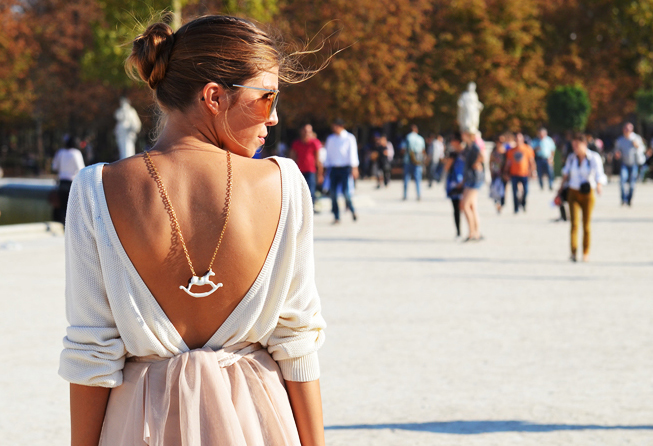 Here at Einhorn Towers we're always looking for new and interesting ways to wear our much-loved pieces from Stephen Einhorn's designer jewellery collection, and we recently came across this snap that we just had to share with you!
We love the way this women's necklace has been styled as a backlace – a look which is fresh and playful, but at the same time chic and poised. In reality you could wear any necklace back-to-front so to speak, but we find it works best with a slightly longer length of either a 60 or 80cm chain.
The Large Bluebird necklace in 9 carat rose gold from our women's designer necklace collection looks particularly lovely with a v-neck or scooped neck back and for after hours glamour the large Vermeer Drop necklace in 9 carat rose gold & pear shaped white pearl will add a stylish twist to a low back LBD.
The large Bluebird and large Vermeer pearl drop are sold on a 42cm chain but our jewellers can easily add them to our 50, 60 or 80cm charm necklace chain, simply contact our London shop at shop@stepheneinhorn.co.uk or call us on +44 (0) 20 7359 4977.